Peter Pan Goes Wrong
Henry Lewis, Jonathan Sayer and Henry Shields
Mischief Theatre
Apollo Theatre
–

Listing details and ticket info...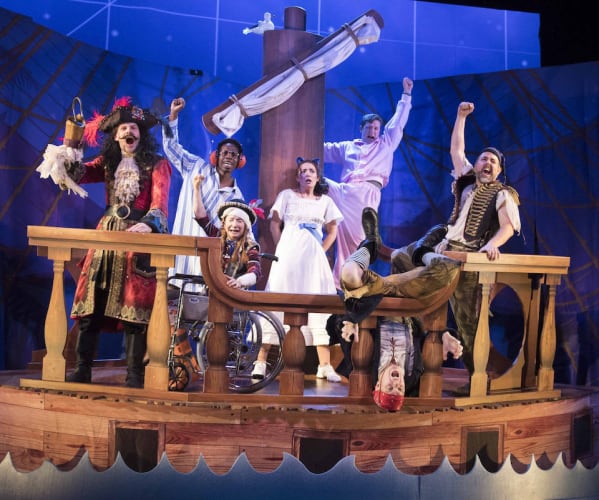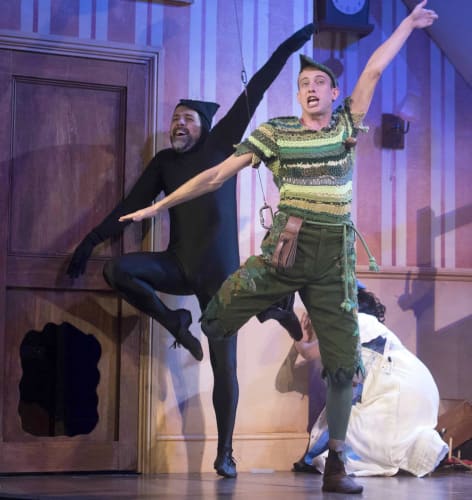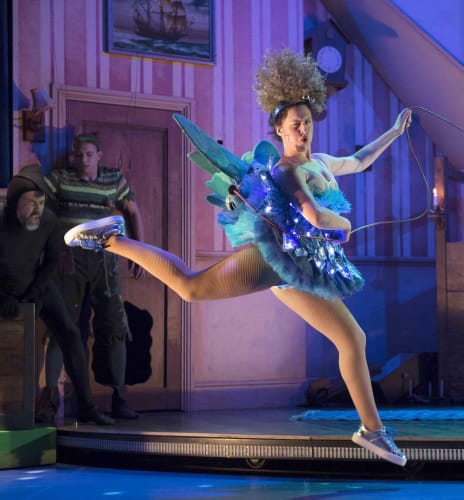 This is not a new take on the everlasting little lad becoming a deviant but last year's hilariously ill-fated Cornley Polytechnic production of the James Barrie classic back at the Apollo with a new cast.
Created by Mischief Theatre, who now have three current West End shows with The Play That Goes Wrong still running at the Duchess and The Comedy About a Bank Robbery at the Criterion, it is two hours of disasters that keeps its audience in stitches.
It would spoil things to detail the things that can happen when these amateurs get the money to mount something so elaborate with multiple sets on a revolve and Pan and the Darling children flying but, whether it is electrics exploding, scenery collapsing, missed cues or unlearned lines, if it can go wrong it will. To that you can add an over-stressed stage crew, a conflicting pair of directors, a stage-struck incompetent and a scandalous affair going on in the company.
The classic farce formula presents a world of normality in which something abnormal is accepted. There is no abnormality here—just incompetence, though it is stretching credulity to believe Cornley's show would continue despite its mounting disasters and stage crew attempting to fix things in full view of the audience. They overwork the appearance of accidentally recorded comment among all the sound cues and at one point, possibly improvised, broke the pretence of the amateur company by referring to this as the West End, but an enthusiastic audience couldn't care less about infringements of format.
From the pre-show celebration of patron's birthdays led by Cornley's director to the final curtain you are laughing too much to really appreciate the control and immaculate timing of both performers and stage crew on which it is dependent.
To call this cast hard-working is a gross understatement. Bailey Patrick's stage manager Trevor undermining the mobile and no photography announcements or desperately trying to free Oliver Senton's shaggy canine nurse Nana, Bryony Corrigan as full-of-herself Sandra who is playing Wendy, Matt Cavendish's put-upon Max, Adeline Waby as Annie going off as Mrs Darling and straight back on as her maid in a different dress as well as playing a plugged-in Tinkerbell, Daniel Pitout as Jonathan whose Peter is paired with incompetent flying machinists and Harry Kershaw's Chris performing perfect pratfalls as Darling or insisting this isn't a panto as the audience yell "he's behind you!" to his self-confident Hook—they all keep it coming.
Sydney Smith as Dennis would repeat the shipping forecast if it came through the earphones that feed him his lines but his performance is on the ball, Susan Harrison's Lucy even has to "walk" the plank in a wheelchair as Tootles and Laurence Pears as narrator Francis, scattering fairy dust, must have hairsbreadth control if he's not, as appears, doing himself serious damage.
Director Adam Meggido is in charge of this escalating madness, well served by Simon Scullion's set. If you want a night off from "serious" drama, a crazy evening of abandoned laughter, this could be it unless such silliness doesn't suit you. As a child, I rebelled and wouldn't clap on demand when asked to declare my belief in fairies, but with this Tinkerbell laid out unconscious I was happily applauding along with the rest!
Reviewer: Howard Loxton