The Play That Goes Wrong
Henry Lewis, Jonathan Sayer and Henry Shields
Mischief Theatre
Duchess Theatre
From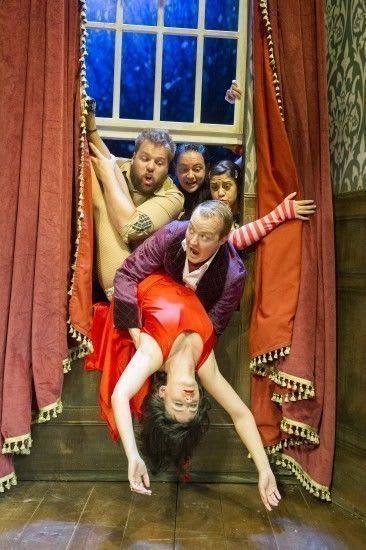 Mischief Theatre should be an inspiration to all aspiring thespians. The company originally formed only six years ago when they graduated from LAMDA but have come up with a concept so good that it could just become the new The 39 Steps.
The Play that Goes Wrong does what it says. The creative team of Henry Lewis, Jonathan Sayer and Henry Shields, greatly helped by director Mark Bell, decided that a Noises Off style comedy based around an Agatha Christie pastiche country house murder mystery could be funny.
One imagines that they then sat down to brainstorm every stage disaster imaginable and several that aren't. The result may not quite fill the two hours with laughter but gets pretty close.
Whether you're a fan of physical comedy, verbal jokes, slapstick, screwball, sight gags or absurdity, this company delivers it in the guise of the Cornley Polytechnic Drama Society as they murder Murder at Haversham Manor.
Rather than replacing key performers to boost West End sales, this company has maintained its integrity with all three of the writers continuing to lead the cast.
They are accompanied by many friends who started out in the original cast at the Old Red Lion and have been involved in a long and successful regional tour including a hit run at the Pleasance Courtyard in Edinburgh last year.
This really is ensemble theatre and it would be unfair to pick out individual performers from the excellent cast. Suffice to say that those with bit parts such as ASMs and the techie make almost as much of a contribution to the ensemble as say Greg Tannahill playing Jonathan Harris playing murder victim Charles Haversham or co-writer Henry Shields as hopeless Chris Bean in the role of deadpan Inspector Carter.
In addition to the writers, director and performer, set designer Nigel Hook makes a significant contribution and it is safe to say that without his efforts, which have been accentuated for the West End, this production would be a pale shadow of the final result.
The murder mystery goes off the rails before the house lights have even gone down and falls off a precipice soon afterwards.
By the end, viewers may have lost track of who committed the murder but they will have had a wild time along the way enjoying the misguided antics of the worst kind of amateur theatre company.
Humour is a strange thing but there is something here for everybody and this one really could run for ever.
Reviewer: Philip Fisher