Peter Pan Goes Wrong
Henry Lewis, Jonathan Sayer and Henry Shields
Mischief Theatre
Yvonne Arnaud Theatre, Guildford
–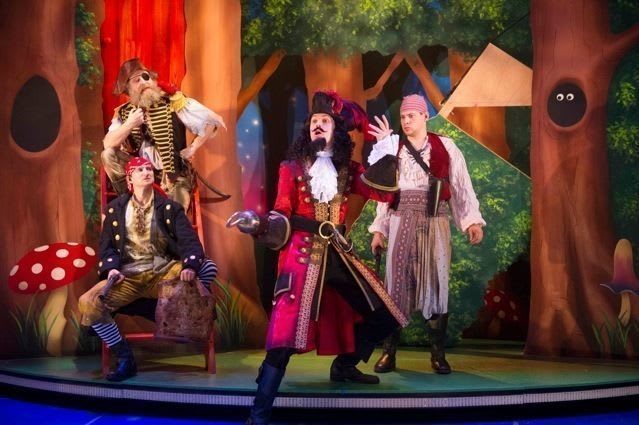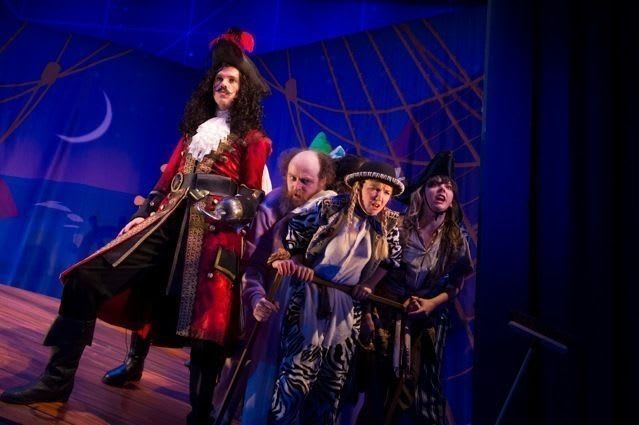 Following the phenomenal success of The Play that Goes Wrong (still playing at the Duchess Theatre in the West End and booking until September 2015) the three writers are at it again.
Almost all the original cast are still performing in the original play, so here we have a completely new collection of thespians who are either brave, foolhardy, or haven't seen the first one.
As before, it is the Cornley Polytechnic Drama Society and they've learnt nothing from their previous experience as they now proceed to turn J M Barrie's Peter Pan inside out. Everything that can possibly go wrong does and nobody in this play has an easy ride.
Their split-second timing has to be (and is) incomparable—very necessary to avoid injury, or worse, with Simon Scullion's brilliantly conceived set having a lot to do with their problems.
Doors fall off unexpectedly, lights refuse to work, furniture collapses to exactly the millimetre required to avoid a crushed performer and the dog Nana gets stuck in the dog flap and has to be sawn out by a member of the backstage crew with the obligatory 'builders bum crack'. As this involves a chainsaw, it rather interferes with Mrs Darling's lullaby for the children.
There is also a revolve which doesn't know how to behave constantly turning to show scenes which the 'performers' were not intending to reveal, and this later becomes even more frantic, giving Captain Hook's crew a hard time. Director Adam Meggido does a brilliant job of somehow managing to keep it all on a relatively even keel.
The performers are just as inept as the scenery. Captain Hook is constantly either losing his hook or forgetting which hand it replaces, two of them manage to get tangled up in the 'river' and Tinkerbell wears a permanently bewildered expression, as well she might.
"This is not a pantomime," roars Captain Hook, but the audience refuse to believe him.
There is a little too much of the slapstick for my taste, although it is perfectly timed and very funny, but it is the very clever and witty writing which provides the most comedy, together with the expressions on the faces of performers determined to go on with the show no matter what.
Particularly funny is the 'sound check' inadvertently broadcast to all and sundry, to the consternation of the now frozen performers, and even funnier when it becomes obvious from where it is being transmitted.
It is during this that Max hears he has only been included in the cast as his uncle had donated £40,000 to the performance and that he really can't act. Picking up his crocodile head and with woebegone expression, he trudges unhappily offstage. The audience are on his side from that moment.
Some local children were auditioned to provide the 'lost boys'. They all played their parts extremely well through all the mayhem and the audience were later relieved to hear they were all still... alive!
Too many of the cast to mention individually, but they all played their parts to hilarious perfection. Just hope they manage to survive the extended tour they are just beginning.
Get a ticket if you can—it's great entertainment and not to be missed.
Reviewer: Sheila Connor