Peter Pan
Paul Ferguson, based on the story by J M Barrie
Blue Genie Entertainment
Playhouse Whitley Bay
–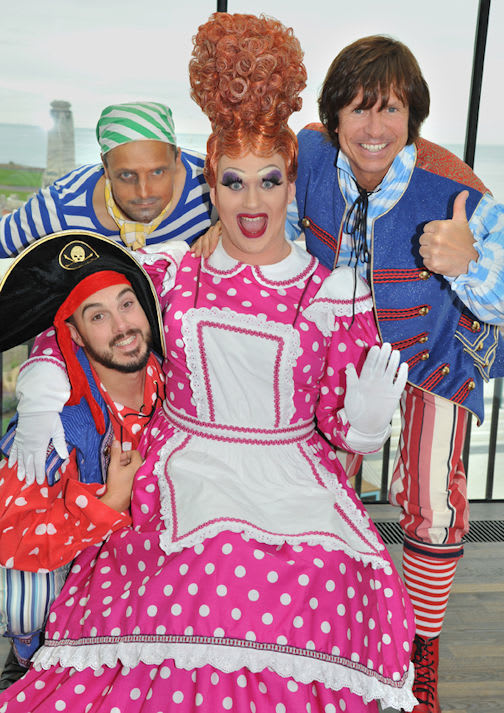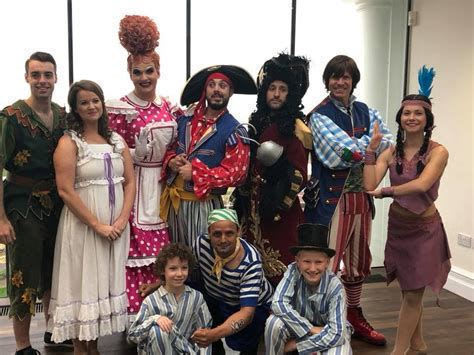 If we forget the large scale, big venue shows that have had loadsamoney thrown at them, there are essentially two kinds of mid-scale pantos: in-house productions and those which have been bought in. The former are specifically created—script and all—for the venue, which means that everything about them is tailored to the audience whom the writers and performers know inside out. The bought-in show scripts, however, tend to be more generic (for they have to be re-used at other venues in other years) so the "localisation"—I can't think of a better word—is left to the performers, usually the Comic and the Dame.
Blue Genie Entertainment has been producing pantos for the Playhouse for ten years and, in the second year, they found comic Steve Walls and, wisely, have brought him back ever since. He's a North Eastern lad and knows panto inside out—this will be his 22nd—so he, more than anyone, can "localise" the show. He also—a panto essential, this—has a good line in very bad jokes! He plays the Pirate Smee this year.
And because of the long time he's spent at the venue, he can remind people of previous shows—and previous jokes—which may go over the heads of the youngest children, but the adults and older kids appreciate it and it's one way if making them feel part of the show and the show part of their lives.
His comic sidekick, who made his first Whitley Bay appearance last year as Dandini, is Ben Hanson who, as Pirate Starkey, has much more opportunity to use his rather deadpan humour this year, which he does to great effect. He is Welsh, not local as Walls and the other member of the comic trio, Daniel Mawston, are, but that doesn't matter because he provides a great foil for them to play off—especially Walls.
Mawston is making his Playhouse debut as Pirate Patsy. He is not perhaps as flamboyant as many another Dame and doesn't get as many opportunities to relate to the audience as Walls has. And isn't it odd that we have the Dame as one of the Baddies? Not that she's that bad, not really, but it is a sign of how Peter Pan has to be shoehorned into the panto format. Quite what she is doing on a pirate ship is not at all clear!
The real Baddie, of course, is Captain Hook, played here by Antony Costa of boy band Blue (and yes, there was a "Take that!" joke), which did solve the problem of what songs to choose…
He's pretty nasty but sadly at the performance I saw—a weekday afternoon—the rather thin audience, made up of very young children and very old people (mainly ladies) didn't really give him much in the way of boos and hisses to bounce off—mind you, the ladies did their best!—but you could tell that there was nastiness there and to spare just waiting to spill forth!
Our hero, of course, is Peter Pan himself, played by Sam Ebenezer who returns after a year away from Whitley Bay. As one would expect of the Principle Boy, he is charming and personable and, by gum, he does seem supremely self-confident when being flown. In fact, he gives us a little touch of the acrobatics—very impressive.
It's her fourth appearance at the Playhouse for Jessica Pease (Wendy). As with her performance in Cinderella last year, she is everything a Principal Girl should be, with an added bit of sisterly firm control over her two brothers Michael and John.
And mention of those two (played at the performance I saw by Adam Stephenson and Reuben Elsworth) reminds me that, while in the past the Babes (shows how long I've been in this business, doesn't it? They are the Junior Dancers nowadays) have always been cute and charming as well as good dancers but in recent years—and this year in particular—they are proving themselves to be confident and very good actors too. In fact, in this show there are not only the Junior Dancers (it almost goes without saying that they are excellent) but the Lost Boys too, whose job is to act rather than dance, and what a great job they make of it!
This year we have four female dancers (not the more usual two and two) and two of them double up as Mrs Darling (Sarah Fox) and Tiger Lily (Mary J Proud) and all four add immensely to the musical scenes as well as being Indians and Pirates.
I should mention the company manager, Peter 'Jordy' Cernik, which is rather odd because admin staff don't expect to be mentioned in reviews, but this one not only played the Indian Chief but a variety of other characters whose sole function was to cross the stage in various costumes to set up some of Steve Walls's worst jokes! Real PUNishment for the audience, was that!
Only one of the standard scenes remained, the take-off—there is no room in Peter Pan for a slosh scene, always a huge audience favourite—but writer/director Paul Ferguson did manage to work in some traditional gags. It's years since I've seen the drill scene (with mops, of course!) which is a shame because this performance reminded me of how very funny it is.
Ferguson has also tried to include all the elements of the story, including the Mermaid and the Indians, but they became little more than tableaux with songs and actually held up the comedy and mayhem, but that's not the fault of the writer, director or company. I don't think it matters to the audience—the tableaux are nice to look art after all—but just to curmudgeonly old theatre critics.
I almost forgot! The crocodile makes a number of appearances, sending Hook into a flat panic, and we did meet Nana the dog in the first scene. It would have been nice to see more of her!
Finally: I am keeping count. This was my third panto this season and the third 'Baby Shark.'
Do do dodododo…
Reviewer: Peter Lathan