Peter Pan
J M Barrie
National Theatre and BrIstol Old Vic
Troubadour White City Theatre
–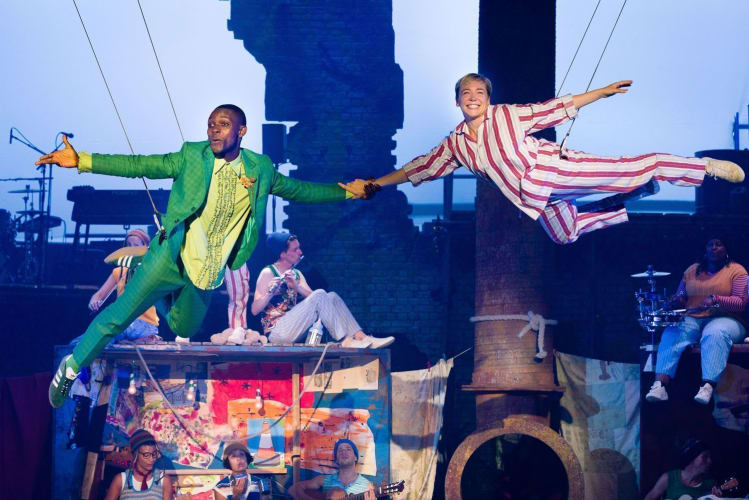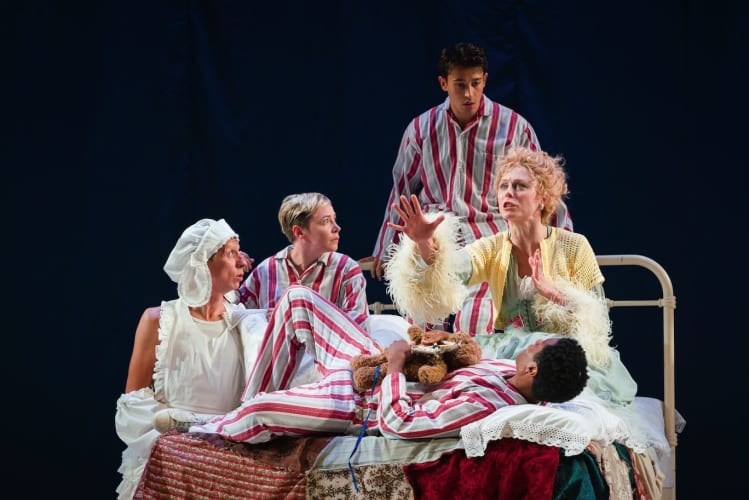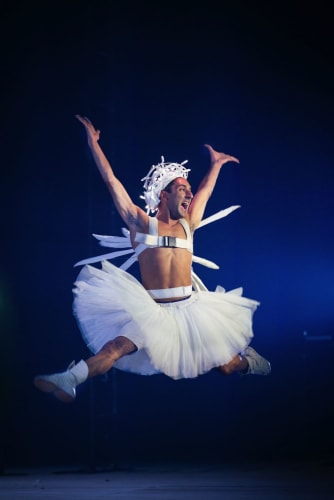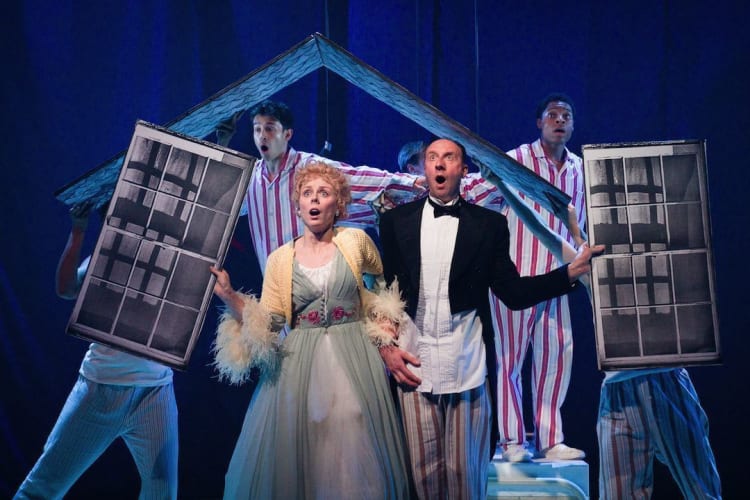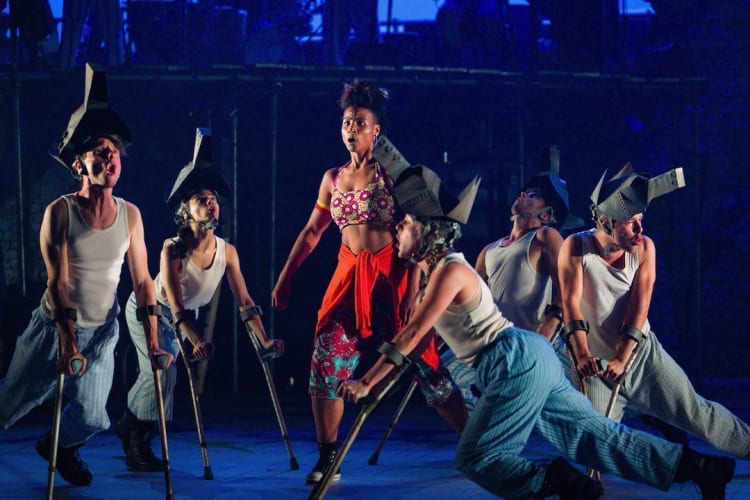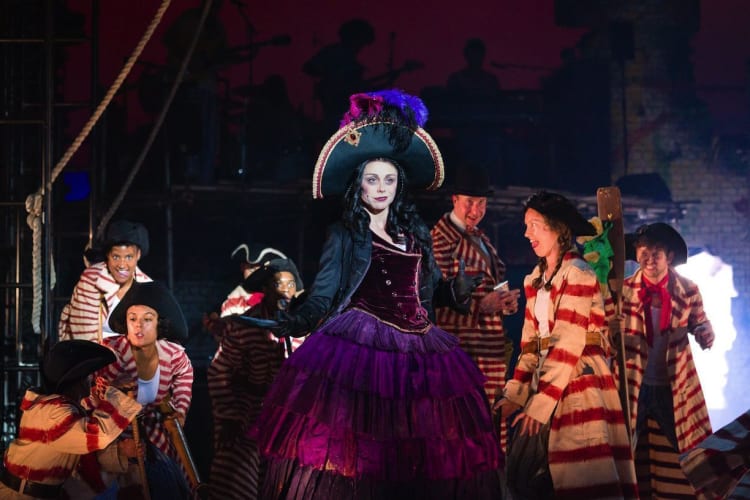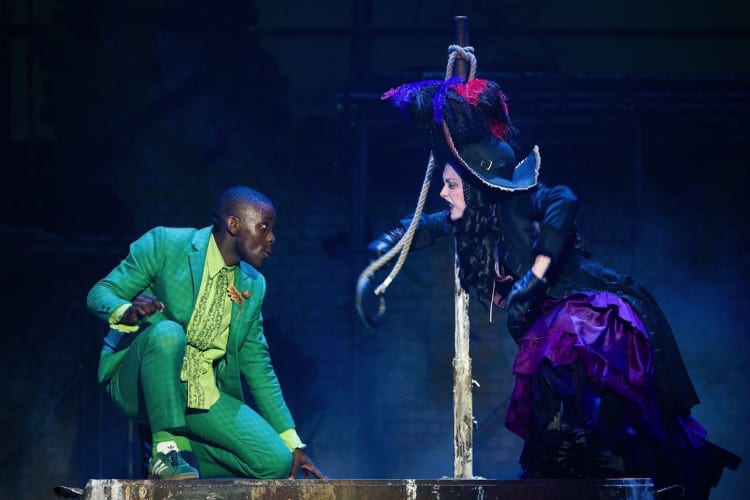 Sally Cookson's delightfully inventive production of the Barrie classic was first seen at the Bristol Old Vic back in 2012, remounted at the National Theatre in 2016 and now becomes the opening production of London's new theatre.
Successive casts have changed things with their own contributions. Mike Akers is given a credit as "Writer in the Room" but there is a strong feeling that the cast own the show and delight in sharing it with the audience in the family-packed, 1,200-seat theatre.
I've always approached Peter Pan with some trepidation: ever since, as a child, I was asked to profess believing in fairies; I was a boy who was eager to grow up and though flying would be fun I had no time for magic "fairy dust". Yet I loved this production for its magic is entirely theatrical: its "fairy strings" (and their operators) are entirely visible as Peter and Wendy and her brothers take off through the stars and fast moving meteors or fly over the heads of the audience. You don't have to suspend disbelief, although many youngsters will, instead you will be carried along to the talent and skill of the performers, the wit of the enterprise, the fun that it all is, the wild imagination that has been brought to solving each problem of presentation with zany innovation.
I can't believe that an upper-middle-class family that can afford a nursemaid would expect its three children to sleep in the same bed, let alone have a dog as their nursemaid, but when the nurse is Mark Kane, not in a dog skin but wearing a cap with floppy spaniel earpieces, multiflounced pantaloons and a pinafore with its bow tied like a tail, walking on two feet but displaying doggy characteristics, I'm already won over.
When Peter flies in, he's in traditional green but not the old pixie-like outfit but a smart suit and tie: the little boy who refuses to grow up may be adult already. When he gets Wendy back to his Neverland, it adds emphasis to the way he will play at mothers and fathers but, to Wendy's annoyance, won't take on any real family responsibilities. John Pfumojena gets his juvenile heartlessness (a necessary requirement for flying) along with an insouciance that makes him endearing.
Peter's sidekick fairy Tinker Bell isn't a flickering light with a tinkling bell for a voice but an exotic with his own indecipherable language. Shiv Rabheru makes him more bitchy harpy than flower fairy. You hope someone will warn Daisy Maywood's Wendy who is already behaving like a grown-up (well, girls with younger brothers usually have to), she is both gentle and brave at the same time and clearly disappointed that Peter isn't responding to the signals she sends out.
When the children get to Peter's Neverland, it is a wasteland bounded by a high wall with holes in it, like the bomb sites that kids played on in the '40s and '50s (and still do in some countries), its detritus skilfully engineered into whatever is needed including the huge crocodile that stalks pirate Captain Hook who sees herself as Peter's nemesis. Yes, herself, for Kelly Price's Mrs Darling (not, as so often, her husband) doubles as a Captain with glittering steel teeth who thinks nothing of plunging her hook into a mutinous crewman.
This Neverland where mermaids drag boys down to drown them and territories are ruthlessly defended is a cruel place. Though boy-man Peter optimistically believes that "death must be awfully big adventure" and it quickly moves on from the dark side, it's there.
Are childhood games a preparation for adult life or just an escape from it? Young and old may respond to Peter Pan in different ways but the vitality and sheer fun of this production will lighten the spirits of all in the audience.
It opens with the excellent band (present throughout) as a warm-up then offers just a bed in front of a curtain. This simplicity leads to surprises and they joyfully keep on coming. This is a Peter Pan free of soft sentimentality. It belatedly got even me clapping for Tink's life (if he is a fairy, he is a wicked Elizabethan one) and with real enthusiasm for them all at curtain call, including the operators of the flying equipment and the inventive puppetry designed by Toby Olié.
Reviewer: Howard Loxton