Peter Pan
J M Barrie and the Companies
Bristol Old Vic
Olivier Theatre (National Theatre)
–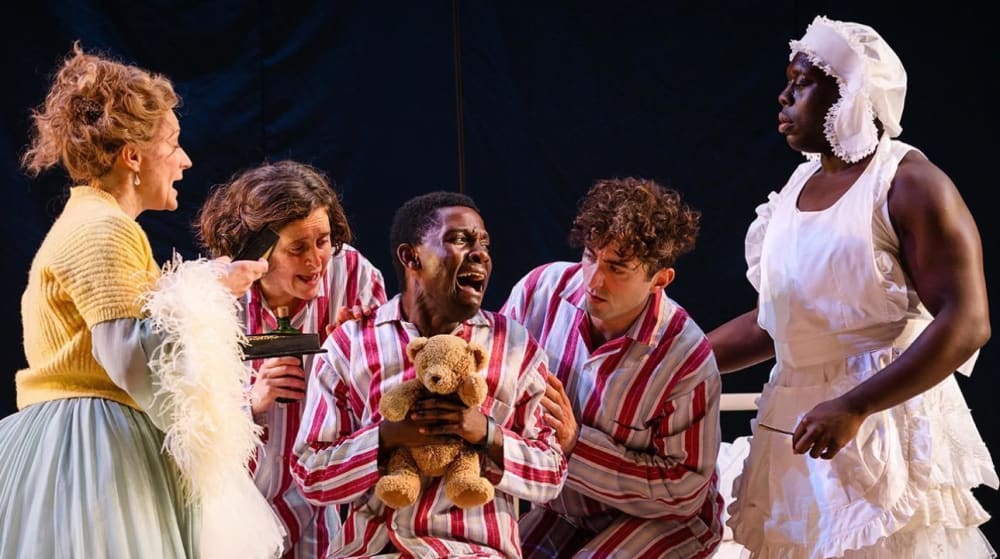 Following their widely praised production of Jane Eyre, Sally Cookson and her company from the Bristol Old Vic return to the National Theatre with a new interpretation of J M Barrie's perennially popular tale of lost childhood.
Once again, the 160-minute performance rejoices in the production values and techniques of the past, never afraid to show the strings that, aided by willing, acrobatic performers, enable dazzling flight and featuring what are becoming their trademark ladders, courtesy of set designer Michael Vale, who uses a Jackson Pollock motif on the stage itself.
Perhaps the design highlight though is a truly terrifying but simply conceived crocodile, which eventually spells doom for… Oops, we'd better not give that away in a review.
The evening begins hilariously, as Felix Hayes's whining George Darling panics as much as Anna Francolini shows calm as wife Mary.
They tend to three children, of whom the oldest, Jane Eyre star Madeleine Worrall playing Wendy, is simultaneously both maternal and a proper little madam.
However, the star turn is Ekow Quartey taking on the challenging canine role of nursemaid Nana. Quartey might be built like a prop forward but he has a genteel, winning manner and a wonderful sense of humour.
The family's mundane lives are transformed by the arrivals first of Saikat Ahamed as a cross-dressing, gibberish-spouting Tinkerbell and then Paul Hilton, dressed like Robin Hood in varied shades of green, but indisputably the puckish boy who will never grow up.
Peter charms Wendy and her two young brothers, effectively kidnapping them with the enticement of a flying lesson that ends in Neverland. This turns into a dream world peopled by Lost Boys, Pirates and wolves but also Lois Chimimba as a lively, Scottish-accented Tiger Lily and, in an innovative experiment in doubling, Miss Francolini playing a glam, female Captain Hook. The archetypal baddie sports steel teeth and cool costumes, potentially as much a style guru to emulate as the usual figure of pantomimic hiss-worthy hatred.
What ensues is a series of adventures in a particularly hip Neverland, punctuated by songs composed by Benji Bower, the best of which is a rocking duet between erstwhile mother and daughter, Hook and Wendy, together with a series of scenes featuring domestic wish fulfilment as Wendy mothers the Lost Boys, prior to some swashbuckling action when the pirates appear on the scene.
Sally Cookson's vision of Peter Pan never quite hits the dizzy heights of Jane Eyre, although it has many moments of wit and beauty. In common with so much devised work, the evening can lack coherence at times and might benefit from a few sharp cuts.
Overall, though, the likelihood is that audiences, both old and young, will enjoy the experience of a production that charms throughout and, for family audiences, should prove a strong seasonal competitor to any pantomime that London has on offer.
Reviewer: Philip Fisher