The Bitter Tears of Petra Von Kant
Rainer Werner Fassbinder, in a new version by David Tushingham
Southwark Playhouse
(2007)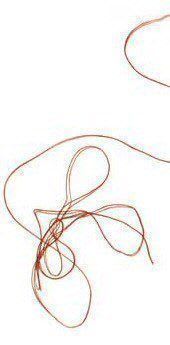 Young Irish director, Yvonne McDevitt launches Southwark Playhouse's brand new theatre with an avant garde re-working of Fassbinder's play from the 1970s that became a cult movie.
Unfortunately a warning is required. Wrap up warmly. The hangar-like space echoes well but is too big to heat, so that habitués who arrived early were greeted with sky blue blankets, while latecomers on a freezing December night spent 100 minutes chilling down like refrigerated turkeys.
The titular star knew what she was doing, apparently wearing thermal longjohns as a base layer beneath her super-stylish frocks.
This production is a real design triumph for Sibylle Wallum who creates what could easily be mistaken for an art installation by Tracy Emin. The massive area is littered with colourful icons including a bed, a pool of leaves and a 7ft high mirror.
These are then complemented by designer clothes that ooze style, as is appropriate for the tale of a fashion designer. The lighting by "John" also helped, hand-held by the actresses and very shadowy to create atmosphere.
The plot can seem almost like a solo show in the early scenes, as we are introduced to a confident Sasha Behar, indulging herself as the hedonistic Petra von Kant. This is in part because her devoted assistant/slave Marlene, beautifully played by Anna Egseth, is mute.
After bemoaning her failed marriage, slowly Petra's ego begins to overcome her better nature, until she meets the beautiful Karin (Naomi Taylor). This young lady attracts her at once and in no time becomes model, muse, lover and tormentor.
By the time of Petra's 35th birthday celebrations with the (female) family and friends, she is pining like a spoiled schoolgirl for her absent lover.
The massive vault is a hindrance to the storytelling, which needed an intimate or even claustrophobic theatre to mirror the life of a desperate woman trapped by unrequited love.
The Bitter Tears of Petra von Kant looks and sounds great, enjoying a varied soundscape. The story is carried by Miss Behar, formerly "mad" Maya Sharma from Coronation Street, who charms but can overdo the dramatics.
It is filled with clever and occasionally witty (though not always especially relevant) touches, as the director strives hard for effects to cover the essential emptiness of the dislocated lives on show and, at times, their portrayal.
Reviewer: Philip Fisher