Philadelphia, Here I Come!
Brian Friel
Donmar Warehouse
–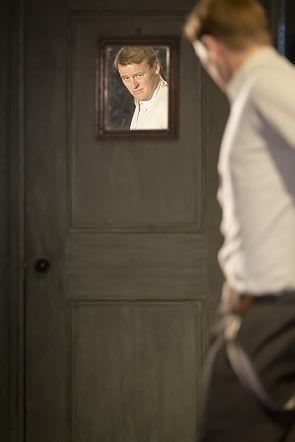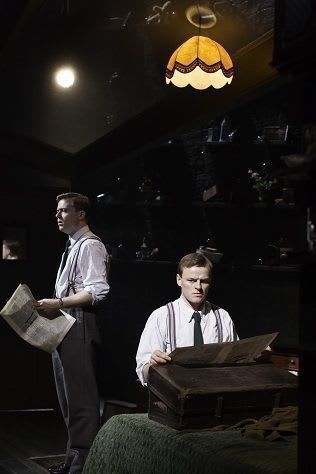 It seems to be a particularly Irish trait to create a stage world and then revisit it on a regular basis. For Brian Friel, this is the little village of Ballybeg, in Donegal.
The protagonist on this occasion is Gar, an immature 25-year-old with a split personality. The stroke of genius perpetrated by Friel is to portray this dichotomy between the outward man and his inner self by asking not one but two actors to play the role.
Paul Reid portrays Gar in Public, the boy who interacts with the village and its bland inhabitants, while Rory Keenan is the Private equivalent, delivering the kind of witty, wicked interior monologues that the timid youngster would never dare to voice. Together, they become a tremendous comic double act at the same time as revealing the inner life of a very believable young man.
Back in the early 1960s, many Irish lads were tempted to see whether the streets of the USA were really paved with gold but the decision to cut themselves off from family and friends was rarely easy.
In this case, the lad is enticed by his overbearing Aunt, loquaciously played by Julia Swift, as well as the prospect of a mild sort of an adventure across the ocean.
While on (and beneath) the surface, Gar is happy to ridicule every aspect of Ballybeg society and life, Philadelphia, Here I Come! eventually becomes an elegiac homage to a lost world.
The village certainly has its limitations, with girls in short supply and everyone knowing each other's business. The discomfort is compounded for the protagonist(s) because his mother had died three days after his birth and James Hayes as father, secretly nicknamed Screwballs, struggles to show sentiment of any kind.
This leaves loyal Madge, played with feeling by Valerie Lilley, to bring up the lad and show her own eccentric brand of love, perhaps in part as a tribute to his lost mother, one of a gaggle of sisters clearly closely related to their peers in Dancing At Lughnasa.
In two hours, not too much happens but we get a real idea of what small-town Irish life was like half a century ago, before the homogenisation of television and cheap travel turned it into something with far less individualisation.
What had originally shown every sign of being no more than a witty little comedy of escape from tedium takes on far greater depth and meaning as we begin to understand the mixed feelings that Gar experiences as he tremulously says goodbye to all that he has known.
Prior to that, he goes through the living equivalent to a near death experience, as the whole of life flashes before his eyes in a single helter-skelter night to remember.
The schizophrenic division is consolidated in our minds by Rob Howell's set, which combines the O'Donnell home with the attached shop. It also effortlessly conveys the period and milieu.
Director, Lyndsey Turner ensures that the comedy hits home effectively and brings a gentle, enjoyable evening to a poignant conclusion.
Reviewer: Philip Fisher