The Philadelphia Story
Philip Barry
Old Vic
(2005)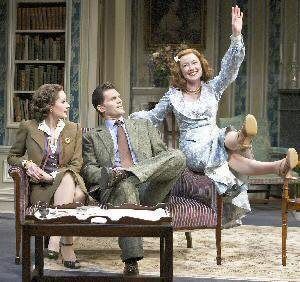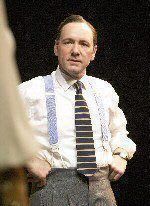 When he took on the post of artistic director at the Old Vic, Kevin Spacey made a deliberate policy decision to launch his tenure with a challenging opening season rather than playing things safe. While he must be commended for his bravery, artistically he may well look back and wonder whether he should have gone for at least one safe bet.
His first play as director at the Theatre, Cloaca was universally panned while his first as actor, National Anthems, got mixed reviews. The Philadelphia Story has much more going for it, as a much-loved pre-war Broadway hit and movie written for Katharine Hepburn and also starring Cary Grant and James Stewart. A hard act to follow, but surely this would be the success that Spacey and the Old Vic both crave and need?
In order to achieve this, he has imported a group of experienced Americans, led by director Jerry Zaks, whose thirty Broadway shows have garnered no fewer than four Tonys and four Drama Desk awards - a big hitter.
The imported design team, John Lee Beatty for the set and Tom Rand for costumes, are a major success. The two-and-a-half hour play is split by two intervals, starting and finishing in a lavish drawing room that just shouts "tastefully expensive" with a beautiful summer house in between.
While the men's costumes are generally standard, the exception being Nicholas Le Prevost's Uncle Willie, dressed in a loud checked jacket over a yellow waistcoat expressing bumptious personality. The ladies vary between blouses and slacks and exquisitely colourful dresses that must surely have graced 1930s catwalks.
The play opens on the eve of a wedding. Tracy Lord, played by Jennifer Ehle, the elder daughter of the house, is about to plunge into matrimony for the second time with dull, nouveau riche industrialist George.
The family is taken up with the arrangements and excitement, no one more so than bridesmaid and kid sister Dinah. Stage debutante Talulah Riley is excellent as the precocious but verbally-challenged teenager.
This wedding is never destined for unbridled happiness. There is far too much family history to allow this. Father and Mother (Oliver Cotton and Julia McKenzie) have not lived together for years and a scandal is on the horizon in the form of a shapely dancer. The arrival of a journalist and photographer from the 1930s US equivalent of Hello magazine guarantees that fireworks will ensue.
Reviewer: Philip Fisher