Philippe Decouflé Company DCA: Panorama
Choreography by Philippe Decouflé
Philippe Decouflé Company DCA
Sadler's Wells
–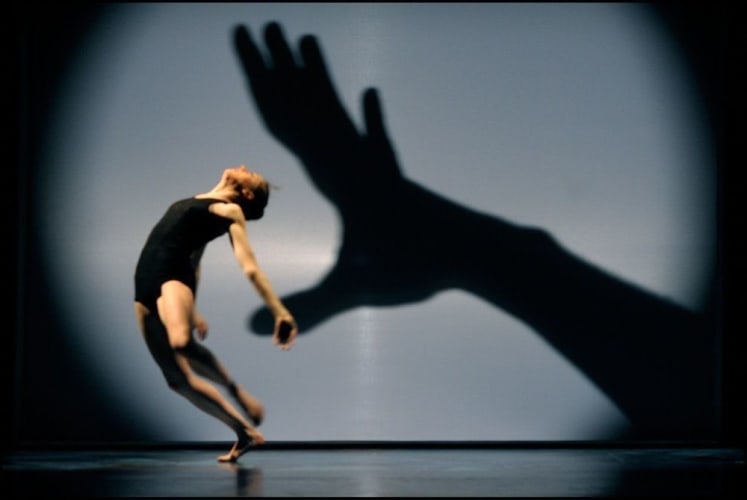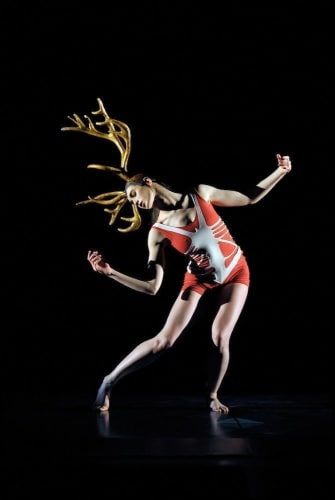 If you've not seen Philippe Decouflé Company DCA before, then you must remedy that. A chance to catch up, in this UK première of Panorama, with a superbly reworked concentration of some of his seminal works from an almost thirty-year-long career pays off manifold—in dance, music and visual pleasure. Expect anything and everything.
Prolific choreographer Decouflé trained in circus skills and mime, contemporary dance under Alwin Nikolais, has choreographed for Cirque du Soleil (Iris), made dance and music videos, directed prize-winning advertisements. Throw all these skills together with a crazy imagination, ranging widely, and you get madcap antics, a bit Cirque Imaginaire but with more and better dance.
Vaudeville, cabaret, and fairground, the travelling players have come to the village green to entertain and dazzle with their lighting trickery, acrobatics and dance, with music to transport you to another world, and silly comedy.
All the fun of the circus, and so much more, sit back and enjoy. Let yourself go, give in to the experience, everything will make sense—the flipper-footed microbes, the feelers extending limbs and body, the shadow play, the hairy fairy tales, the girl in deer antlers.
Lighting rig crossed arches (frames for a tent?) over a pretty mosaic square, and dressing tables trimmed with lights, and rails of costumes at the sides for swift transformations.
An eight-strong troupe of drum majorettes of all shapes, sex, and sizes in orange busbies enters through a side door into the auditorium and marches through up on to the stage, whilst the audience is still taking its seats.
That's the appetizer. There's a break until all are seated, and then a hundred minutes of nonstop fun is unleashed. A breather somewhere in that kaleidoscope of sensations and images would have been welcome, but the fun steamrollers on.
An MC (the lanky droll Matthieu Penchinat), the talking, dancing, puppet master clown amongst the dancers, introduces the now multi-hued tuxedo-clad company. Vague Café and Jump from the eighties will be included, but, of course, the dancers are new—all that was before their time.
Carnivalesque music, accordions, guitars, ukuleles, a mix of popular, electronic, heavy rock, European gypsy and clubbing sounds, strobe lighting (Begoña Garcia-Navas) that turns the stage into an underwater world, and supple acrobatic bodies that spin and turn like marionettes, instruments of sound. And silence—listen to the wind blowing.
Storytelling—"hand me your ears for a minute and I'll tell you a tale"—hand shadow puppets play dogs, witches, bonking rabbits, and an elephant… I've left a lot out there: the whole is artfully ingenuous, especially when the rabbit and the bear materialise in baggy costumes and square up to each other.
A couple on elastic harnesses from the steel arches use their bodies' counterweight in an aerial dance that turns from baby bouncer delighted gurgling noises to argumentative grunting conflict.
Three men on a bench play fisticuffs to hip hop beats, clicks and whirrs—a brilliant sitting dance. And our circus MC tries to get us to close our eyes to adjust to the dark. "I still feel some of you looking at me."
Release inhibitions and let imaginations fly, revert to being a child. Smoke and mirrors; projections, and shadows; Méliès and the silent screen. Who is manipulating whom? A shadowy hand guides and moves the soloists in front of its screen.
Contortions, and an exploration of the body's external and internal organs: this is what the body is; this is how it moves. A strongman duet for a pair of men in black pleated skirts; a Petrouska trio, lights flash, game over, "Vive la France!"
My companion sees Otto Dix characters, where I see a cornucopia of influences and a fertile mind. Two imps on harnesses invade the space of a girl on a red sofa—Matthew Bourne's reworking of La Sylphide, Highland Fling, in duplicate.
Metamorphoses, onomatopoeic poems, mad and madly colourful costumes (Peggy Houset), spectacle, dance, and sensuous delight—a grand fling this is. "Everything is relative, and the universe is bizarre—voilà!"
The final posed group tableau, to Hernando's Hideaway tango, in silk dressing gowns—boxers after a fight—is all castanet hands and happy faces, except for the man who has a match struck on his baldpate.
Magical, fantastical, with a delightful comic book surreal logic, image, music and costume as important as the dance, Panorama is " a very ambitious small show" (Philippe Decouflé). 
Reviewer: Vera Liber