Phoenix Dance Theatre Crossing Points: Signal / Catch / SoundClash / Melt
Choreography by Henri Oguike, Ana Luján Sánchez, Kwesi Johnson, Sharon Watson
Phoenix Dance Theatre Company
Linbury Studio, Royal Opera House
–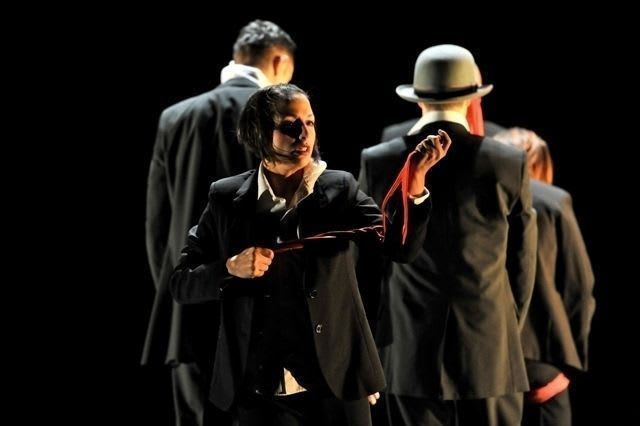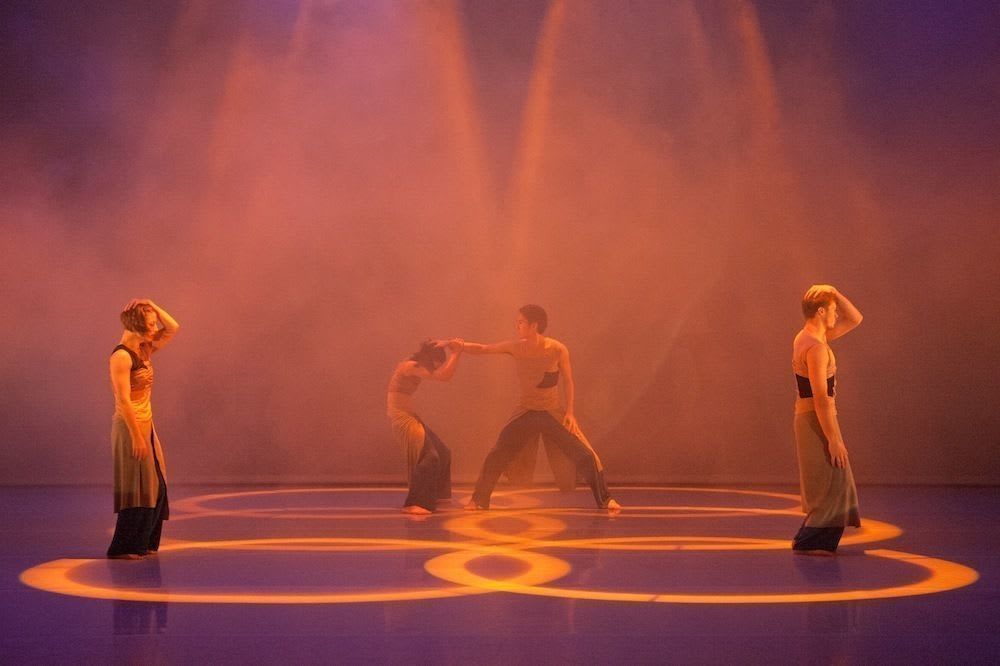 Having gone through several re-incarnations since its inception in Leeds in 1981—on its seventh artistic director—one is glad to see Phoenix Dance Theatre in full boisterous life, its name synonymous with its ethos and style.
Sharon Watson, who danced with the company from 1989 to 1997 and since 2000 has been involved with the company in many capacities, took over in 2009 from Javier De Frutos (2006-2009).
Before De Frutos came Darshan Singh Bhuller (2002-2006), Nerissa Barnes (1997-2002), Margaret Morris (1991-97), Neville Campbell (1987-91), David Hamilton (1981-87), and all left imprints of style and motivation.
Now Sharon Watson has refashioned a small, dynamic company of committed and talented dancers. They bring a terrific mixed bill, from dramatic to soporific, from surreal to experimental, sound and visuals as captivating as the dance.
Henri Oguike's high velocity Signal bursts from the flames to the compulsive propulsive beat of Japanese Taiko drums and soothing tinkling oriental percussion and strings.
Battles rage, fires burn (in three bowls at the back), five dancers aflame in red and black (costumes Elizabeth Baker King) attack the choreography with verve and vigour. Relationships form: warriors fight and kick, couples nuzzle, split and repair, intense solos and duets.
Animalistic, lizards, birds, tall cranes, cautious, then full of display and emotion, body language undulating, then all sharp extreme angles, extensions and contortions. Lucy Carter's subdued lighting casts shadows for this orgy of action, visceral, primitive, of the earth, fire and air.
Ana Luján Sánchez's new Catch, commissioned by the company, is inspired by Magritte's The Son of Man—the green apple obscuring the face of a bowler-hatted man in black overcoat, white shirt and red tie.
Amusing, witty, surreal of course, and profound, this is magical dance theatre as philosophy. All in identical outfits, but not the same. Identity is not that simple. Look and see what is underneath the uniform.
Tragi-comic, moving, with a European sensibility, six dancers in Son of Man costumes, play Magritte games, gesture with fingers and hands, petals opening, cat's cradle tangling.
They consider the situation and each other in Beckettian puzzlement. Coats come off. Ties come off to serve as bandanas and tourniquets. Convulsions. Pools of light become their safe patch.
A thick white rope drops from the sky. This alarms them—in awe of it, they are drawn to it. A totem, a threat, a promise, a way out? Jackets off. Happy rhythmic dance—safety in number—like shoals of darting fish…
Hat appears under rope. The hat. How to get it? Trousers off. Down to vest and pants. A brave man reaches out and takes the hat in a piece of optical trickery.
Borut Krzisnik's music and Ed Railton's lighting design give Catch a silent movie mime theatre quality. Hat pulled down low over brow, petite Azzurra Ardovini stands out as the clown in the group, tumbling, flipping, a bundle of dynamite.
Kwesi Johnson's new piece SoundClash is inspired by cymatics, the study of visible sound and vibrations. Beautiful Masonic circular imagery on the floor, and pulsating backscreen projection, show and represent Luke Harvey's electronic layers of sound.
Two light pyramids decorate the stage, metronomic and Masonic. Heavy hum, bleeps, white noise, rustle, and vibration, Tenori-on patterns... Dancers embody in acrobatic physical manifestation the tensions and mechanisms of sound, until, completely spent by the incessant driving sound, they stop.
What a relief to swing on harnesses in Sharon Watson's Melt. Music by Wild Beasts gives wind to the aerial dance. In white lacy pyjamas against a silver moon seven dancers become musical wallpaper, dreamily spinning, swinging, an insomniac's remedy.
A good mixed bill, fine dancers (the aforementioned Azzurra, Antonio Borriello, Glenn Graham, Sandrine Monin, Phil Sanger, Jitka Tumová, Vanessa Vince-Pang, and Josh Wille), a treat for London, the first time Phoenix has been here in five years.
The final night at the Linbury was packed, many standing, and the reception was stupendous. Two years ago the company moved into purpose built premises in Leeds, celebrating thirty years of existence—may they celebrate thirty more…
Reviewer: Vera Liber