Piaf
Pam Gems
Donmar Warehouse
(2008)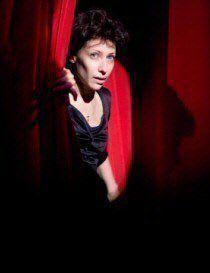 A tiny female figure, hunched over, barely able to stand, unsteadily makes her way onto the stage. As she struggles to sing a note she is pushed around the stage by the rest of the cast, physically thrown back in time as they disrobe her, revealing a young and very cocky teenager and so the story of Edith Piaf's life begins.
Pam Gem's Piaf, first produced by the RSC in 1979 and now playing at the Donmar Warehouse, charts the life of Edith Piaf; from her childhood on the streets to her many relationships, to her appetite for alcohol and drugs and above all her overriding desire to sing.
Elena Roger (an established name in the West End since her acclaimed performance as Evita Peron) gives another outstanding performance as Edith Piaf. Often referred to as "little sparrow", Roger flits about the stage with the intensity and passion of Piaf herself. She may be tiny but what a powerful presence Roger is as the crude, blunt, unsophisticated and loveable Piaf. Her performance is everything that Piaf's songs were, conveying the anticipation of hope, frustration, despair and desire.
However, can the life of this extraordinary woman be crammed into ninety minutes? Gems has certainly given it her best shot as the scenes whiz through Piaf's early years to the detriment of portraying just how tough Piaf's upbringing was and the impact it had on the rest of her life. Whilst her good friend Toine (Lorraine Bruce) is always present, the intensity of her other relationships is lost, particularly that of her affair with her married lover Marcel (Phillip Browne) which is played out in just one scene.
Whilst Roger's journey and progression as Piaf is clear, it is not always clear why. So many characters come and go that it is difficult to keep track of who is who and the impact that they had on Piaf. Although Katherine Kingsley's performance as the stunning Marlene Dietrich, every inch the star, oozing sexuality, must be noted.
Piaf's songs, passionately performed by Roger with incredible similarity to Piaf, are often used as a soundtrack, rather than performance moments, helping to define the emotion of the moment and charting where Piaf was in certain stages of her life but sadly this does not make up for the lack of detail in the story line.
It is difficult not to compare Piaf with the recently acclaimed film La Vie En Rose which, running at approximately three hours, was able to provide far greater detail. However, whilst some keys facts may be amiss, James Lloyd's production certainly conjures up the vigour with which Piaf lived her whirlwind life. Performed against a blackened, burnt out stage, with the word "Piaf" decaying and peeling off the back wall, it very much resembles Piaf herself. In her final years, looking much older than her forty-seven years, Piaf physically faded away through illness and drug abuse in front of a nation but she refused to do so quietly.
As a fragile and weak Piaf takes to the stage for one final song - "Non, Je Ne Regrette Rien", her words ring loud and true for this woman who certainly lived life to the full and will always be remembered for doing just that.
The producers wish to acknowledge the support of The Stuart & Hilary Williams Charitable Foundation.
Philip Fisher reviewed this production on its transfer to the Vaudeville Theatre
Reviewer: Rachel Sheridan