Piaf
Pam Gems
Vaudeville Theatre
(2008)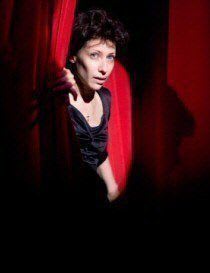 If ever there was a star vehicle, Pam Gems' musical biography of Edith Piaf, is it. Some quarter of a century past, Elaine Paige played The Little Sparrow. Now, another much more recent Evita, Elena Roger, brings depthless pathos and a great voice to the role.
The lights rise on Soutra Gilmour's symbolically burnt out stage, topped by a distressed proscenium arch and fronted by a cobbled street. There as an introduction, we are given a glimpse of the end of a circular journey that sees a street girl rise to fame before plunging back to become the tottering, tiny, wheezing addict who can no longer hold a note, let alone a tune.
In some ways, this story could be a precursor to the lives of Frankie Valli and the Four Seasons as depicted in a much more recent musical Jersey Boys. They too started life on the wrong side of the tracks before finding stardom on the back of a God-given talent.
In early days, Piaf, as she was universally known, supplemented her earnings from prostitution as a street chanteuse. Amazingly, the waiflike teenager was discovered singing for sous by a man who soon paid for the association with his life.
He was succeeded by a series of men who cultivated one of life's metaphorical weeds with such care that it eventually transformed into the most aromatic of roses as the highest paid woman singer in the world but with a flowering almost as brief as that of a delicate bud.
Once projected into the music business, the minute singer started a meteoric rise that was hardly slowed by Nazi occupation or her own predilections for addictive substances and bad men.
She also found some supportive friends in good times and bad, led by her pal in the early days, the broadly comic Lorraine Bruce's larger than life Toine. This tart with a heart of gold was succeeded by the towering Marlene Dietrich and Charles Aznavour (Katherine Kingsley and Owen Sharpe) as well as a number of briefly-seen but universally gorgeous male companions.
To be fair, Piaf was badly hit when the love of her life, Phillip Browne as boxing champ Marcel, died in a plane crash, the first of many tragedies that slowly wore down the singer's fragile defences.
Piaf is a tragedy in the classical sense, as it follows the rise and fall of a self-destructive legend. Elena Roger acts the part to perfection, moving from street urchin to would-be lady and then the star who eventually became a hopeless junkie.
Jamie Lloyd's transfer from the Donmar is impressionistic in its storytelling and positively reeks of a bygone era characterised by Gitanes, Pernod and Piaf.
This limited run will undoubtedly prove popular with fans of both Piaf and her latest portrayer. It tells a heart rending tale but really comes alive when Roger/Piaf sings so movingly, the pair indistinguishable at times. Inevitably the 100 minute performance peaks with the final song, Je Ne Regrette Rien, which brings the house down.
Rachel Sheridan reviewed this production at the Donmar Warehouse
Reviewer: Philip Fisher