Piano/Forte
Terry Johnson
Royal Court Theatre Downstairs
(2006)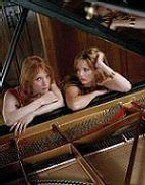 Sets can be deceptive. On entering the Royal Court, one is greeted by the kind of living room that has become standard for West End revivals of Noel Coward's comedies of upper class manners.
This is the Buckinghamshire family pile of former Tory minister played by Oliver Cotton. Suave Clifford's ethos speaks for his age: "We are what we possess".
Following the almost compulsory disgracing, he has become a media personality of the lowest kind but is now on the brink of a third marriage - to a Page 3 girl. The society wedding is of the type that is sponsored by Hello with live music from (Sir) Elton John.
Before the happy couple even arrive from town, the house has been turned upside down by the appearance of Clifford's daughter, Louise. Kelly Reilly provides almost all of the evening's fireworks, giving a magnificent performance as the unloved attention-seeker.
Strangely, the petulant bad girl who runs away from daddy to the circus has much in common with the actress's last stage role as Miss Julie at the Donmar, for which she gained so many plaudits and an Olivier nomination.
She could not be more different from her sister, sharing only flame-coloured hair. American film and TV star Alicia Witt plays damaged, stammering Abi. Like their mother who killed herself, the quiet daughter is a musical prodigy.
The actress, who achieved fame as Cybill's daughter in the TV series, is well-cast since she is a classically trained pianist and gets great opportunities to show off her ability, as Chopin and Rachmaninov wittily help the plot along, as, in a different tone, does Ravel's poignant Pavanne for a Dead Child.
Initially, though, on the brink of mental collapse, she cannot bear to play the piano and has to be nursed by her mother's brother, Danny Webb's Ray with whom she shares an unrequited and unspoken love.
The first few scenes allow the star of Mrs Henderson Presents to have a whale of a time strutting around as the outrageous girl who has to have her way. Miss Reilly will undoubtedly get a lot of publicity for the scene in which she welcomes her father and the almost-stepmother who may be younger than she is - topless.
Until the interval, the other actors barely get a look in as father and daughter joust with the most common weapon, his first wife and her mother who they may each have had a hand in driving to an early grave.
The wedding itself is overshadowed not only by family strife but also the invasion of a murmuration of terrifying starlings, distantly representing the dead wife whose place is being taken once again.
It also opens wounds that may never heal but at the same time possibly enables Abi and Ray to enjoy the love that each has denied for so long and thus prevent the past from repeating itself.
Throughout the two and a half hour play, there are periods of mad and often irrelevant excess, for example the appearance of a couple of Spanish erotic waiting staff cum trapeze artists and a great Robin Hood musical joke. Beneath the façade, the play portrays a dysfunctional family of today in search of the kind of peace that may no longer exist.
Piano/Forte is presented at great speed and with real vigour under the playwright's direction. It is great fun and both pays homage to and sends up Hitchcock with its birds and, at times, plotlines and it does almost exactly the same for elements of society and celeb culture today.
Reviewer: Philip Fisher