Picasso
Terry d'Alfonso
The Playground Theatre
–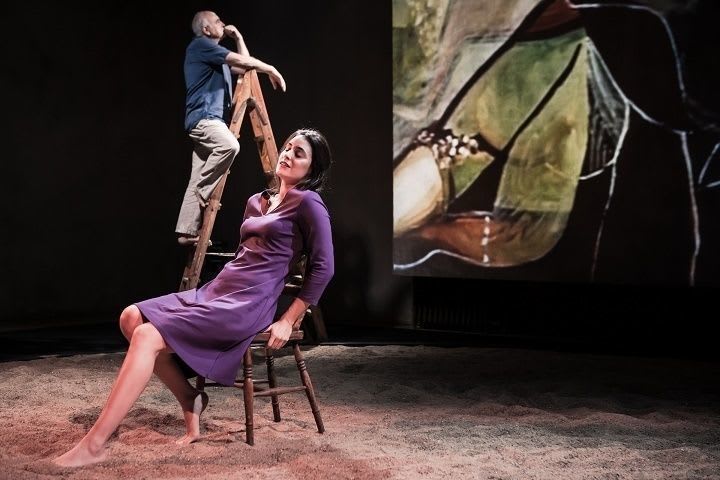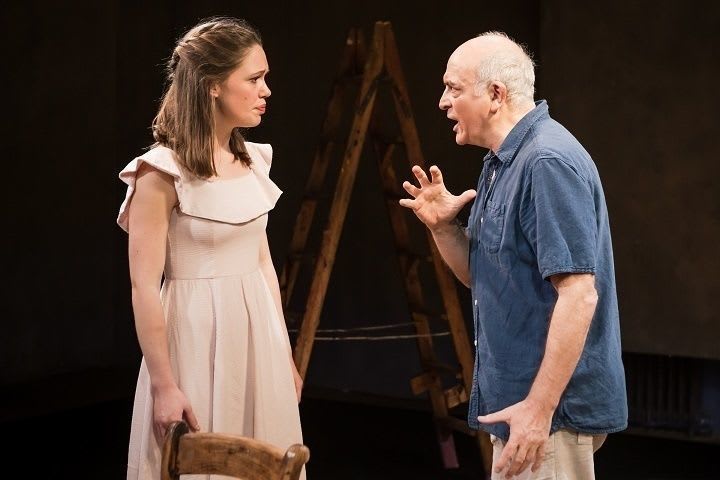 London is currently enjoying a plethora of new theatre openings, the most recent pair coincidentally feature biographical plays about famous eccentrics.
Only a couple of weeks after the Bridge Theatre opened its doors with Young Marx, this comfortable hundred-seat, warehouse-style building on an industrial estate in West London sets out to establish its name with a play featuring co-artistic director Peter Tate in the title role of Pablo Picasso.
The 70-minute production features a quartet of actors who strut their staff in and around a circle of sand with a large projection screen upstage.
Readers who do not know too much about the life of Picasso will probably be little the wiser by the end of this odd play.
Effectively, it casts the legendary Spanish artist as a kind of Henry VIII figure, acquiring and then dispensing with, if not actually executing, six young women with gay abandon, not even letting up even when a further score beyond his allotted three score years and ten.
The initial premise is that Picasso, who speaks throughout in the kind of portentous tones that one normally expects from Greek gods on days when they are short on humility, is being interviewed by Adele Oni's Geneviève Laporte, a teenage journalist whom the artist inevitably wants to bed.
Their discussions lead in to some very brief scenes from a relationship with a former mistress, Marie Thérèse Walter played by Claire Bowman, treated atrociously but no more so than various other members of the sextet of wronged lovers / wives, three of whom only appear on the big screen.
The bulk of the evening is taken up by Picasso's affair with his last wife Jacqueline Roque, which commenced when the artist was almost 80 and she well under half that age. This final muse, played by professional stage debutante Alejandra Costa, is at least more playful and better developed theatrically than any of her predecessors.
Even so, in his interactions with all of the women, Picasso comes across as an incredible bully whose interest lies solely in art, the women providing brief interludes of light entertainment or subjects to be painted and sculpted.
The problems with the play and Michael Hunt's production rest largely in a failure to get beyond the surface of either Picasso's psyche or his art. In addition, some very clunky writing that relies on far too much unsubtle exposition of the kind that is normally used in satires and too little development of character do not help the process.
While it is anticipated that Picasso might get mixed reviews, it is always good to welcome a new London theatre and it is to be hoped that Mr Tate and his co-artistic director Anthony Biggs, who was so successful at Jermyn Street, make a success of the venture.
Reviewer: Philip Fisher