Pictures From an Exhibition
Modest Mussorgsky, text by James Fenton
A Young Vic / Sadler's Wells co-production
Young Vic Theatre
(2009)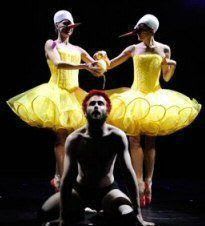 If the Chapman brothers can 'rectify' Goya by sticking clown noses and ears on to his Disasters of War etchings in the name of art (Insults to Injury), then why not Daniel Kramer in his 90-minute no-interval impressionistic dance theatre piece (co-produced by the Young Vic theatre and Sadler's Wells) based on Musorgsky's (in the Russian there is only one 's' - hence the variable spelling) wonderfully expressive piano suite in ten movements written in 1874 in remembrance of his close friend the painter and architect Victor Hartman, who died the year before aged only thirty-nine Musorgsky was to die seven years later (the same year as Dostoyevsky) aged not much older at forty-two.
The first surprise is that the 'pictures' are not from Hartman's exhibition (in any case some of these are missing), but from Musorgsky's messy life - in which he seems to have made an exhibition of himself. And set in context. That's a big undertaking - Russian history with its political unrest and new ideologies, as well as an hysterical personal story.
Life and creation conflate in confusing cornucopia in German expressionistic / Gogolian grotesque style. The opening image is straight from both - the little civil servant surrounded by skew-whiff doors closed to him (an impoverished Musorgsky had to support himself as a civil servant).
Richard Hudson's design is marvellous - doors of all shapes, sizes, styles, and hues, are shut to Musorgsky - until the metaphorical gates of Kiev open in jubilation at the end. The gates of Kiev were Hartman's design - in ancient Russian style - to commemorate the tsar's escape from an assassination attempt
The second surprise is that not only do orchestral arrangements interchange and alternate with live piano solo, but Daniel Kramer has also edited, cut and pasted the ten movements of the suite to serve the literal, emotional, and psychological biography, and added a heavy disco beat remix section for a scene that looks as if it takes place in the gay Heaven nightclub. See where he's heading?...
Not only that, but Musorgsky's undisciplined life has also been made over into a Struwwelpeter fairytale, a collage, an imagining of the inside of his brain. He studied German philosophy. And dabbled in mysticism - Hartman's unusual pictures - costumes for a unhatched chicks ballet, a clock in the shape of Baba Yaga's hut with chicken legs, Paris catacombs, portraits of a rich and a poor Jew - are a strange inspiration for his astounding music, here filtered through Daniel Kramer's feverish imagination (text by the poet James Fenton) into a 'debauched' under/other world.
A naked fig-leaved malevolent Eve, who looks as if she has discovered the pleasures of the other side of paradise, is not a very Russian Baba Yaga who eats little children - she eats big men I should think. There's no happy ending for little Modest, who splinters into red-wigged multiple versions of himself.
Peter Mumford's searchlight lighting, around which smoke and fog curl in Fuselian swirls, picks out and swaddles bodies writhing in hell or in ritualistic catacomb burial dance, the men in long Samurai-look black skirts, the women in white, both bare-chested (choreography by Frauke Requardt). Whilst all the while the howling wind blows.
Two dancing bears piss alcohol into Musorgsky's mouth; a drinks machine dispenses delirium tremens apparitions and bottles of vodka fitted with baby bottle teats (drink as numbing dummy / pacifier); baby bottles serve as penises. And eggs are testicles (the Russian for which is the diminutive of eggs) - one of his is crushed and eaten. Castration nightmares? Rejection? Abandonment issues?
Eggs figure large throughout. A giant egg is thrown and smashed as a finale. His life runs out with the yolk - is this a joke? There are a few laughs. Is this what a diseased Russian soul looks like? One that never dared cross "the inch of love" separating him from his fellow men.
Drunken men in red uniform jackets, fur hats, and no trousers, leap and squat in pastiche 'hopak' dance, play Russian roulette, and get scythed down by repeated gunfire. Musorgsky was in the cadet school of the guards in St. Petersburg, and alcoholism, apart from being a Russian disease, was not only a way of showing solidarity with the common man but also a form of protest. "I am Russian. It is my duty to drink." A self-perpetuating cliché.
"Moments from death, Mussorgsky's past returns in the fragments and flashes of a beautiful nightmare". Are nightmares beautiful? Not in Musorgsky's alcohol-fuelled chaotic life. And if you know little of Musorgsky or the times he lived in, this will be the impression you will take away with you - an infantilised genital-fixated alcoholic whose life was a chaotic shambles and who lived when the winds of change were beginning to blow through his homeland. It makes for an unusual kasha, which might nourish a hip young audience willing to take a chance on this mix of striking visual images and mind-blowing music. Musorgsky purists might think otherwise.
Pictures From An Exhibition is regularly rearranged for all types of music - jazz, rock, folk, metal, electronic - many disorientating liberties have been taken with it in its lifetime. Would the 'wild man' of Russian classical music approve - I'll bet he would. Just give him a drink.
I overheard one theatre critic wonder what that was all about "but it is fresh" Tchaikovsky said that of Musorgsky's music - "Beautiful it may not be, but it is fresh" - which just about sums up Kramer's production. If you need to hear the real thing, listen to Svyatoslav Richter, or Ravel's or Ashkenazy's orchestral arrangements, though Musorgsky's vivid music is played well enough here by pianist Carl Joseph (who also provides additional arrangements), in red wig as a Musorgsky alter ego.
8-23 May 2009
Reviewer: Vera Liber