Pieces of Vincent
David Watson
Arcola Theatre
(2010)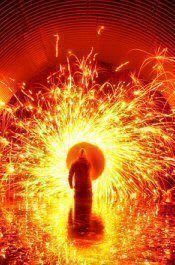 Off-the-wall experimentation can backfire, however good the concept - and it is.
It is not unknown for critics to have a secret blacklist of theatres that they do not like, usually due to uncomfortable seating. Over the years, the Bush and the Traverse have both had makeovers and disappeared into the world of comfort but for this production only, the Arcola has risen to an undisputed position at the very top.
The audience are obliged to sit, if that is the word, on a rock hard floor within inches of each other on tiny cushions as the drama takes place on four stages all around them.
To compound the offence, bags are confiscated, with an assurance that they will be protected. They may not have been permanently lost on opening night but that was more by luck than judgement following the disappearance of the bag check lady causing chaos.
And did the play and production justify the traumas? Up to a point, as director Claire Lizzimore and her designer Es Devlin enliven a grim tale with a truly novel staging.
There are no new stories under the sun and the idea of obliquely portraying a London terrorist outrage, primarily from the point of view of the indirect victims, has been seen before but can still be moving.
The evening starts with a 360o panoramic drive through the rolling County Down countryside that introduces us to Adam Best's Northern Irish Vincent in voiceover. As we eventually discover, he is a listless artist searching for something that he will probably never find.
We see him through the eyes of an ex-lover who has moved on (Sian Clifford as Rachel) and also Dearbhla Molloy playing his tough as nails grandmother.
In another thread musical Dennis (Robin Soans complete with strange accent) meets, loves and then mourns idiot musical savant Chris (Joseph Rowe).
The most moving story of all harks back to an earlier, Irish bomb that changed the life of a policeman John, given amazing humanity by Kevin McGonagle who stands out in a strong cast.
A final dimension is added in Birmingham by a meeting with dead Amar Saleem, Shane Zaza as the man without whom this collective outpouring of grief would have been unnecessary.
It can be hard to dissect the experience. Once one has got over the discomfort, David Watson's script achieves its aims and is elusive but well-constructed. It benefits immeasurably from the multimedia additions and depending upon the suppleness of one's body, is an evening that comes close to that elusive word unique in the impression that it leaves in the minds of visitor. This is in some ways more like a trip to a 360o cinema though with a much more subtle and sophisticated script but none of those sleep-inducing comfy seats.
Reviewer: Philip Fisher