Pied Piper
Conceived by Ultz, Choreography by Kenrick 'H2O' Sandy, Music by Michael 'Mikey J' Asante
Blue Boy Entertainment
Barbican Theatre
(2009)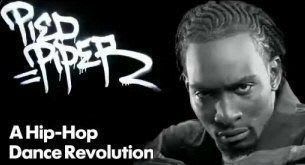 Pied Piper is theatre for the videogaming generation. Its main focus is on the kind of sub-martial arts superhero who is capable of beating off a dozen assailants before breakfast and repeatedly gets into scrapes around the globe as he tries to rid it of hoodie vermin.
In his spare time, what else would the big guy do but love up half a dozen gyrating houris? This is comic book drama that, it is hoped, will bring a new audience into theatres, with the inherent expectation that they will return for more challenging fare.
The show first played to acclaim at the Theatre Royal, Stratford East, winning an Olivier for Outstanding Achievement in an Affiliate Theatre and, like The Harder They Come, has now made the short trip to the Barbican.
Theatre designer Ultz was determined to bring a contemporary dance extravaganza, based loosely on Robert Browning's morality tale to the stage. He gives his dancers plenty of space in a wide, urban desert where graffiti is de rigueur and the only embellishments are rubbish bins and a sinister cage.
The dance, excitingly lit by Jo Joelson, is impressive. Kenrick 'H2O' Sandy's tremendous choreography shows off the talents of street and break dancers who really know how to shine, often demonstrating feats that one might reasonably have assumed were physically impossible.
The idea of a "Hip-Hop Dance Revolution" is seductive and up to a point works. On the first Saturday of the run, it was an uphill struggle.
It seemed odd that composer Michael 'Mikey J' Asante should get up on stage to announce amongst other things that it would be good if audience members did not talk.
Unfortunately, the large group sitting behind your critic were obviously too busy talking to hear that plea. Half an hour of incessant chatter in, the response to a request for a little quiet was "I think you're very rude. If I want to keep talking, I'll keep talking". To give the lady credit, she was as good as her word.
It was therefore a rather distracted reviewer that the enthusiastic dance ensemble had to win over and to make matters worse they were minus their moving force, choreographer and Pied Piper, 'H2O' Sandy.
When a show has been built around a special, charismatic talent, the lacuna left by his or her absence is always felt deeply and that was the case despite the efforts of Sandy's mountainous understudy, Christian Alozie.
Pied Piper is a good excuse for a team of talented street dancers to strut their stuff and the quality of the choreography and performance cannot be faulted.
This lack of a detailed plot and any variety other than in dance style should not worry gamers. It is to an extent redeemed after the four potato head Governors fail to reward our hero adequately. Then, PP takes revenge, kidnapping a group of local kids, three or four of whom are dancers of prodigious talent.
The conclusion on this adventurous variation on a theme is that the story-telling might be uninspired but the dance wins you over.
Peter Lathan reviewed this production at Northern Stage, Newcastle, and Philip Seager reviewed it on tour in Sheffield
Reviewer: Philip Fisher