Pigspurt's Daughter
Daisy Campbell
Hampstead Theatre Downstairs
–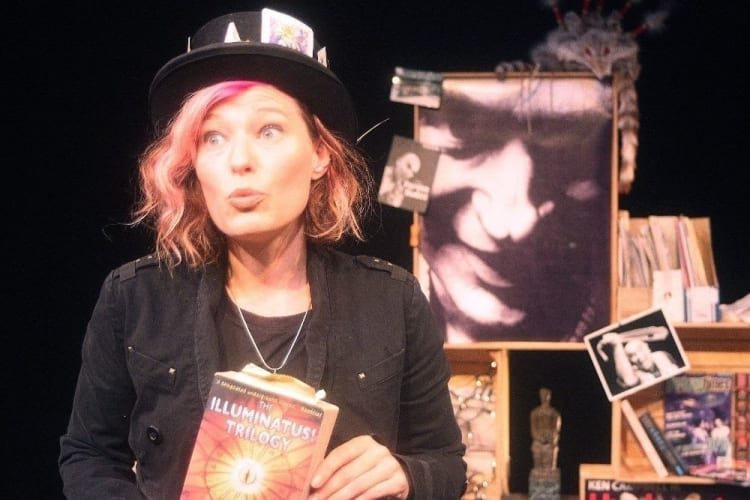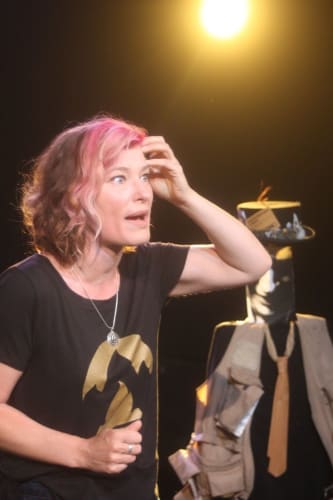 In this two-hour-long solo extravaganza, Daisy Campbell sets out to prove that she is very much her father's daughter, performing writing and self-directing.
That father, Ken Campbell, was one of the theatre's great eccentrics, capable of creating events that lasted 24 hours, as well as shows that were well received at London's National Theatre. Those wishing to know more about his life and times would do well to seek out another Hampstead Downstairs show, Terry Johnson's hilarious, passionate but touching Ken, when it hits the Edinburgh Fringe next month.
Pigspurt's Daughter has been written as a memorial to the great man, commemorating the 10th anniversary of his passing. Even so, he seems to be present in spirit as well as taking part in an ongoing dialogue at various points during the evening.
The stage has been kitted out as a kind of shrine. It is backed by a cabinet containing many Ken-icons, most of which get their 15 seconds of fame at some point during the show.
Ms Campbell's sets out her stall early, seemingly attempting to tap into her father's vein of eccentricity by appearing wearing a ringmaster's hat, adorned with further iconography. This covers her rainbow-coloured hair, which is soon rather fetchingly covered by her rainbow knickers, which formed the basis for their own story.
Rather than another history of Ken Campbell, this show is more a tribute compiled by accompanying what are often somewhat oblique references to his life and times with a long and sometimes rambling tale that utilises his techniques and, it is hinted, some of his performed and unperformed scripts.
To the extent that there is a plot, this largely centres around a daughter's decision to exhume her father's body 10 years after his death, with the intention of cremating him and putting some of the ashes into a pyramid created by the former members of The Justified Ancients of Mu Mu, a band revered not only for their music but also because they reputedly burned (literally) around £1 million of pop-generated cash.
If that sounds mad, it probably is. Along the way, Daisy is constantly egged on by what might be either the spirit of her late father or some kind of brainstorm insinuating itself in that guise.
Daisy Campbell is an endearing, energetic performer who has the ability to make audiences laugh, occasionally with material so out of the ordinary that the only alternative to laughter would be complete bewilderment. That, too, is a trait inherited from the old man and makes Pigspurt's Daughter a show that will undoubtedly appeal to Ken Campbell fans but also anyone that enjoys steeping themselves in theatrical eccentricity.
Reviewer: Philip Fisher