Pillars of the Community
Henrik Ibsen, in a new version by Samuel Adamson
RNT Lyttelton
(2005)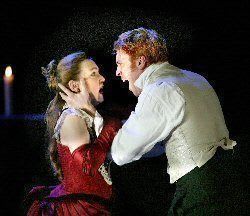 Pillars of the Community is a really pleasant surprise. This Ibsen is virtually unknown, having last been seen in a major London production as far back as its centenary in 1977.
It may verge on the schematic and the melodramatic on occasion but in Marianne Elliott's excellent revival, it provides a very entertaining and richly rewarding evening.
The Forsyte Saga's Damian Lewis stars as Karsten Bernick. He is a righteous and upstanding pillar of the puritanical Norwegian town that he has done so much to enrich.
Everything is going well for the wealthy shipbuilder who seems a paragon. Ibsen contrasts his behaviour with the sordid ways of America using two ships symbolically, Bernick's own solid vessel, The Palm Tree, and the rotten Indian Girl that has brought a bunch of outrageous sailors to shock the town.
This is Ibsen though and no hero of his can survive without the odd skeleton in the cupboard. In Bernick's case, it is a Faustian pact that he made, some fifteen years before, with his selfless friend and brother-in-law Johan (Joseph Millson) who, as a consequence, became known as "the degenerate".
Johan left the country under a cloud with his half-sister, the colourful Lona, played with great aplomb by Lesley Manville. It is the prodigal's return from the benighted America at the same time as a money-making railway scheme of Bernick's hits the buffers that brings a breath of fresh air to the town and eventually puts him on the spot.
It may have taken a long time for his youthful misdemeanours to take their toll, but when they do so, the drama becomes almost unbearably tense. The showdowns between Bernick and both Lona and Johan are well-realised, greatly enhanced by Chris Davey's magnificent lighting. This hits several peaks, the best of which is in a beautifully haunting image that heralds the final curtain at the end of an enthralling 2¾ hours that feels far less.
In the latter stages, the loose ends are tied up rather too conveniently. However, Bernick's internal battle with his conscience rages on until a lengthy final speech from the not wholly convincing Lewis shows what a complex character this man is.
The support is strong with Justin Salinger amusing as a lazy cousin, Michael Thomas suitably worthy as a principled schoolmaster and Michelle Dockery touching as a belittled orphan.
Samuel Adamson provides a modern translation that makes the moralising more palatable to a modern audience. Marianne Elliott and the National are to be congratulated for resurrecting this beautifully-constructed play, which brings to mind several themes used by Ibsen in other plays such as Enemy of the People and A Doll's House. In doing so it takes a swipe at overt capitalism and a wry look at human nature and values.
Reviewer: Philip Fisher