Pins and Needles
Harold Rome
Cock Tavern Theatre
(2010)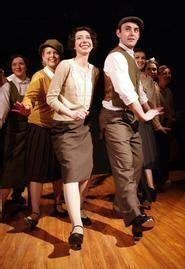 Pins and Needles is an American feelgood musical revue with radical roots. As is the nature of this kind of entertainment, there are both hits and misses but pleasingly the former are very much in the ascendancy.
Director Rachel Grunwald (with musical director Joseph Finlay) is to be congratulated on belatedly presenting the British premiere of a work that should have been in the repertoire long ago and also in somehow fitting a nine strong cast into the Cock's tiny stage space without it ever feeling overly cramped.
Not only does the young, multi-talented ensemble act and sing to music that generally has a familiar feel, they also expertly use a variety of dance styles including tap, meticulously choreographed by Nicola Martin and Josephine Kiernan (who also performs).
Pins and Needles has a remarkable history. It was created by the Cultural and Recreational Division of the International Ladies Garment Workers Union in New York just before the Second World War as a workplace entertainment but proved so successful that it broke records playing over 1100 performances on Broadway.
As is the way with revues, the script adapts to meet the needs of its audiences so that Miss Grunwald has helped the original writer Harold Rome by introducing some contemporary humour. While a sketch featuring Boris Johnson is not the evening's highpoint, an encore of the joyous final song, Mene Mene Tekel brings the politics right up to date.
The spirit of the evening is perfectly introduced by the opening song, Sing Me a Song with Social Significance. From then on, the action rarely slows, with a stream of memorable highlights accompanied by the music of pianist David Preston and Matthew Rutherford (another versatile actor) on double bass.
It might have little social significance but Elain Lloyd's touching rendition of Nobody Makes a Pass at Me contains deep truths about female wallflowers and is followed up by one of the evening's snappiest songs, Sitting on Your Status Quo, which could easily have come straight from Guys and Dolls.
With its mixture of light comedy, humorous songs and political edge, the 90 minute-long Pins and Needles offers a pleasant escapist evening combined with a history lesson and the chance for bereft old lefties to feel at home for a change.
For various reasons, this is one of those occasions where picking individual members out of a cast is wholly inappropriate. Suffice to say that nobody lets the side down and almost all get several opportunities to strut their stuff.
While this production may not quite be right for a large West End theatre, with a little bit of reworking it might be perfect for a smaller space like Trafalgar Studios or Soho and the enthusiastic young creative team both on and off stage deserve a longer run somewhere larger.
Reviewer: Philip Fisher