Pinter at the Pinter Two: The Lover and The Collection
Harold Pinter
The Jamie Lloyd Company
Harold Pinter Theatre
–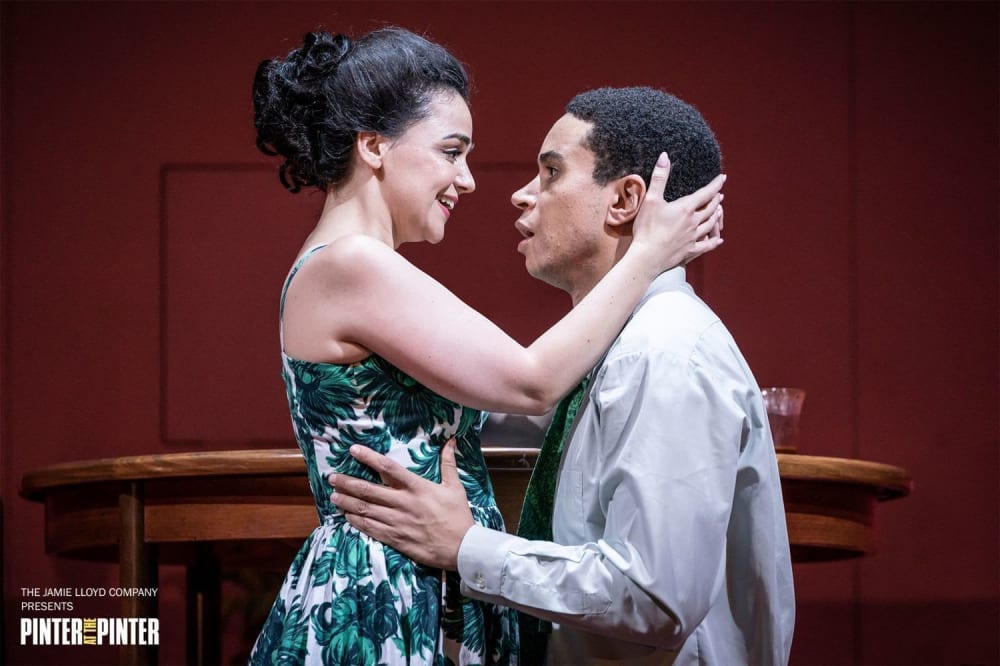 By contrast with the first programme of plays in this season, the second features a couple of shorter works that stretch to about 45 minutes, each of which feel positively lengthy.
Once again, Jamie Lloyd, who directs both plays himself, has been lucky enough to secure the services of some of Britain's most notable actors who clearly relish their chance to work on a couple of Harold Pinter's most characteristic plays from the early 1960s.
In this case, the linking theme is adultery and its consequences.
The Lover
Lloyd obviously had a very clear view of how he wanted to present this funny, if somewhat sinister, comedy about love and marriage.
Not only is the acting deliberately ironic and stylised but Soutra Gilmour's salmon pink set, complete with pot plants, captures the same intended ambience: the squeaky cleanliness of the world as depicted in 1960s TV adverts on both sides of the Atlantic.
The opening exchanges between Hayley Squires and John Macmillan as husband and wife Richard and Sarah are gently amusing, if deliberately arch. The hard-working financier (obviously the man in the 1960s) appears perfectly happy with a situation in which his spouse invites a lover into their house on regular afternoons while he is hard at work.
Slowly, the other side of the bargain is revealed when his wife teases out the respectable gent's fondness for a whore.
What seems like an unusual but satisfactory arrangement begins to turn sour, although not before the audience has had an opportunity to learn far more about both relationships, when the spotlight (and clock) turns to a sample afternoon dalliance.
This changes our perceptions completely, also altering the nature of a piece that can actually seem intentionally vicious, particularly when one discovers that not only did Pinter's wife Vivian Merchant invent the role of Sarah but it seems inevitable that much of what takes place on stage is likely to have been a subversion of their own relationship.
Even so, dark humour is never far from the surface.
The Collection
Adultery having reared its ugly head before the interval, it returns in rather surreal form during the second part of the performance.
A mysterious 4AM phone call to Russell Tovey's John, fielded by his older lover Harry, a Noël Coward figure played by David Suchet, sets in train an extraordinary series of events.
As becomes apparent, fashion designer Stella played by Miss Squires has admitted to an adulterous fling at a Leeds hotel with the aforementioned industry colleague, John.
This naturally incenses her husband, John Macmillan as James. His confrontation with his wife's brief bedfellow hardly goes to plan, eventually leading to a series of increasingly bizarre conversations and an unexpected conclusion.
Once again, Jamie Lloyd directs these plays with confidence but also great care to ensure that this programme is as pleasing as the opening salvo, with the promise of much pleasure and many starry names to follow between now and the end of February.
Reviewer: Philip Fisher