Pinter at the Pinter Three
Harold Pinter
The Jamie Lloyd Company
Harold Pinter Theatre
–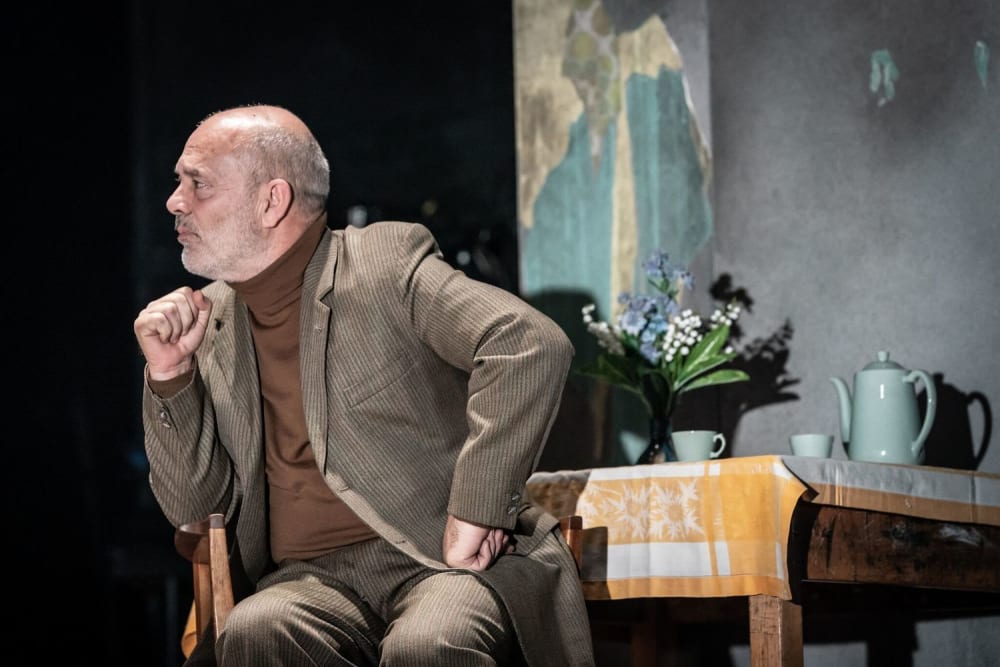 Pinter at the Pinter Three is an almost unadulterated delight, featuring a quintet of actors who each excel both individually and collectively.
The programme features no fewer than eleven pieces, mostly comic and some little more than slivers with a couple of meatier pieces at the beginning and end. Each is lovingly presented under the directorship of Jamie Lloyd from a series of depressingly derelict rooms on a revolve.
Landscape
The collection is bookended by a pair of longer plays both of which feature Tamsin Greig and Keith Allen.
Landscape consists of two tangential monologues. In one, a quietly-spoken woman with an Irish accent wistfully recalls a romantic, rather erotic incident on a beach, using a standing microphone.
Interleaved are the recollections of a rough man about losing his dog in a storm and a series of subsequent pub discussions.
It is unclear whether each is intimately connected with the other or they are just coincidentally on a stage together, though one possibility, given events later in the afternoon, is that the woman speaks internally from a coma which her partner attempts to break into by spouting inanity.
Apart From That
This very brief, amusing telephone conversation highlights nothings, during which the characteristic Pinter gaps are just as eloquent as the words between.
Girls
Girls is a racy comic monologue which starts with the premise that a student has informed her professor that "girls like to be spanked'.
The deliciously mischievous Tom Edden riffs hilariously with what initially seems like limited material.
That's All
Lee Evans gets what would be a tiny solo, were it not for the talents of his two male colleagues.
The bearded trio don wigs to become women nattering about very little but garner laughs effortlessly along the way.
God's District
Meera Syal's solo is a snippet about an evangelist from North Carolina spreading the good word in the generally unruly London suburbs.
Monologue
Lee Evans can make viewers laugh with the tiniest of facial ticks so a Pinter script makes for hilarity as he embarks on an opinionated pub chat about shared love.
That's Your Trouble
Evans and Edden bring another typical pub conversation that blossoms into argument to comically realistic life in the first piece after the interval.
Special Offer
Meera Syal presents this extended joke. Her monologue posits the reaction to an invitation offering men for sale. Absurd but comical, it also makes one think.
Trouble in the Works
Who knows? There has to be a chance that this 1959 sketch influenced Monty Python.
Evans plays a boss confronted by Edden's shop steward. The issue causing dissent amongst the workers is the names of the product range.
Once you hear them, it is easy enough to understand why.
Night
A man and woman recollect their first romantic walk. However, the memories are so diffuse that the pleasures could as easily have been with other companions.
A Kind of Alaska
The highlight of this collection is a deeply moving performance from Tamsin Greig as Deborah.
Lying in bed having just awoken, the middle-aged woman initially fails to grasp the fact that having gone to sleep in mysterious circumstances aged 16, she has been comatose for 29 years.
The efforts of Keith Allen as her doctor and Meera Syal, playing a kid sister who was a couple of years younger when Deborah went to sleep and is now in her eyes 25 years older, are unavailing but largely ineffective in a cleverly conceived and beautifully written drama.
The consequences of these unusual circumstances are occasionally funny but more often tragic in what has become a minor classic, which in this occasion shows why the leading actress is so highly regarded for her work on both stage and screen.
Reviewer: Philip Fisher