Pinter at the Pinter Six: Party Time and Celebration
Harold Pinter
The Jamie Lloyd Company
Harold Pinter Theatre
–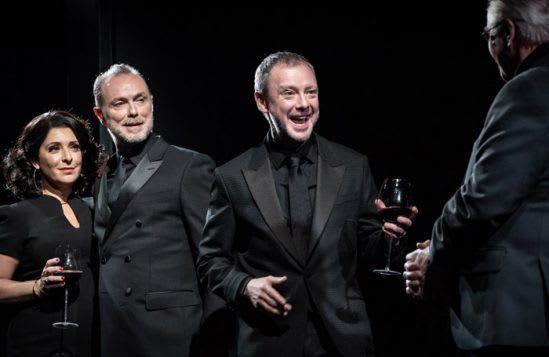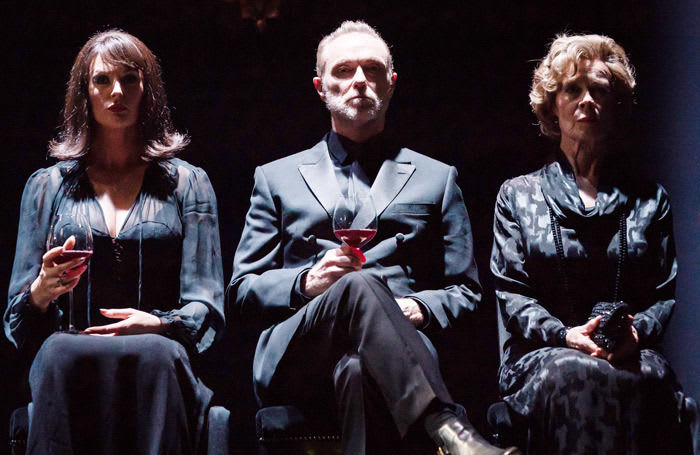 The sixth programme in Jamie Lloyd's commendable Pinter retrospective may be very short but it is also one of the most enjoyable.
Probably for casting reasons, Lloyd who directs has paired two late era plays that take place at parties, both pieces sinister but in differing ways.
Party Time
In Lloyd's stark staging, four men and four women, all dressed stylishly in black, each face the audience. Those speaking standing, while their colleagues sit frozen like statues or gargoyles.
The group meet at a cocktail party thrown by Gavin played by Phil Davis. He is clearly a mover and shaker, possibly a politician or top-level businessman.
The most poignant speaker is Eleanor Matsuura's Dusty, lacking the upper-class tones of her peers but bringing a heart to proceedings that is sorely lacking in any of her fellows.
Frequently quietened by John Simm as her husband Terry, the sad woman repeatedly requests information regarding the whereabouts of her brother, Jimmy.
Rather than innocent questions, in what is clearly a repressive society, Jimmy has become one of the disappeared possibly gone forever and certainly unlikely to return in good physical shape.
Around Dusty, the remaining guests ignore the problems in a society that is clearly divided. Instead, they speak in platitudes for example blithely discussing an elitist club to which several belong and others aspire.
Otherwise, they largely talk without saying anything concrete, happy to support each other and the status quo that allows them to prosper without having to witness the kind of atrocities that maintain their comfortable lives.
A final twist ensures that what starts out as an apparently pleasant evening out at a sophisticated and congenial party eventually develops into session of truly Pinteresque menace.
Celebration
Harold Pinter's final play is a satire as delicious as the menu at the swanky restaurant where a series of unlikely conversations take place.
At the centre of a dining table that could have been modelled by designer Soutra Gilmour on a Last Supper painting, say by Veronese, sit a quartet of East End gangster types.
The loudest is Ron Cook's Lambert, happy to boast about his wealth, probably earned like that of the Krays from nefarious activity.
Like them, Lambert shares his unidentified business interests with a brother, Matt, played by Davis.
Coincidentally, the duo have married a pair of brassy sisters, wittily played by Tracy-Ann Oberman and Celia Imrie.
While sometimes threatening, the group's conversations are almost always hilarious, starting out sounding plausible but soon developing in absurd directions, often evoking sexual danger.
As light entertainment, another pair, portrayed by Katherine Kingsley and Simm, reminisce about old times until a chance meeting brings all six together.
Their conversations are interspersed with interjections from two very polished Maîtres d' played by Gary Kemp and Miss Matsuura as well as those of Abraham Popoola portraying a waiter with a grandiose grandfather and an odd sense of timing for an employee who should have impeccable social skills.
The mix is potentially incendiary and continuously funny, bearing many Pinter hallmarks while remaining light on the surface and not too dark beneath.
Reviewer: Philip Fisher