Pinter at the Pinter Seven: A Slight Ache and The Dumb Waiter
Harold Pinter
The Jamie Lloyd Company
Harold Pinter Theatre
–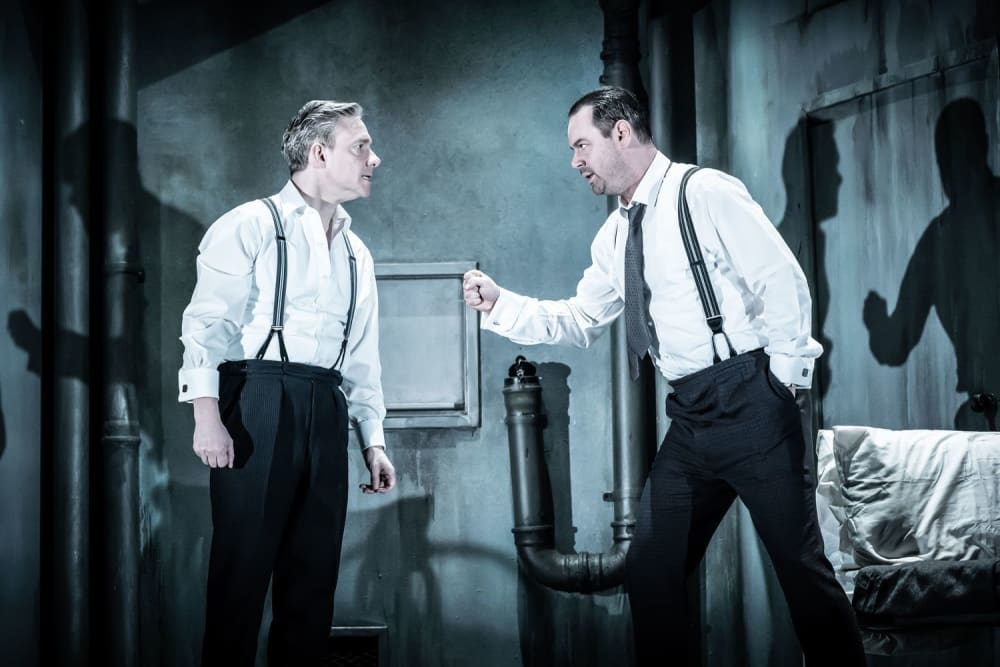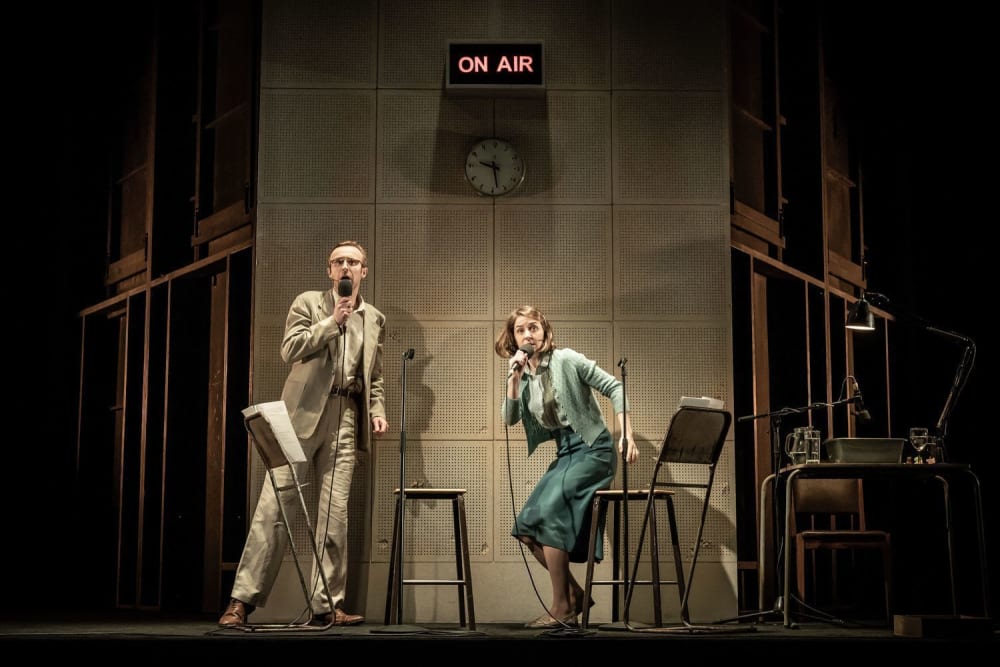 The final programme in Jamie Lloyd's epic series comprising the complete canon of Pinter short plays features a pair of 45-minute pieces hailing from over 60 years ago.
Lloyd directs these two two-handers clinically, drawing maximum comedy but also doing nothing to hide the inevitable Pinteresque threat that underlies the humour.
A Slight Ache
Rather than re-staging a piece that was written for radio as a stage play, Jamie Lloyd and designer Soutra Gilmour have chosen to place John Heffernan's Edward and Gemma Whelan playing Flora in a 1950s radio studio.
The pair depict an upper-middle-class, Home Counties married couple seemingly intent on enjoying a relaxing Midsummer's Day in their well-appointed back garden.
In what retrospectively feels rather like a prologue, Edward becomes increasingly frustrated by a wasp, which he takes great pleasure in enticing to a rather unpleasant, premature demise.
The remainder of the short play comprises his neurotic responses to the presence of an elderly tramp who has set up by the garden gate purportedly selling matches but doing no trade.
Inviting "Barnaby" into their home, the hosts interview him individually, projecting their own traits onto their guest in an increasingly dark play that contains much humour and a truly sinister dénouement.
In their different ways, John Heffernan and Gemma Wheeler play their parts to perfection in yet another highly enjoyable short entertainment that serves as a reminder both of the quality of Harold Pinter's writing and the unique milieu that he created and sustained for half a century.
The Dumb Waiter
Martin Freeman and Danny Dyer play a duo of working-class men, Ben and Gus, awaiting a job in a basement that, on this occasion, looks like a prison cell that would not have been out of place in a gulag.
Most of their exchanges involve the minutiae of life, such matters as the impossibility of brewing a cup of tea and the fortunes of Aston Villa, rather than anything too personal.
The prickly duo clearly know each other well but trust each other hardly at all, which as the play develops comes to seem reasonable, since the project that these petty criminals are awaiting is one of their weekly assassinations.
What starts out as a realistic depiction quickly moves into farce, when The Dumb Waiter of the title begins to send down diverse restaurant orders and the willing men attempt to respond appropriately.
Dyer, playing the more forceful gangster, and Freeman, his far from bright sidekick, both excel as a pair that almost come across as a modern Cockney equivalent of Laurel and Hardy.
The Dumb Waiter builds towards a suitably dramatic but inchoate ending to close what has been a very worthwhile and generally highly entertaining season that does credit to Jamie Lloyd and all involved. As a bonus for Pinter fans, he has programmed the full-length Betrayal to follow at the same venue.
Reviewer: Philip Fisher