Pipeline
Dominique Morisseau
Lincoln Center Theater
Mitzi E. Newhouse Theatre, Lincoln Center Theater, New York
From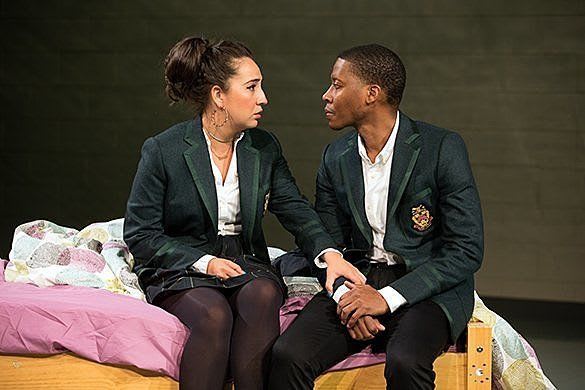 Buried on the Broadway HD web site but freely available is a video of Pipeline, a play first seen at Lincoln Center in 2017 that has suddenly taken on much greater significance given the current profile of the Black Lives Matter movement.
Centring on one broken family, this 85-minute-long play manages to look at the difficulties faced by African Americans today while, at the same time, shining a spotlight on a broken public schooling system.
The catalyst for a small-scale crisis occurs when Namir Smallwood, giving a subtly nuanced performance in the role of Omari, a headstrong but intelligent young pupil, attacks his teacher at a private (fee-paying) school, leading to threats of expulsion and legal sanction.
His underlying reasons become an object lesson in what might charitably be regarded as unconscious bias on the part of of his teacher, or conceivably something much closer to racial prejudice, in an ironic mirroring of scenes in Richard Wright's Native Son, the novel over which the pair clashed.
Further irony is introduced because the youngster's deeply frustrated mother Nya, played with conviction by Karen Pittman, teaches at a public school (in the American rather than English sense), where teachers seem to get threatened on a constant basis, especially Laurie portrayed with frustrated wit by Tasha Lawrence.
To say that Omari is justifiably confused understates the case. His mother loves him but can no longer control a strong-willed teenager.
Morocco Omari as his absent father is more interested in a new relationship, while believing that money can replace love in a parental relationship.
More positively, the boy has found the kind of girlfriend who shares his determination, speaking eloquently but with great humour and showing great care beneath her sassy bluster in a scene-stealing performance from the wonderful Heather Velasquez.
On a spare, adaptable set designed by Matt Saunders that is as bare as some of the lives depicted, with minimal props that maintain the pace, director Lileana Blain-Cruz has been blessed with a wonderful cast and makes the most of their talents.
Pipeline is not a play that tries to find easy answers. Instead, it sets out a difficult situation, allows all of the main protagonists to present their views and feelings before leaving audience members to come to their own conclusions about the rights and wrongs of a series of tricky moral dilemmas.
While this play may not quite be perfect, there are some wonderful characters who illuminate sadly believable situations in a work that should be compulsory viewing for anybody who cares about improving race relations.
Reviewer: Philip Fisher