Pippin
Music and lyrics by Stephen Schwartz, book by Roger O Hirson
Peter Bull for LAMBCO Productions
The Garden Theatre at The Eagle
–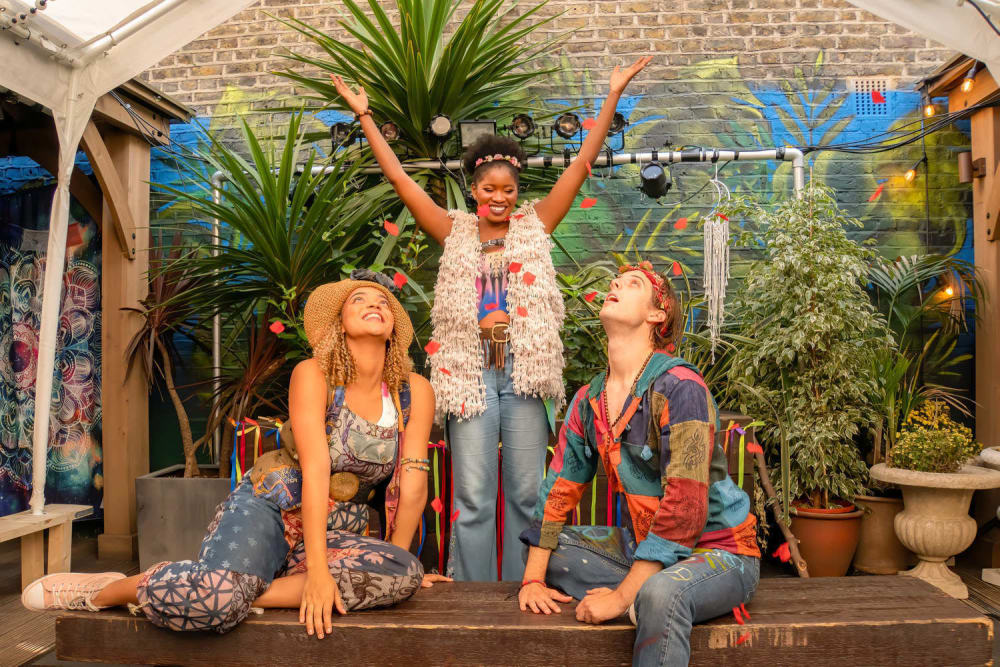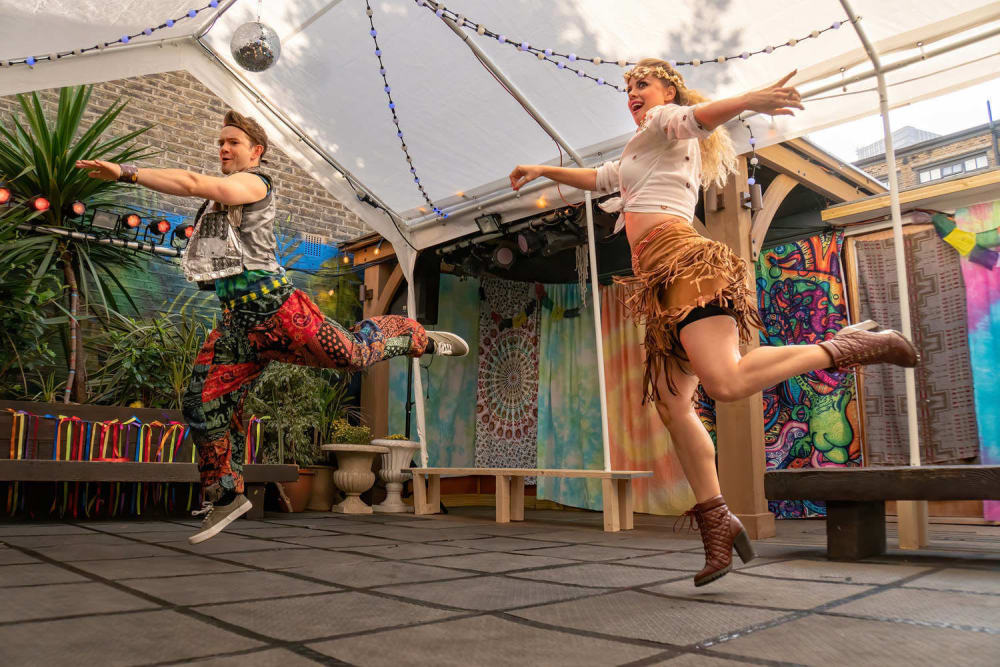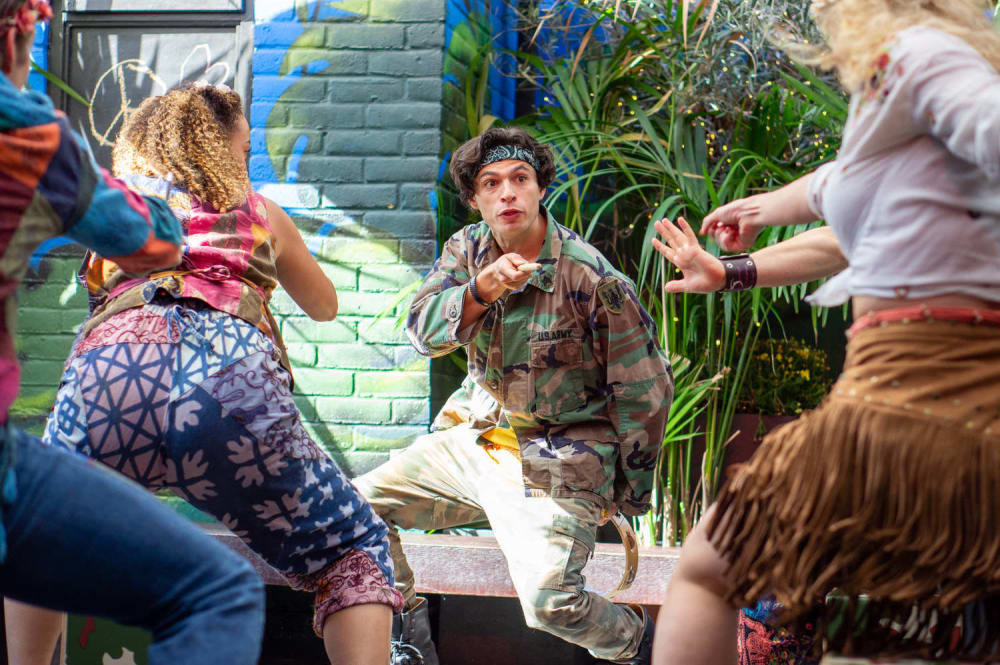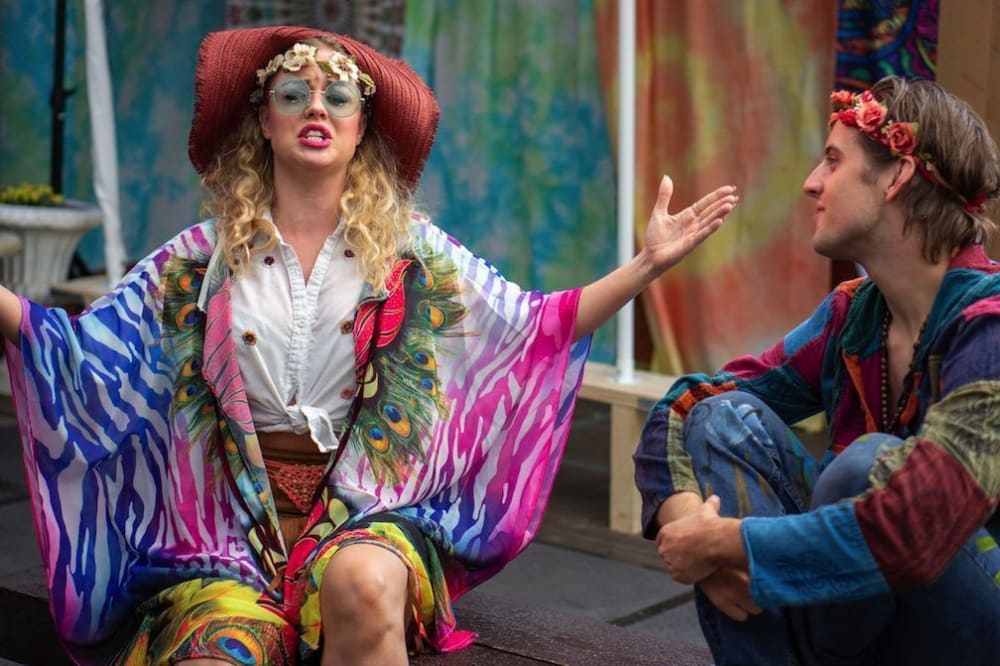 Last seen in London two years ago at the Southwark Playhouse in a Hope Mill Theatre production, this revival squeezes the 1972 Broadway show into an even smaller space but loses none of its vitality.
With an audience in bubbles, following government COVID guidelines, Stephen Dexter's effervescent production ensures they have a good time (and since the preceding sold-out run of Fanny and Stella there is now extra tenting providing more shelter). It is played in traverse and as close up as the rules permit. A big Broadway show has been trimmed (with permission from the copyright holders) to play in two hours with a cast of just six who infuse it with energy that is infectious. When invited to sing along with the chorus of "No Time at All", the audience respond with enthusiasm.
Pippin is a story about Pippin (or Pepin), son of the Emperor Charlemagne (Charles the Great) but it just borrows their names and has no relation to Europe's early ninth century history.
Ryan Anderson makes a likeable Prince Pippin, despite the young man's naivety. He's not alone among young royals in finding his life without purpose and he sets out in search of its meaning: "To find," as he sings, "my corner of the sky."
Hirson's book frames the story as being told by a travelling theatre troupe led by Tsemaye Bob-Egbe as the Leading Player. Their opening number invites us to join them for they "have magic to do—just for you" and we enter a world in which David Shields's design matches the flower-power world that the musical comes from. Nick Winston's choreography also reflects that free abandon, often with a flavour of Bob Fosse (the show's original Broadway director).
Pippin first thinks of joining Charlemagne's army, though his father says his half-brother Lewis (Harry Francis) is the soldier son. King Charles (Dan Krikler) sets out his battle plan in the song "War's a Science" and Winston turns battle into a busy dance number.
The realities of war horrify Pippin. He thinks of going to the countryside but his exiled grandmother Berthe urges him to live a little. Strictly dancer Joanna Clifton makes her outrageously funny: sending up young acting old acting young.
When Pippin tires of indulging himself with the ladies and the leading player prompts him to create a better world by rebelling against his father, his scheming stepmother Fastrada (Clifton again) connives to have him kill Charles.
As the new king, Pippin sets up a summer of love society with no wars, no taxes and no army. Invasion by a foreign power brings an end to that and, disillusioned, Pippin is in despair. The troupe's theatre magic restores King Charles to life and Pippin finds solace in the countryside on a farm with Catherine (Tanisha-Mae Brown) and her little boy Theo (Harry Francis).
For a year, Pippin is happy but then isn't satisfied. Leading Player has a plan and promises something spectacular—and that's as far as I dare go in revealing the story.
It's a tale told by a cast full of strong singers who manage to fit long leaps, tight turns and intricate steps into this small space with hippy abandon. The Candide-like story may be naively preposterous and its 'message' too pessimistic, but it makes a fun evening: a helping of real live theatre sharing that has been so much missed.
Reviewer: Howard Loxton