Pippin
Book by Roger O. Hirson, Music and Lyrics by Stephen Schwartz
Menier Chocolate Factory
(2011)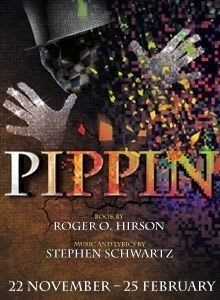 This modernised version of Pippin seems destined to be remembered chiefly and possibly exclusively for its wondrous design.
Timothy Bird, who worked wonders at the Menier with his computer-generated graphics for Sondheim's Sunday in the Park with George, does even better this time.
The theatre has been turned into a living video game. Before spectators even get into the auditorium, they have to pass a gamer and travel through the early phases of an epic stylised adventure that even features an ultra-realistic, disembodied, animatronic Visigoth head.
The staging moves into overdrive once our "Leading Player", Matt Rawle with the same wolfish smile and demeanour that he showed as Ché in Evita, introduces Pippin. Our hero, played in plain clothes with a Geordie accent by Harry Hepple, is the 10th Century heir to the throne of Charlemagne.
His life has been updated to a vibrant future-past where battles are laser-driven, girls manga-gorgeous and subjects mechanically dull. The family comes from a different game, combining hairy, medieval unchic with gaming glamour.
Through the first half, the graphics rarely let up as, unlike Macbeth when it comes to patricide/regicide, the squeamish young hero's desires are blocked by lack of ambition and killer instinct.
Rather than a noble thug like his Dad and half-brother, Pippin is a normal northern lad with more than a touch of shyness.
His story is told through a book written by Roger O Hirson, which in this updating has echoes of We Will Rock You, with music and lyrics from Stephen (Wicked) Schwartz.
Director Mitch Sebastian, who also choreographs, has undoubtedly come up with a stunning concept but the story doesn't gel with it. This leaves a feeling of incompleteness even after the interval when Pippin regresses a little closer to his own era during a year-long affair with blonde widow Catherine, Carly Bawden.
The highlights come when Bob Fosse's characteristic original choreography, which kept the show on Broadway for almost 2,000 performances 35 years ago, cuts in.
There is also a brilliant cameo from Louise Gold as Pippin's Nan Berthe, a comic dream who only slightly blots her copybook with a catchy panto sing-along to "No Time at All".
Otherwise, the best of the singing comes from reliable Rawle and Hepple, who get several good duets together, though not too many of the songs are world beaters.
Pippin is apparently the only one of the Top 30 longest-running Broadway musicals that has not had a major production in recent years. Regrettably, that may merely be a reflection of its quality when compared to the other 29.
Reviewer: Philip Fisher