The Pitmen Painters
Lee Hall, inspired by a book by William Feaver
Live Theatre/National Theatre co-production
Duchess Theatre
–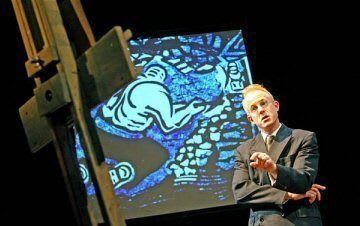 Lee Hall is best known for creating the worldwide smash hit Billy Elliot. The Pitmen Painters, which is based on a real artistic movement, takes many of the same themes and turns them into an equally heart-warming but very different evening.
Starting in the mid-1930s, Hall introduces us to what initially appears to be a drab group of miners attending a WEA or Workers' Educational Association meeting in Ashington, Northumberland.
As the play develops, the audience begins to distinguish between and identify with the working class quintet as they learn about art from the bottom up.
The best of the artists is Oliver Kilbourn, played with grim earnestness by Trevor Fox. The others can become a little stereotyped. Joe Caffrey's George Brown is a tediously strident trade unionist, Michael Hodgson's Harry Wilson is a Marx-spouting Communist, while David Whittaker's Jimmy Floyd is sweet but far from bright. The group is completed by Brian Lonsdale's unnamed Young Lad. His main claim to fame is an inability even to enjoy the perks of a 48-hour week job down the mines, remaining unemployed until war breaks out.
Their teacher is a rather effete Southerner, Robert Lyon, played by Ian Kelly. The seemingly insuperable clash of cultures becomes apparent instantaneously as Lyon starts to talk about the greatest art works in the world, each of which draws blank incomprehension from his pupils.
The lecturer's moment of inspiration comes when he suggests that they try painting for themselves. The early attempts are primitive to say the least but the talent that he is able to tap into is remarkable.
Soon enough wealthy Helen Sutherland, given a suitably upper-class drawl by Joy Brook, adopts the artistic miners and their work is exhibited and sold not only locally but even in London.
She creates a moral dilemma for Kilbourn by offering a stipend to enable him to escape a tortuous life that, inconceivably to soft modern southerners, has its own innate attractions.
By the end of the 2½ hours, viewers begin to realise that not only have they seen a wonderful story of Northern life bu,t in addition to art appreciation, Lee Hall has subtly introduced working-class political realism viewed through the eyes of those tough pre-, inter- and post-war years to our eyes.
This excellent cast, many of whom were in the original National Theatre production in 2008 not to mention the play's debut at Live Theatre in Newcastle the previous year, do a lovely job under the direction of the latter theatre's Artistic Director Max Roberts.
The Pitmen Painters is a fine piece of polemical theatre that is frequently entertaining, primarily because this playwright cannot resist getting laughs, though all very much in context.
For anybody that has not seen it before, this should be compulsory viewing and those, like your critic, who have not seen it for a few years will undoubtedly also derive great pleasure from a second visit.
Visit our sponsor 1st 4 London Theatre to book tickets for The Pitmen Painters
Reviewer: Philip Fisher