Plague Over England
Nicholas de Jongh
Finborough Theatre
(2008)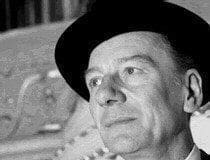 The critical community will be collectively delighted that Nicholas de Jongh somewhat belated debut as a professional full-length playwright is rather good. There would have been nothing worse for all concerned than to have garlanded Plague Over England with 1* reviews or worse, faint praise.
His subject is homosexuality and the hypocritical British approach to it. The play is primarily set in 1953 when not only did Elizabeth accede to the throne but the recently knighted Sir John Gielgud attracted a pretty copper and then a £10 fine for winking at him in a public convenience in Chelsea, just up the road from this theatre.
For two hours de Jongh paints a complicated portrait of gay life when the "g" word still conveyed happiness, a commodity in short supply amongst those fearful of following Lord Montague to jail.
The big names are Gielgud and Dame Sybil Thorndike, a rock-like support when things are at their worst. Jasper Britton is particularly good in portraying a man whose reaction to arrest for importuning is to apologise and take his punishment like a man.
He does a sterling imitation of the well-spoken thesp but really shines at moments of greatest stress, when the knight is contemplating suicide or facing what could be a hostile audience.
Nicola McAuliffe, so recently seen as Katisha in The Mikado, more than capably doubles Dame Sybil and the hilarious proprietor of a gay bar when such establishments could not legally exist.
In addition to the stars, Plague Over England also looks at the legislators, the Home Secretary and a harsh judge from Tunbridge Wells; the judge's 18 year old son and his gay lover, a hunky policeman involved in enticing Gielgud; a gay theatre critic (no comment); impresario Binkie Beaumont keener on money than his chums or his own morals, and a number of colourful bit part players.
Together, they create a wide view of secret lives at a time when thousands were arrested as a result of suffering from this "infectious Plague Over England".
The final section jumps forward to 1975 when Sir John is about to star in Pinter's No Man's Land. His concern about its homosexual subtext and its effect on his career is touchingly unworldly.
Director Tamara Harvey has been blessed with a fine cast and strong script, although the later scenes add little to what feels like a complete play when it leaves the 1950s.
The ambition of this play might have made it too far-reaching for the 50-seat Finborough but is facilitated by the talents of Finborough regular, Alex Marker. His folding set instantly transforms the space into five distinct locales ranging from ornate public convenience to stage dressing room and even the office of the Home Secretary.
Nicholas de Jongh has written a humorous and frequently frightening analysis of what Julian Mitchell called Another Country, a period of repression that is remarkably not as far back as it ought to be. He not only balances many storylines with great skill but also toys with his audience, littering his text with double entendres that could surely not be subconscious and certainly liven up the evening.
Reviewer: Philip Fisher