Plant Fetish
Chanje Kunda
Chanje Kunda
HOME, Manchester (PUSH Festival)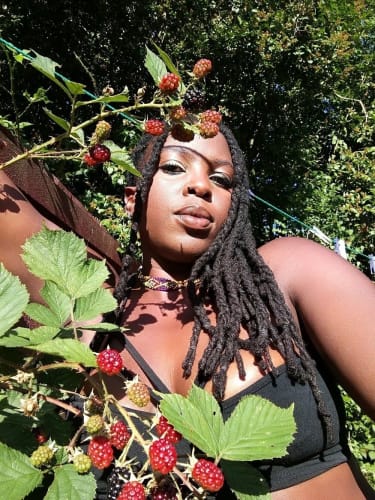 Advance publicity for Chanje Kunda's Plant Fetish suggests a quasi-mystical quest to find meaning in life by giving up on men and forming an inter-species relationship with plants. Actually, Plant Fetish is a show that is hard to define and the irreverent approach taken is far from the serious study one might have expected. Performance artists, a classification in which Kunda is included, tend to take themselves very seriously but she defies expectations by adopting a tongue-in-cheek style closer to an autobiographical comedian.
Chanje Kunda has Complex Post Traumatic Stress Disorder and, after a series of misadventures with dating fails to generate any relief, she turns to self-help gurus for advice with similar results. An attempt to de-clutter her home by getting rid of possessions that "do not bring her joy" results in her being forced to go commando having retained only her more exotic underwear. Finally, a report of women in Mexico giving up on men and marrying trees inspires Kunda to try a different sort of relationship.
Plant Fetish is a work in progress so inevitably there are rough edges. These are apparent mainly in Kunda's performance; her voice projection and diction are shaky so, in the opening at least, audibility is an issue. However, Kunda generates a naturally warm and appealing personality that keeps the audience riveted to her story.
The presentation takes a back to basics approach with Kunda seated on a plush leather sofa chatting to the audience. If not for her lively personality, the style would wear thin very quickly but Kunda draws the audience into her story as if she is sharing a tale with her friends.
Kunda's misadventures in the dating world are hilarious and told in a manner that, while never offensive, is raunchy and perfect for the intimate style of storytelling ("he could dock in my bay anytime"). The situations are just off-centre enough to be funny without straining credibility. Discovering a potential boyfriend is a porn star, Kunda worries he might bring his work home.
Although Plant Fetish refers to Kunda's struggle with complex PTSD, she is determined not to let the condition dominate the show and keeps the atmosphere light, carefully avoiding any hint of self-pity. However, the advance publicity prompts expectations that the show will take a more serious tone so, at times, the irreverent approach becomes frustrating and undermines the gravity of the situation. Even when describing how plants have helped her find a kind of peace, Kunda goes for an easy laugh staging a mock marriage ceremony and explaining the main attraction of vegetation is low cost.
Plant Fetish might benefit from revisions to polish the performance and add a degree of gravity but, as a work-in-progress, it is strikingly successful.
Reviewer: David Cunningham