The Man Who Planted Trees
Puppet State Theatre Company
Royal Exchange Theatre Studio, Manchester
(2009)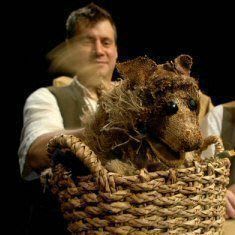 After discovering this gem of a piece of theatre in Edinburgh, it has been great to have the opportunity to recommend it to people back home with this long-overdue visit to Manchester. And to see it again, of course.
The story, originally by Jean Giono, spans both world wars and tells the story of a lonely shepherd, Elzéard Bouffier, who lives with his dog in a remote and desolate part of southern France. Over many years, he plants thousands of acorns and other tree seeds, transforming the region completely and enriching the lives of hundreds of people without seeking credit or even recognition from those his actions benefit.
From this simple premise, Puppet State Theatre Company has created a very funny and very moving piece of theatre which really is for all the family, with material to produce real belly laughs and real tears from children and adults. Richard Medrington is the charming storyteller Jean, and his sidekick Dog, operated and voiced by the hilariously inventive Rick Conte, is one of the funniest puppet characters you will see on a stage.
This isn't the fast-paced whirl of gags and colour that many people think is the only way to engage children, but slow-moving and fascinating. From the punchline of Dog's first superb joke about seeing the doctor about his eyesight, it is clear exactly where the verbal humour is placed, but when that same puppet places his master's crook on his grave at the end of the story, it is hard not to choke back a tear or two. In the meantime, we see some beautiful and ingenious small-scale models, sets and puppets designed by Ailie Cohen, get the smells of the lavender and the forest wafted towards us and even feel a bit of the morning mist and rain.
There are many large, expensive, star-studded shows on in Manchester over the festive period, but in just an hour with just two talented performers, this show beats almost all of them for entertainment, humour, moving storytelling and sheer imagination and cannot be recommended too highly. At the reviewed performance, the attention of every child and adult was firmly fixed on the stage for the full hour, and every one left with a smile on his or her face.
Howard Loxton reviewed this production at the Southbank Centre in 2011
Reviewer: David Chadderton