Plaques and Tangles
Nicola Wilson
Royal Court Theatre Upstairs
–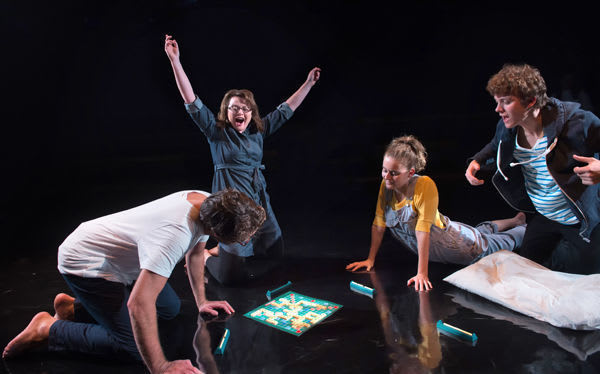 Plaques and Tangles is a beautiful, sad evocation of the tragedy that is Alzheimer's Disease. It is distinguished by an unforgettably traumatising performance from Monica Dolan as Megan, the ostensible victim, though as Nicola Wilson's play makes all too clear, the damage extends to the whole of her family.
The world regards this incurable illness as a blight of old age but in rare cases, classified as Familial Alzheimer's Disease or FAD, it cuts in much earlier, reaching the point of no return in the mid-forties.
Even worse, this strand is hereditary, with a 50:50 chance of recurring in each child of those that have been afflicted.
As the play demonstrates, this has a number of consequences, none of them good. First, sufferers will have seen the illness in action as it robbed a parent of his or her mind. Next, it is possible to take tests that will determine whether you are affected but, as Brid Brennan playing a psychiatrist explains, knowing can be even worse than uncertainty. Lastly, there is the fear that you have passed it on.
If, like Megan and Ferdy Roberts as her devoted husband Jez, you have a nuclear family, the likelihood is that one child will have Alzheimer's Disease and so on through the generations.
The writer making her Royal Court debut balances a good deal of scientific data, subtly disseminated by the characters, with the all too human story of poor Megan and her loved ones.
Lucy Morrison's fluid production switches backwards and forwards, encompassing Megan's mother's traumas, Megan in happier times with Jez after a drunken stag-hen hook-up and the latter days, which have such a devastating effect on their two mid-teen children.
By contrasting the slow decline with the early days of a burgeoning love affair, Plaques and Tangles really brings home the human drama. In particular, it is possible to see the way in which Rosalind Eleazar playing Young Megan and a particularly convincing Robert Lonsdale as Young Jez find their happy-go-lucky mentality replaced by something much darker.
Before the end of the evening, this is transformed into a mind like a blank page with occasional flashes of incoherent writing in her case and simple despair in his. All is then is compounded by other tragedies.
Staged in a long traverse, designed by Andrew D Edwards, the 100-minute piece benefits from the proximity of viewers who sit only two rows deep, avidly watching the drama that takes place between a staircase and versatile double bed, while conscious of a brainwave light symbolically hanging over the actors.
Some of the writing and plotting is over-elaborate, which dilutes a taut tale but only a little. Having delivered that minor reservation, this is a deeply moving but at times amusing play that shines a light on a terrible affliction and richly deserves a sell-out run which, given the humanity and commitment of all involved, should be guaranteed.
Reviewer: Philip Fisher