Plateau Effect
Choreography Jefta van Dinther
Cullberg Ballet
Sadler's Wells
–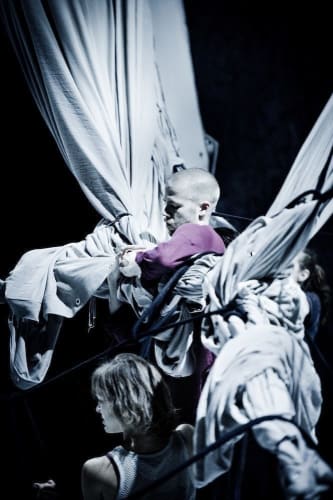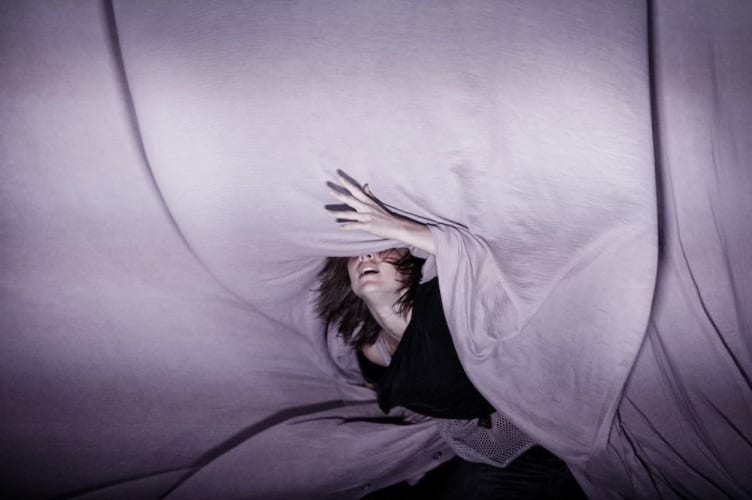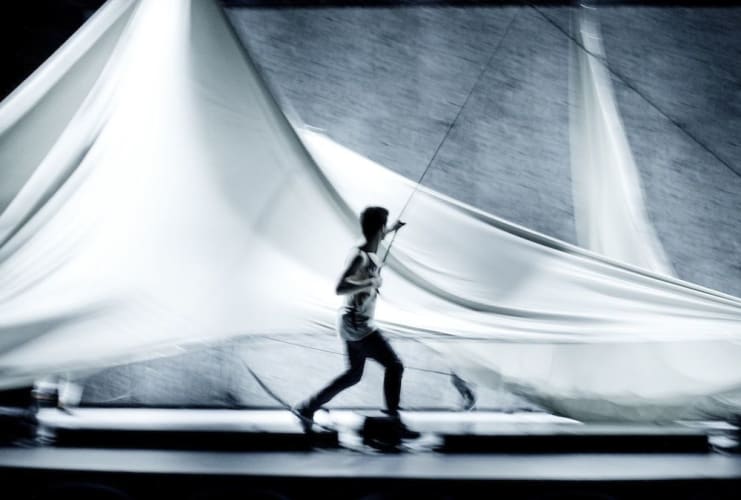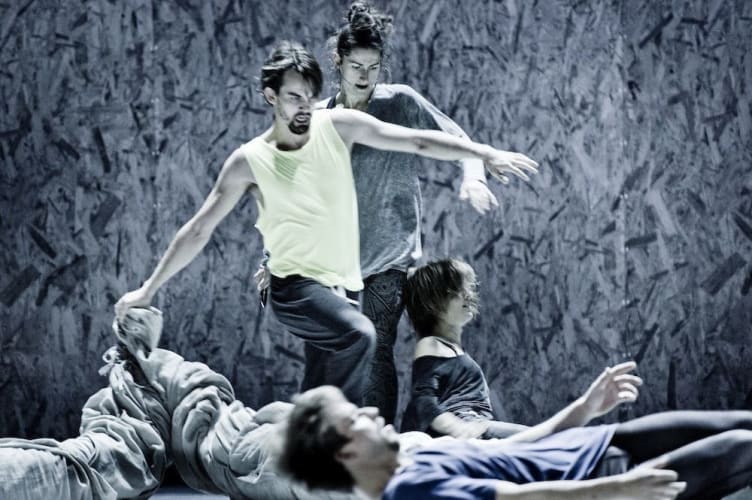 Cullberg Ballet's first visit to Sadler's Wells (as part of its Northern Light season) in over forty years with Jefta van Dinther's Plateau Effect astounds and perplexes—it confounds my memory of the dance company I saw in Stockholm some years ago. The shock of the new.
Sound (David Kiers), lighting (Minna Tiikkainen), set (Simka), materials and movement on equal footing, the hour-long Plateau Effect sets off a stream of consciousness as a vortex of shapes and sound slowly begin to take effect.
And it's not a plateau effect, though it is topographical. Plateau effect in the sense of flatlining perhaps after some immense inner tussle.
Seven lonely people stand front stage before a billowing curtain (a parachute?), and one begins to sing. The others pick up the refrain. Muscles tense and flinch: small movements, contractions.
Music builds, pulls you in and propels you out, a steam engine of sound. The fabric becomes a security blanket, supports, absorbs, enfolds them. Lighting shifts and shadows obliterate them—a battle with the elements?
Vibrations reach my body, body judders, curtain dances, and the mind plays tricks trying to find meaning and description in an abstraction. Sculptural shapes these shifting desert sands of windblown drapery.
Curtain down, the dancers become stagehands as they manipulate this huge groundsheet, attach it to ropes, their bodies counterweights and pulleys. The soundscape turns mysterious: sounds of the deep?
Bodies tilt and shift—is this fabric their mother ship? Or a raft of Géricault? Nine people strain and stress, put their skills to creation. Is it a shelter? Are they putting up a marquee? Or raising the Titanic? Mountain peaks and sails take shape.
This all-purpose tactile textile reminds me of James Thiérrée's La Veillée des Abysses, and Yuri Lyubimov's Hamlet dominated by a curtain that swept all before it.
The lighting is grey, Nordic, are these icebergs? Flashes of red and purple light—optical illusions, northern lights? Team work is essential in this tangled cat's cradle of rope.
A kinetic work of art: I think I'd like to see Plateau Effect in Tate Modern's Turbine Hall, yes, that's the place for it.
Lights turn on and off—I have to close my eyes. Is this safe for epileptics? Is this a hunger and thirst or drug induced trip? Are our tolerance levels being tested? My mind wanders.
Bodies reel like able-bodied seamen. The sails are folded up into one long anaconda roll, a playroom bolster—I'm in a kindergarten. Or is it a mental asylum? Bodies jerk and judder in upright epileptic fits.
Is this fear? Am I right? Are they on Géricault's raft, starved and raving mad? There my notes end.
The choreographer apparently 'encourages audiences to embrace what they do not understand'. Do we care enough to understand? Do we give in to this experience? Depends.
Reviewer: Vera Liber