The Playboy of the Western World
By J.M. Synge
Big Telly Theatre Company
Haymarket, Basingstoke
(2004)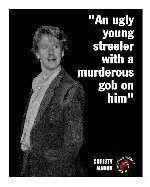 Basingstoke's season of Irish plays opened at the Haymarket this week with Zoë Seaton's rumbustious account of J.M.Synge's Playboy Of The Western World.
This production for the Portstewart-based Big Telly Company certainly gives Synge a fine and all-too rare outing. It also begs the question posed by the playwright's own expressed reservations about his craft. If Synge can be this entertaining, how much for a night in Geesala?
It appears as if Chisato Yoshimi may have designed this rural pub setting under the impression all characters in Irish theatre, like Bernard Shaw's, sit around gossiping. If so, he missed Synge's stage directions. For, however convenient for village halls and other such intimate stages, the use of this tiny scaffold for leaping over bars and flying in and out of doors is enough to frighten the audience as well as the horses!
Not the least mobile of this company is Seamaus John-Allen as Playboy Christy himself in a performance full of energy and youthful arrogance.
Abigail McGibbon is a doughty Pegeen - that is, until that moment when her world turns upside down.
There's a reminder or two of how long the Irish have been cocking snooks at the English. Indeed, half, if not all, the play depends on it!
However, two of the finest turns of the night are by Michael O'Reilly and Jack Walsh doubling as a couple of village girls. This was a particular treat for Haymarket staff who had earlier dismissed the idea of staging the play themselves on grounds of costs.
The decision to invite Big Telly to extend their tour to England had the additional appeal of an authentic dash of Irish - although there are moments when the brogue does not seem as impenetrable as one might expect.
Until one realises that, had it been so, few of us in the old country would have understood a word!
"The Playboy of the Western World" runs until 9th October
Reviewer: Kevin Catchpole