Playing Cards 1 : Spades
Robert Lepage and Ex Machina
Ex Machina
Roundhouse, London
–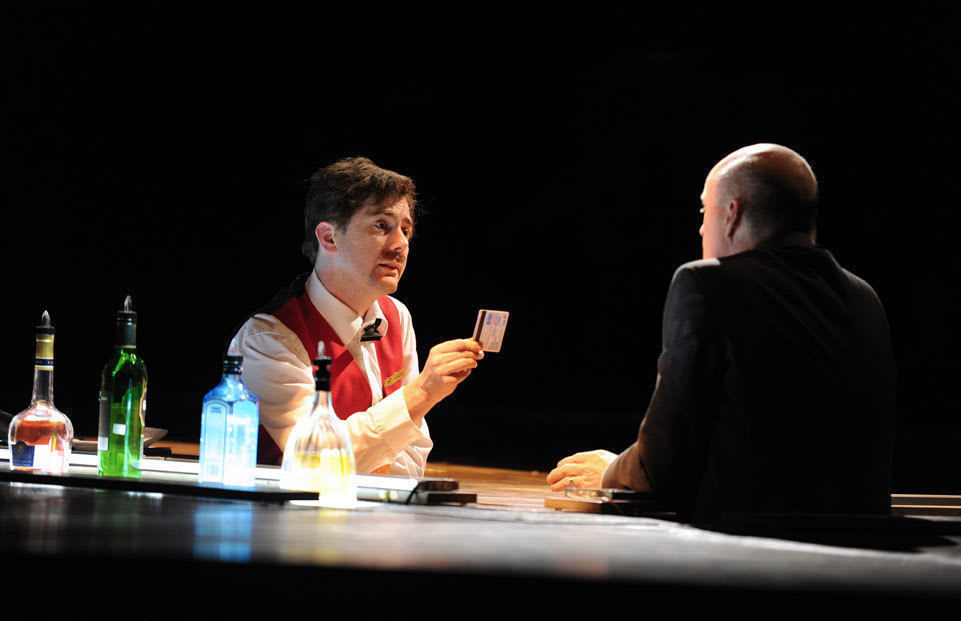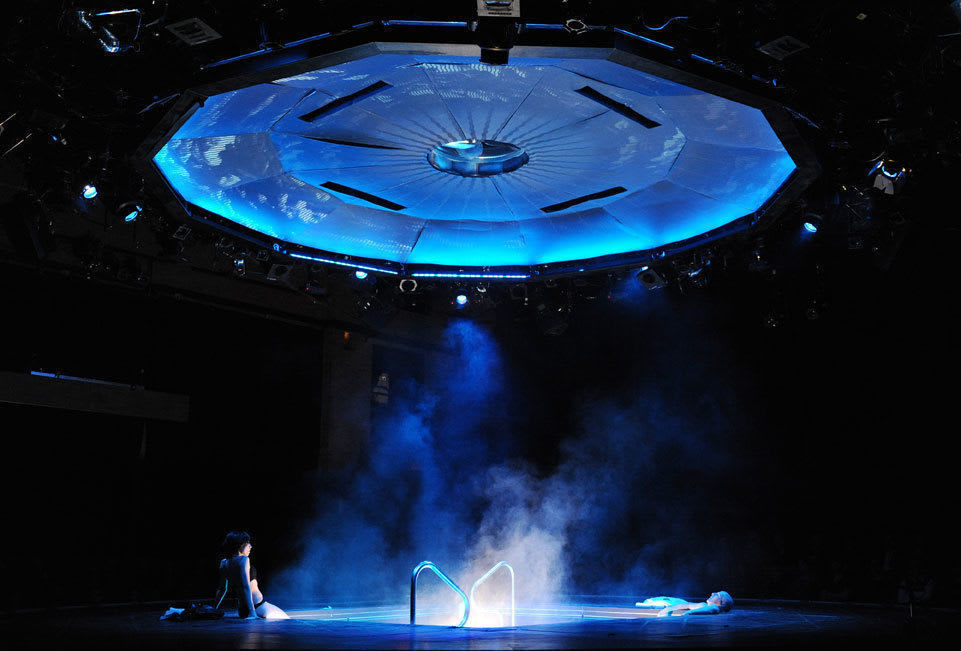 The main attraction of Robert Lepage's oeuvre is this auteur's complete unpredictability. While his singularity is the Canadian's calling card, it could be said that Playing Cards 1 : Spades is as characteristic as he gets.
The starting point is a series of intermingled stories related in short scenes that bear on each other without necessarily intersecting. These are told for 2½ hours without an interval but never allow the attention to flag.
The presentation is inevitably immaculate and probably very costly. The audience surrounds a circular stage space set up by designer Jean Hazel. This is then enhanced with lighting and music from respectively Louis-Xavier Gagnon-Lebrun and Philippe Bachman and a wide selection of machinery including 36 trap doors.
The meticulously-planned design allows different settings to emerge (like the actors) from beneath the stage and also fly in from on high. As such, the Roundhouse is the perfect London home for what becomes a remarkable spectacle.
As so often, the message is deep and will probably be interpreted in almost as many ways as there are viewers.
Set in Las Vegas, Nevada almost inevitably the evening's main issue is gambling but more precisely, randomness and uncertainty, which infects almost every character, played by a hard-working, multinational ensemble of six performers.
At different points, we meet inter alia, a geeky mathematician and his new wife, married by an Elvis impersonator rather than a more conventional priest.
Then there is a tricky cowboy who may actually be a figment of the imagination or alternatively twin tricky cowboys.
A pair of soldiers—Spanish and Danish—have contrasting experiences, which bring in issues relating to the War on Terror and place events in spring 2003 during what is controversially described as no more than a continuation of an unsuccessful 1,000-year crusade against Islam. They also bring in a symbolically tough American CO and a pretty lady of the night who is viewed from starkly different perspectives.
The hotel's domestic staff are all Latino and at least one lucky lady (a transvestite?) is blessed with a large Las Vegas tip, while another is an illegal with health issues.
Eventually, the key figure emerges. He is a gambler who has lost everything and then some. He manages to annoy his lover before enduring a deep dark night of the soul that finally leads him into an out of body experience in the desert and the chance of hopeful rebirth.
Playing Cards 1 : Spades is a typically intoxicating experimental experience, as one has come to expect from Robert Lepage and Ex Machina over the years. It leaves one slightly mystified, deeply satisfied and yearning to complete the pack.
Reviewer: Philip Fisher