Playing Sandwiches & A Lady of Letters
Alan Bennett
London Theatre Company Productions
Bridge Theatre
–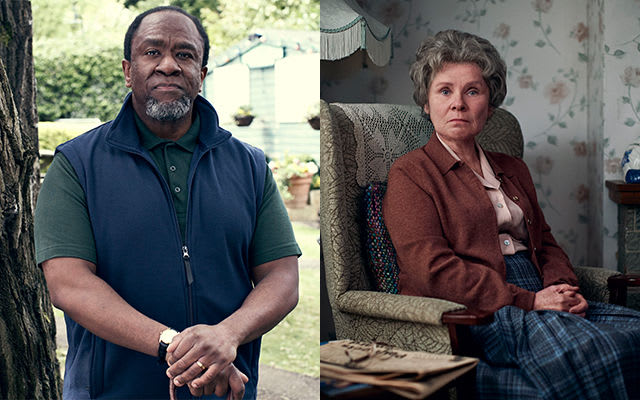 This latest pairing in The Bridge's series of Talking Heads monologues has a very dark side, though it's also the reason for a great deal of laughter.
Lucian Msamati and Imelda Staunton have already been seen in television versions of Playing Sandwiches and A Lady of Letters playing Wilfred Paterson and Irene Ruddock, but they are subtly different in these live theatre productions directed by Jeremy Herrin and Jonathan Kent. As well as the transition from television's close-up chats to the distance of theatrical direct address, what was seen in 'real' locations now has a more abstract setting and the fadeouts between scenes that moved things on time-wise now seem longer and invite more reflection on what has just been heard.
Wilfred in Playing Sandwiches (that game of slapping hands on top of those of the person you are playing with) is a park attendant. He is sweeping up leaves and clearing rubbish including the condoms that block a drain and other signs of fornication that are left on the slide in the playground. It wasn't like that when he knew this park as a boy. In those days, a band played on the bandstand and people kept off the grass.
This bloke seems a nice guy, people like him, including a young mother he meets at the bandstand with whose seven-year-old daughter he forms a special bond. But why does he give them a false name? Why is the proposal that he be the godfather of a new baby so firmly rejected? Why do his employers have a problem in finding his records?
When he is left alone with little Samantha and they go in hand into the bushes he says, "she knew what she was doing". For him, it was "the one bit of your life that feels right and it's that bit that's wrong."
Msamati's performance wins us over, to see this as a man who is so good with children until the truth sinks in.
A Lady of Letters presents us with public-spirited Miss Ruddock: that's the way she likes people to address her. She's always ready to fire off a missive when she sees things not being done properly. She writes to the crematorium about hearse drivers disrespectfully smoking in the bushes, to the council about repairing steps, even to the Queen when she sees dog mess outside Buckingham Palace. She gets replies, her letters of complaint have results and that gives her self-righteous pride.
When she isn't busy with her fountain pen, Miss Ruddock is at her window monitoring the world outside, especially that couple opposite with the little girl. She's noticed the bruises on her arm, is worried because it is some time now since she last saw her.
Then there is call from a vicar. At first she won't let him in and leaves the chain on. (It is typical Bennett detail that she won't accept the cross he produces as evidence of ecclesiastical identity but is convinced by the bicycle clips on his trousers.) Then the police turn up. What other letters has she been writing?
This gossiping busybody, sitting in the dark spying, is no longer funny. There is a marvellous moment when Imelda Staunton holds a long pause and her world changes and we share it. Even scattered through the house, socially distanced, we know this is what makes live theatre different. Then writer and actor together use the subtext for new revelations and tell a whole chapter of change in ten minutes.
Reviewer: Howard Loxton