They're Playing Our Song
Book by Neil Simon, Music by Marvin Hamlisch, Lyrics by Carole Bayer Sager
The Menier Chocolate Factory
(2008)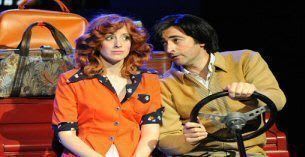 Connie Fisher is finally back on stage, this time in a small-scale musical comedy about Jewish New Yorkers in the late 1970s. Lord Lloyd Webber's reality TV discovery, who went on to capture hearts in The Sound of Music, has chosen the Menier for her comeback and sensibly picked a role that shows off her varied talents without requiring her vocal chords to work overtime.
Matthew Wright's set is a homage to an era (and so are the wigs), with the actors playing what is practically a two-hander on a revolve designed like a 45 (record) with a piano garnish. This is backed by a New York skyline and sliver of sheet music. The designer also has fun with the costumes that the heroine buys second-hand from theatres, anything from The Cherry Orchard to Dracula.
In this space, an unrecognisable Miss Fisher plays a young singer-songwriter Sonia Walsk, who teams up an award-winning composer, Vernon Gersch. TV impersonator Alistair McGowan, best known as the star of The Big Impression but also recently seen in Cabaret and Little Shop of Horrors on stage, takes the latter role.
It is no secret that the story is doubly autobiographical, portraying the love-hate relationship between the show's composer, Marvin (A Chorus Line) Hamlisch and its lyricist, singer-songwriter Carole (A Groovy Kind of Love) Bayer Sager.
Having decided to open themselves up to the audience microscope, the duo then bravely enlisted the cynical creator of The Odd Couple, Neil Simon to bring us a couple who, gender aside, are very like Oscar and Felix from that play.
First seen on Broadway in 1979 and still there almost three years later, this show will have appealed to New Yorkers, especially Jewish ones, who will see themselves and their friends in the characters.
When performing, the pair bring to mind The Carpenters visually, and the association is strengthened as Miss Fisher, who sings beautifully, sounds rather like Karen.
They're Playing Our Song mixes some great comedy with pleasant, if not earth-shattering music. Extra depth is added by the use of trios of singing and dancing clones, representing the inner thoughts of a couple who are equally good at developing their neuroses in songs.
The best of the tunes is the title song, unusually delivered in his and hers versions before a duet and even a final curtain version with the chorus. Beyond that, the singing highlights are the two songs where loveable Connie really lets rip, Just for Tonight and then I Still Believe in Love. Alistair McGowan has been cast for his comedy skills and his voice is not in the same league as his angelic companion.
The humour is really effective, with Sonia, neurotic but kind, eventually driving her calmer partner/lover to distraction with excessive empathy for her ex Leon, a tremendous creation even if he never makes it on to the stage.
With its two popular stars, They're Playing Our Song will inevitably sell well in Southwark and there is every chance that it will give the Menier yet another West End transfer, as long as there is a small theatre available at the right moment.
Playing until 28 September
Reviewer: Philip Fisher