Playland
Athol Fugard
Elysium Theatre Company and Queen's Hall Arts Centre, Hexham
The Empty Space, Media City, Salford
–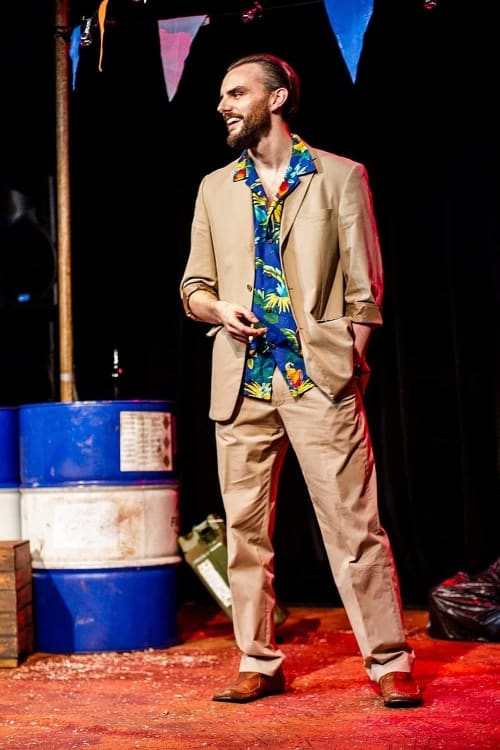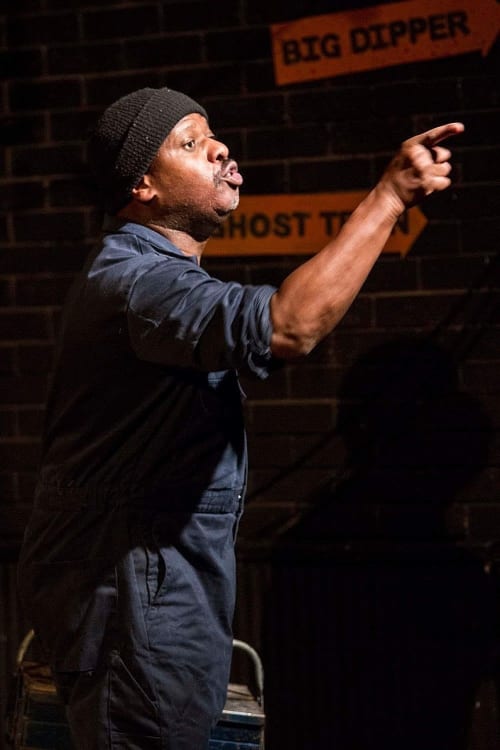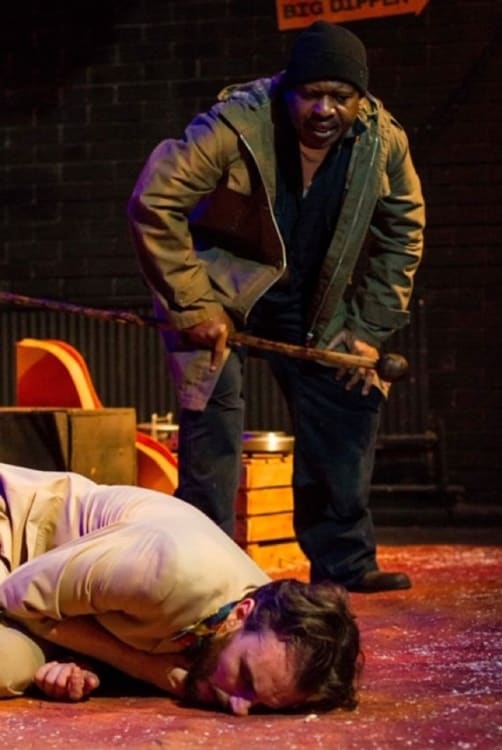 Playland features characters whose lives have turned sour as they obsess over past mistakes. Director Jake Murray sets a mood of disappointment from the beginning. Audiences enter past signs promising exciting fairground rides only to find, within the theatre, they are in the armpit of the funfair with dustbins, oil drums and other debris; including the two central characters.
During the 1970s and 1980s, the political powers sponsored a proxy war in Africa. The Soviet Union supported various black African liberation movements while the US and UK sent weapons and funds to white South Africa. The conflict, known as The Border War, took place in Angola and Nambia. A complete media blackout ensured many South Africans remain unaware of the atrocities committed and soldiers took a vow of silence.
On New Year's Eve 1989, two years before the end of the Apartheid regime, former soldier Gideon Le Roux (Danny Solomon) wanders into the funfair called Playland. Gideon suffers from what we now recognise as post-traumatic stress disorder and is desperate for distraction after a terrible year. Guard and odd job man Martinus Zoeloe (Faz Singhateh) just wants to be alone to read his Bible and brood on the grudge he has held for years but Gideon keeps returning; raising the question of what he really wants and if the two men can help each other find peace.
Jake Murray develops a fine sense of time and place. As the characters sit with the audience at the start of the play, it is apparent we could be either of them. Danny Solomon's garish clothing, like someone out of Miami Vice with jacket sleeves rolled back and wearing no socks, makes clear we are in the 1980s. It seems appropriate, as Apartheid reaches its twilight, that shabby oilcloth represents the famous red sand of South Africa.
Some of the imagery in Athol Fugard's play seems clumsy. The end of Apartheid is approaching and the play occurs at New Year—a time of change. The fairground as a metaphor for Apartheid—black people cleaning up while white folks enjoy themselves—is a bit obvious. However, Fugard is more interested in issues that are difficult to resolve or even acknowledge. Progress, it is suggested, can never be possible unless we are able to face our own guilt and forgive ourselves or if those who have been wronged can put aside their grievances.
Both of the characters are haunted by past events that will not let them move on—they are sunk in self-loathing or nursing hatred for past injustice. This leads to a pair of excellent but contrasting performances. Danny Solomon, making his third appearance in Manchester this year, opens as a jittery, flamboyant irritant and it is only in small points, like trembling hands, that the sense of deeper problems are apparent. Solomon presents Le Roux as someone unable to articulate his guilt and able, therefore, to seek redemption only through self-destruction. Le Roux's efforts to provoke Martinus to violence by screaming racial slurs are painful to watch.
Faced with such a whirlwind performance, Faz Singhateh sensibly goes in the opposite direction with an understated interpretation of Martinus Zoeloe. Singhateh is dignified and judgemental looking down on the annoying intruder to his place of work. Singhateh delivers Martinus's revelations in a grudging, resentful manner making clear just how difficult it will be to achieve reconciliation. It is obvious Martinus knows his actions are wrong but the hurt he has suffered is so great he is able to justify refusing forgiveness.
Elysium Theatre Company has a reputation for presenting lesser-known plays and Playland makes a fine addition to their list of achievements.
Reviewer: David Cunningham