Play and Not I
Samuel Beckett
BAC
(2005)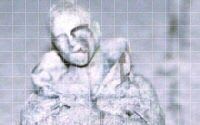 This year's winner of the James Menzies-Kitchin Award for Young Directors, Nathalie Abrahami has risked all on two difficult short pieces by Samuel Beckett.
In doing so, she has demonstrated a tremendous talent, enhanced by the ability to select the right actors to carry it off.
Play has as its theme a tale of adultery related by the man and his two women. So far, so simple - but this is Beckett and there is far more (or less?) to it.
The three are trapped in caskets and individually lit by the tremendous efforts of lighting designer Katharine Williams. The three talk in strangulated, Noel Coward tones and become increasingly bitchy. The speech is broken randomly and repeats, constantly followed by the carefully trained spotlights.
The whole is both funny and mesmerising thanks to the talented young director and her perfectly drilled cast of Amanda Drew, Anna Hewson and John Hopkins.
The lights drift for a moment and settle on the distant lips of Irish actress, Lisa Dwan. She launches into the breathless machine-gun monologue of Not I and for ten minutes, hardly has a chance to breathe. Miss Dwan's lips and teeth are all that we see as she delivers an existential tale about what the life of an old woman, who may for all that we can tell, be on the verge of madness.
Miss Abrahami's direction of Not I is remarkable for its pace and she is well-supported by her actress. The pacing creates a tremendous spectacle but as a result, the generally clouded meaning becomes even more so.
This is a wonderful half-hour and there is no doubt that like some earlier JMK winners, such as Thea Sharrock, Mark Rosenblatt and Joe Hill-Gibbons, this year's winner has a rich theatrical future ahead.
Reviewer: Philip Fisher