Plays by Women in Ireland (1926–1933): Feminist Theatres of Freedom and Resistance
Edited by Lisa Fitzpatrick and Shonagh Hill
Methuen Drama
Released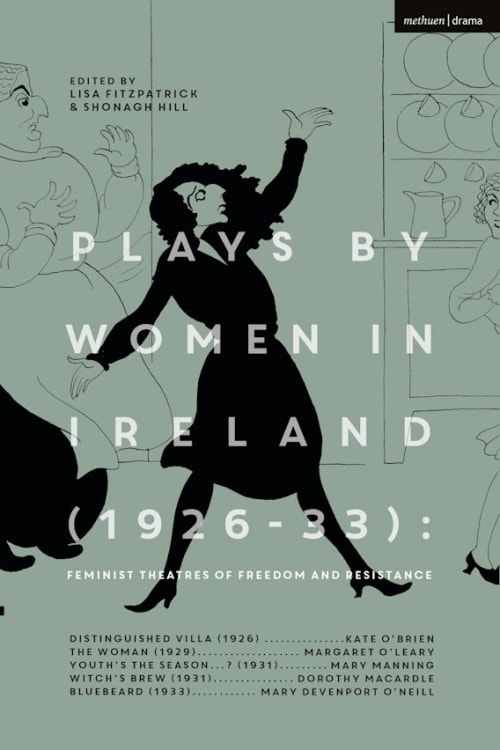 It says something about the place of women in Irish theatre that not one of the five playwrights featured in this collection is likely to be known to readers, even those who have deep interest in the topic.
The reason becomes clearer as one reads a well-researched introduction from co-editors Lisa Fitzpatrick and Shonagh Hill. They make it clear that while Ireland might have been newly independent in the period under consideration, women were still very much under the male yoke.
Distinguished Villa by Kate O'Brien
The playwright might be Irish but there is nothing about Distinguished Villa to indicate that fact. An intense drama is set amongst the working classes in suburbia not too far from London.
The first act is determinedly jolly and upbeat, as two young women who lodge with the happily married Hemworths are courted by respectable menfolk. Mabel Hemworth's attractive younger sister Gwen is the apple of bookish John's eye, while librarian lodger Frances has attracted laddish Alec.
The about-face in the second act is almost clinical, as the young couples realise how mismatched they are, while even the established partnership is put under strain.
Kate O'Brien was better known as a novelist and her playwriting, while dramatic in addressing important issues ahead of their time, points in that direction as well.
The Woman by Margaret O'Leary
For many readers, the main goal of picking up this volume is to discover an unknown classic. That is The Woman, a play set in rural Ireland that gets into the hearts and souls of its characters and bears comparison with the work of Sean O'Casey.
The drama circles around widower Maurice O'Hara, who has become smitten with the entrancing but socially unacceptable Ellen. This causes consternation for his strict farmer father John, who expects the younger man to take over the family business and support his two orphaned children.
Equally put out are Maurice's sly brothers-in-law, who expect to have their late sister's dowry returned. The womenfolk also become involved, trying to set things right, either socially or financially in a play that gains added depth as it gently borrows themes from Irish myth.
It would be great to think that, despite a large cast one or two of whom are probably superfluous, one of those theatres that specialises in revivals like London's Finborough or New York's Mint might consider giving this fine play by Margaret O'Leary renewed exposure almost a century after it first appeared at the Abbey.
Youth's the Season –? by Mary Manning
Although it harks back to its own period, Mary Manning's play, which appeared at the Gate, might seem familiar to contemporary readers or viewers.
This is one of those semi-autobiographical plays created by a young writer who relatively faithfully reproduces the gallivantings of her family and friends.
Some of the drama is clearly heightened, but one imagines that anyone who knew Ms Manning's circle would recognise those portrayed: the faithless artist, the faithful police type, a dull doctor plus an assortment of women, some fleshed out more fully than others.
The play's main strength lies in its ability to act as a mouthpiece for a series of existential musings across generations and character types.
Witch's Brew by Dorothy McArdle
Witch's Brew may be a sliver of a play, running for no more than 15 or 20 minutes, but it packs a mighty punch.
Set in dark times, it centres on a battle for the soul of Una, who lies on her rural deathbed. As her husband desperately races to bring the local holy man in and her sister Nessa prays, it seems that they will be too late.
At her wits end, the young woman's mother-in-law calls in the local witch, which takes the play into mystic territory as the forces of good and evil enter into a tussle that will affect the lives of all involved in a highly dramatic piece that would work beautifully as a curtain raiser.
Bluebeard by Mary Devenport O'Neill
Harking back to an old theatrical favourite, this brief poetic drama also doesn't overstay its welcome running at a similar length to Witch's Brew.
However, the nature of the piece is very different since it is built around dance work that was originally performed and choreographed by the future Dame Ninette de Valois. As such, it is difficult to evaluate by reading the text without seeing the dance and hearing the accompanying music.
Reviewer: Philip Fisher