Private Lives
Noël Coward
Hampstead Theatre
(2009)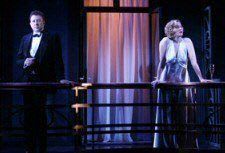 Hampstead Theatre is now 50 and its Golden Jubilee season has been compiled from a selection of greatest hits. To start off celebrations, Anthony Clark has asked Lucy Bailey to revive a play that, as far back as 1962, did so well in the fondly-remembered portakabin, prior to becoming the venue's first of many West End transfers.
In the leading roles, Jasper Britton is a brooding Elyot Chase, fully aware of the blight that he has cast on his life by marrying the simpering, lithping Sybil. Early on, Clare Price is declamatory and portentous, looking as if she is acting the part of Amanda, until passions overcome her and she lets the dialogue do the work.
Lucy Briggs-Owen turns Sybil into the dumbest of flappers, while Rufus Wright's Victor Prynne has no more brain and equally little charm.
After a rather lacklustre first act, the evening only takes off when Elyot and Amanda finally come face to face and the fur begins to fly in the best balcony scene since Romeo seduced Juliet.
This occurs in Katrina Lindsay's romantic, candlelit, Parisian garret where Amanda and Elyot's love-hate relationship moves into top gear. The endearments and insults exchanged there have the desired effect on both the protagonists and their audience.
The final act, allows the bit part players to have their moments, first as Victor is stunned into fuming, pathetic silence and then Sybil proves that she can be as shrewish as the lady from whom she has taken over as Mrs Chase.
Private Lives is one of the classics of the last century and always worth another viewing. This version has nice touches and is good fun but will probably not go down in history as one of the finest.
Playing until 28 February
Reviewer: Philip Fisher