Pocatello
Samuel D Hunter
Playwrights Horizons, New York
–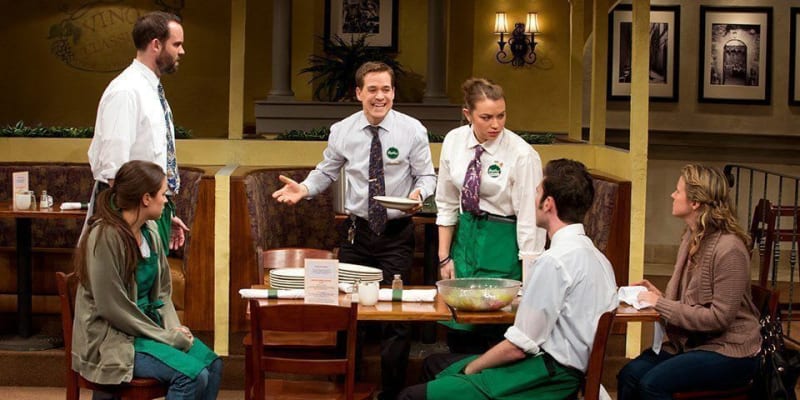 The Pocatello Tourist Board is unlikely to be sending any coach parties from Washington State to 42nd Street to view this bleak comedy.
Their town is being used in the latest of a long line of plays portraying the death of The Great American Dream.
Pocatello itself is represented in microcosm by a not very Italian restaurant celebrating "Famiglias Night", thanks to the inspiration of eager manager Eddie, played by T R Knight.
His efforts to cheer people up and save the loss-making eatery are equally ineffectual.
His work was doomed from the start as the famiglias that turn up are as good a cross-section of losers as one could hope to avoid on a relaxing night out.
Eddie's father killed himself when his own restaurant went out of business. Brenda Wehle playing his mother is guilty about much and deaf to the imploring efforts of her son to please.
Brother Nick no longer lives in Pocatello and is reasonably successful but in denial, hating but causing conflict.
Eddie himself is a glass half full man who struggles to come to terms with his homosexuality and an unerring ability to irritate while trying to please.
Even so, compared to waiter Troy's relations they are in seventh heaven. Danny Wolohan's bearded character has lost a succession of jobs. His wife Jessica Dickey's Tammy is a recovering alcoholic.
Troy's father has dementia, while his daughter Becky is the kind of fundamentalist seventeen-year-old who hates everything and throws up at the thought of food. Respectively, Jonathan Hogan garners much sympathy as a man who knows that he has losing his mind, while Leah Karpel convinces as the lonely, depressed proto-anarchist.
That just leaves the remaining waiting staff, junkie Max and fatalistic Isabelle and Nick's normal wife, who seems out of place amid quite so much angst and mayhem.
A lot happen during the 100 minutes, as the individuals play out their fears to the distress of all around.
Whether the enigmatic ending is supposed to offer hope might be a matter for debate but the message is loud and clear. If you live in Pocatello, however strong the urge to stay might be, get the hell out of town as soon as you can.
If you live in New York, the chance to see how the other half endures will be hard to resist. The plotting might try to put too much drama into a short time but, the characters are likely to be recognisable, if a little exaggerated, and there is much humour and more than a little tender affection in Davis McCallum's production.
Reviewer: Philip Fisher