Polar Bears
Mark Haddon
Donmar Warehouse
(2010)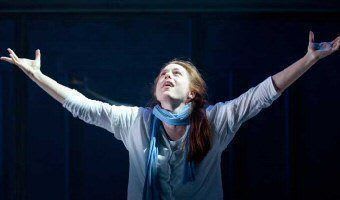 Like J.K.Rowling or, further back, Lewis Carroll, Mark Haddon achieved fame and fortune by writing a book for children or youths that then captured the hearts of adults ducking away from literature written more specifically for them.
His best-selling novel The Curious Incident of the Dog in the Night-Time took readers into the mind of an autistic boy. For his stage writing debut, Haddon also considers mental disability but this time its victim is female.
Jodhi May plays (Kafkaesque?) Kay, a sufferer from bi-polar disorder and violent depression. After a truly startling opening, for 90 minutes we enter her intermittently fevered mind but also see the young woman through the eyes of family members, an old lover and her philosopher husband.
At the start, Haddon works very hard to make an impression, packing the very short, disjointed scenes with the blackest of jokes before allowing us to meet the characters.
The scenes remain short, while we begin to learn about Kay's medical history, and become increasingly gruesome in a play that could leave some viewers suffering nightmares.
Richard Coyle plays the intelligent philosophy lecturer who decides that he is up to a task that has defeated Kay's determined mother and businessman brother.
The family's problems seem genetic, since father hung himself and Paul Hilton as brother, Sandy, a successful businessman, is also a little unstable. It is Celia Imrie's Margaret that has the best understanding of both her daughter and the difficulties of controlling her depressions.
The most revealing elements of Polar Bears are those that show how, deprived of medication, the "darkness" descends, turning a seemingly normal, prize-nominated children's author into the allegorical monster in a fable that she relates early in the play. When the play becomes a psychological thriller, it is less original and effective.
In addition to considering the issues directly, Haddon also helps us to understand how eventually a carer might snap although, as shown, John's motivations and characterisation are not strong enough to support the action that he eventually takes.
As the story is played out, there are some memorable scenes, for example when Kay meets a Geordie Jesus in a station buffet, but the action is pretty limited.
By the end of Jamie Lloyd's production, played out in a decaying setless, symbolically roofless space designed by Soutra Gilmour to take advantage of Jon Clark's eerie lighting, you can understand Mark Haddon's attractions as a storyteller but may well feel that Polar Bears would work as well, if not better, as a novella rather than a staged event.
Reviewer: Philip Fisher