Polarity and Proximity: Kin. / Embrace / In the Upper Room
Choreographer Alexander Whitley, George Williamson, Twyla Tharp
Birmingham Royal Ballet
Sadler's Wells
–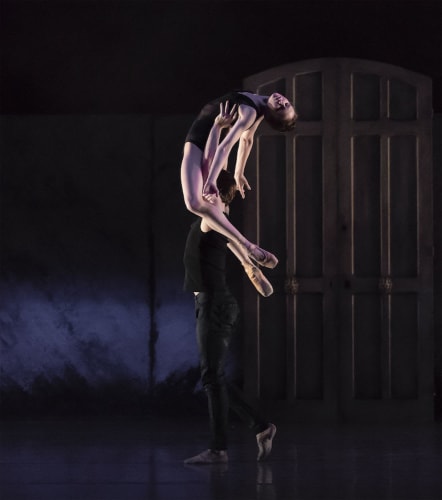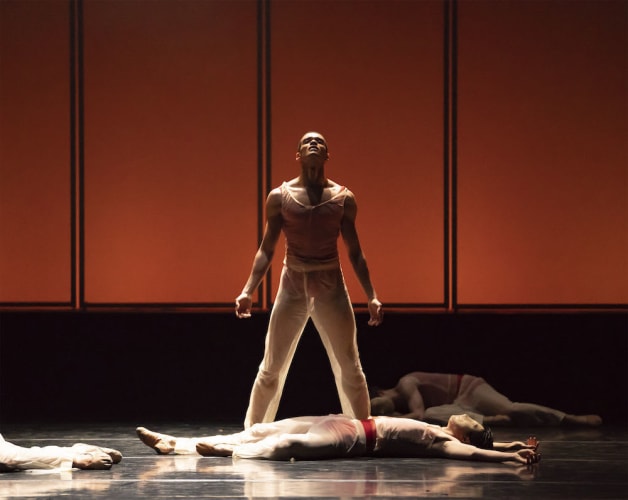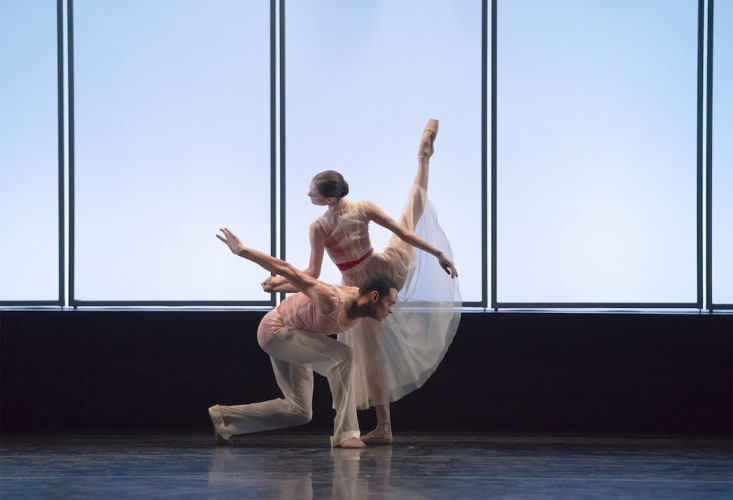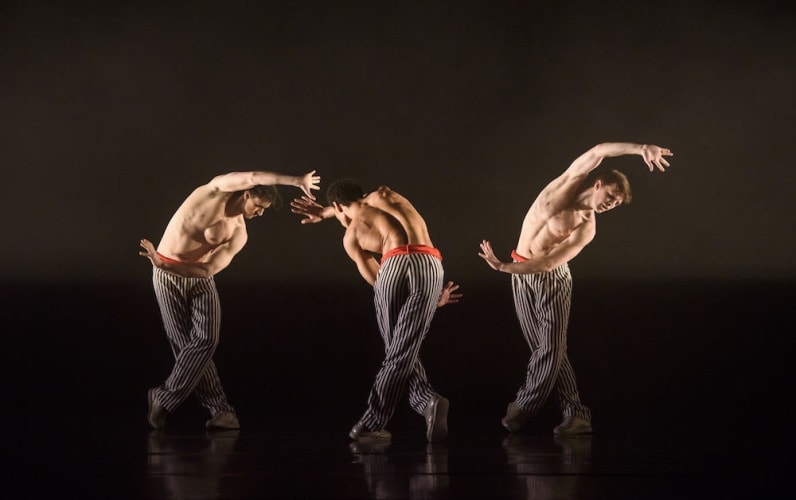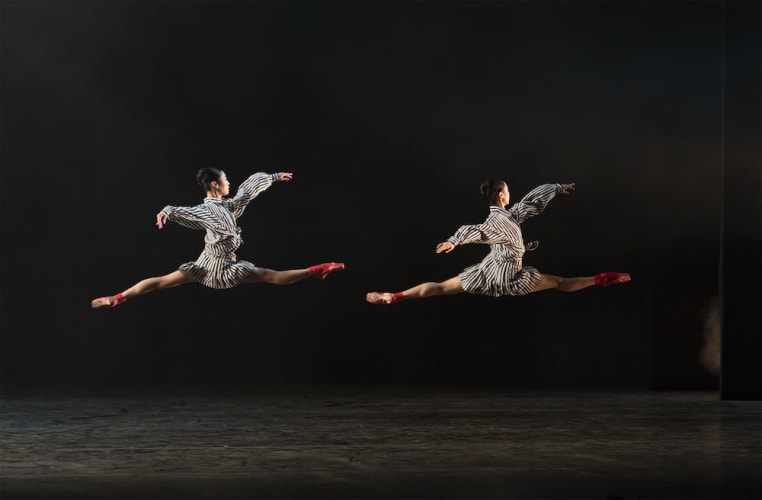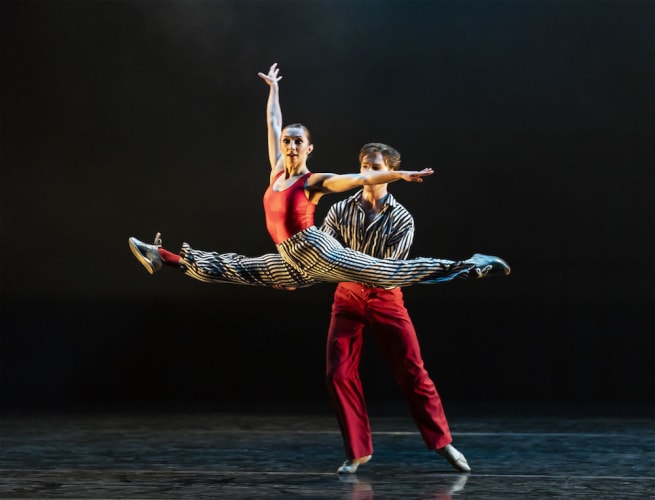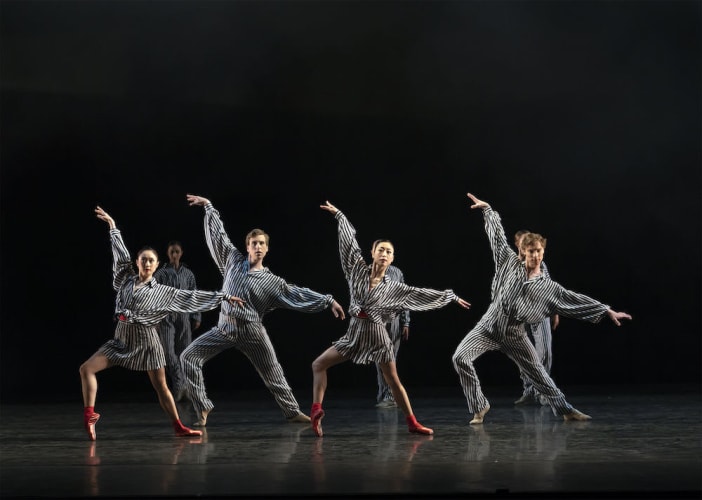 No sooner have you moved companies but you're back in the former dancing with your wife: Joseph Caley previously with Birmingham Royal Ballet and now with the English National Ballet is guesting / moonlighting with Jenna Roberts in Alexander Whitley's Kin. And who can blame him. They are fabulous together.
A twenty-minute abstract work created in 2014 by Whitley for the Birmingham International Dance Festival, Kin. is an abbreviation (hence the awkward dot) for kinetic, whilst playing on the sense of kinship. And both deliver in spades to Phil Kline's pulsating score.
In its blend of classical with contemporary, so of the moment, Whitley's choreography and visuals make me think of Christopher Wheeldon with maybe a tiny touch of Wayne McGregor. Jean-Marc Puissant's subtly stunning marmoreal wall design and Peter Teigen's moody lighting reinforce that feeling.
Statues come to life in a gallery, as Caley and Roberts lead four other couples—all in black—in throwing calligraphic shapes to Kline's Philip Glass-ish (at least to my ear) score.
Arms instigate and determine the twisting, elegant, fast-flowing script, but it is the nocturnal duet in that purple hour before dawn (Teigen leads one's thoughts in that direction) between husband and wife that bring depth to Kin.'s inscrutability.
George Williamson's forty-minute piece, Embrace, is the opposite of inscrutable: Williamson wears his heart on its sleeve. A man, He (Brandon Lawrence), is conflicted. He loves Him (Max Maslen), but that makes him an outsider in his community.
The crowd (Them) gangs up on him. But She (Delia Matthews), his best friend, comforts and guides him through his tormented several selves (three masked avatars) till He is able to find acceptance of his sexuality within himself and in the group. Not Suddenly Last Summer, or Lord of the Flies, just a simple anguished plea for tolerance.
Sarah Kirkland Snider's commissioned score, its genre-blending sound, jazzy and classical, takes my brain (plenty of time for it to drift) to the classical American ballpark of Leonard Bernstein, Gatsby the outsider, Edward Hopper's and Tennessee Williams's lonesome characters.
Madeleine Girling's simple and effective set design of translucent screens, lit beautifully by Teigen, on the other hand, reminds me (again) of several McGregor works.
Camera shutter blackouts, colour washes defining chapter and changing ambiance, as backlit silhouettes stand and watch, Them on one side, He on the other side of the dividing screens, until He realises that it is up to him to open these seven panels one by one. A happy resolution.
Part of BRB's Ballet Now talent development programme, Williamson's sincere Embrace could do with a little trim. One longs for poor He to resolve his issues a little bit sooner, for the sake of impact, even though the dancers are eminently watchable, Lawrence and Matthews especially.
The best is saved for last: Twyla Tharp's iconic crossover dance, In the Upper Room, of 1986 to Philip Glass's nine Dance pieces, commissioned specially by musically trained Tharp. I remember seeing it for the first time and wanting to pogo like Tigger afterwards, so infectious is the music, its driving pulse fuelling and sustaining energy levels.
A forty-minute hard-core workout, the dancers strain every muscle and sinew to get through it. In Norma Kamali's baggy striped outfits and red bodies, in trainers / sneakers and red pointe shoes they bring out Tharp's melding of athleticism, gym warm-up, the ducking and diving of the wrestler / boxer, and classical ballet moves. Dancers are athletes, their regime and stamina tougher than most realise, and this is Tharp making that obvious statement.
Non-stop hectic movement, how do they keep it up for so long, wave after wave of flying, skidding and skittering across the floor, feet barely touching the ground, shifting from sports shoe to pointe, from dazzling footwork to lift-off... As Jennifer Tipton's original lighting throws Constructivist shapes across the empty space for these airborne astronauts.
Tyrone Singleton is in his element in this loose-limbed style and Delia Matthews is particularly strong. But all have incredible staying power. I'd like to see even more American daredevilry and speed but one can't risk injury.
You still have time to catch this Polarity and Proximity programme 20 to 23 June as part of the Birmingham International Dance Festival.
Reviewer: Vera Liber