A Couple of Poor, Polish-Speaking Romanians
Dorota Maslowska, translated by Lisa Goldman and Paul Sirrett
Soho Theatre
(2008)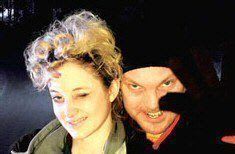 Soho Theatre's artistic director, Lisa Goldman, has pulled off a real coup by discovering this Polish prodigy. Dorota Maslowska is only 24 but has already established herself as a highly-rated novelist and playwright in her home country, winning its major literary award in 2006, the same year in which this totally anarchic play was first performed in Warsaw.
Until now, the general impression was that the Royal Court had cornered the market in avant-garde, dirty realism from Eastern Europe. With this play, Soho has thrown its hat into the ring by turning up a nugget of what might just be pure gold.
However, in order to appreciate it, viewers will need to prepare themselves, both for the fruity language and surreal style, reminiscent of a spaced-out, picaresque dream.
As is emphasised by the cutdown playing space, A Couple of Poor, Polish-Speaking Romanians is reminiscent of a wacky road movie as it follows the escapades of a young couple with spectacularly bad teeth, Parcha and Dzina.
In the first scene, they carjack a straight-laced, middle-aged Pole who just wants a quiet life, played by a splendidly angry Howard Ward.
Peace becomes impossible as soon as his car is occupied by Andrew Tiernan and Andrea Riseborough in the title roles. This dizzily dynamic duo are both high on drink and drugs, despite the fact that the lady is seemingly ten months pregnant. As the driver becomes increasingly distraught, the silly-accented Romanians have fun at his expense much to the delight of the spectators.
Designer Miriam Buether excels herself, setting the play in a corrugated iron box littered with second-rate junk. The centrepiece is the car, which has had its body removed to aid vision.
The first sign that one should not take this play at face value is when Dzina begins to talk of her mother using a South London accent. This pair of aliens is clearly not what it seems and by the end of the play, one almost wonders whether their alienation is of the Outer Space variety.
Having milked the initial idea for all that it is worth, Miss Maslowska frees the driver as the couple move on to a bar. There Parcha ditches his accent and announces that he is actually a priest (of the TV soap variety) and begs to use the phone despite a severe lack of cash.
The comedy keeps up as the bartender sends them back out into the snow and a meeting with a second car driver. Ishia Bennison gives a brilliant cameo as a well-to-do, vodka-swilling lady who takes out her frustration at her husband's infidelity by driving his car blind drunk. She might be headed towards Warsaw, but neither she nor her passengers could guarantee that they will get to that distant destination.
Things began to calm down towards the end of this spectacular 100 minutes, as Parcha and Dzina, who are by now revealed to be native Poles coming down after a rave that has gone too far, hole up in the relative sanctuary of an old man's bare, cheerless home.
The wheelchair-bound John Rogan's character turns out to be no saner than anybody else seen to date. However, in a kind of musical chairs way, as last in line, he is host to the discussions of some home truths. These shed light on the severity of life in Eastern Europe and leading to an unexpected ending to a play where the unexpected was the only kind of dénouement that was ever likely.
Dorota Maslowska, helped by Miss Goldman and a fantastic cast, ensures that the surprises come thick and fast with many laughs and even time for a little reflection. If work is not going on already, it is about time that somebody started translating everything else that this "enfant terrible" of the Polish literary scene has written to date. While some might be shocked by the output, many more will be refreshingly delighted at the chance to hear a really unique literary voice.
Reviewer: Philip Fisher