Porgy and Bess
George Gershwin, DuBose and Dorothy Heyward and Ira Gershwin
Savoy Theatre
(2006)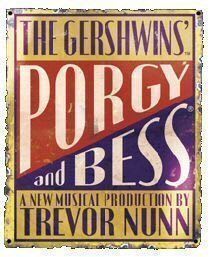 Sir Trevor Nunn may have spent £3 million on this new musical version of George and Ira Gershwin's much loved opera bu, to all intents and purposes, it is a reworking of his own operatic production first seen at Glyndebourne some twenty years ago and then at Covent Garden. The musical style may be a little more laid-back and there are couple of big dance numbers inserted but otherwise, not too much has changed.
His designer on both occasions, John Gunter, has created a set that sees Catfish Row, where much of the action takes place, as a ramshackle shanty town that looks remarkably similar to its previous incarnation.
Sue Blane's more flamboyant costumes and, in particular, Bess's bright red dress in the first scene will come as no surprise to those with long memories or a copy of DVD starring Sir Willard White as the crippled Porgy.
The one fresh element occurs when the locals go picnicking, for which Gunter has created a kind of petrified forest of weeping willows, which looks most attractive.
The story line will be familiar to many. The action takes place amongst Negroes in the American Deep South where money is in short supply and the locals are forced to go out cotton picking and risking their lives on fishing boats in order to survive.
For the most part, they are happy although at times, such as the Saturday night on which the play opens, this has much to do with the rotgut whisky and "happy dust". These are supplied by the diabolical but very sharply dressed Sporting Life played by O-T Fagbenle, a man with the lightest of matinee-idol voices.
Otherwise, it is the dice that bring pleasure and disharmony. Trouble comes in the form of big, muscular Crown. Cornell S John plays a bad boy if ever there was one, who rolls up in need of a few sevens in the local craps game to support his dissolute lifestyle and that of his scarlet woman, Bess. Nicola Hughes plays the woman who has no qualms about flashing her thighs and her cash, although quite where the latter comes from is never explained.
The night ends in murder with Crown on the run and Bess desperate for sanctuary. She is turned away from every door but one, inevitably belonging to the hero of the evening, Clarke Peters' Porgy. He is a lonely, crippled beggar who is happy to get a woman and against the odds, they are soon cohabiting in blissful harmony to the strains of the tuneful duet, "Bess, You is My Woman Now".
It cannot last, as poor Bess is torn between her returning ex-lover and the temptations of a life of excitement and her new-found friend who can offer peace. Suffice to say that a vicious fight ends in tragedy and the play moves to an ending of immense sadness. It is hard to believe that this can still be reproduced on a musical stage that these days requires an almost obligatory upbeat ending.
It was always going to be hard for Sir Trevor to match the musical excellence of an operatic production starring perhaps the world's greatest bass baritone, with strong support. In the singing stakes, his new team accepts that competing would be stupid so they play up the jazz and soul elements with a large dash of gospel.
Clarke Peters has a gravelly, bass voice that is far closer to Louis Armstrong, who recorded many of these songs, than the far smoother Sir Willard White. It is at its best in his character's signature tune, "I Got Plenty of Nuttin'".
Miss Hughes has a good vocal range as one would expect from a regular musical lead but cannot attempt the soprano acrobatics of the real operatic stars. Her highlight comes in a rare peaceful moment when she is able to sing "I Loves You Porgy".
Perhaps the two finest singers are Clara (Lorraine Velez) who opens the evening with a gorgeous, seductive rendition of "Summertime" and Dawn Hope playing the widowed Serena with soulful force.
This proves to be an enjoyable evening packed with unforgettable songs that will leave visitors humming and poignant moments which is where the leads really come into their own as actors. It may, though, be caught in a limbo between the desire to reproduce the opera and an attempt to make something rather less sophisticated in a bid to attract a wider audience.
Sir Trevor Nunn has clearly decided that there is more commercial reward in a musical than an opera and the rumours are that he has his eyes set on an early Broadway transfer for this production. However, at three hours and with a dozen strong competitors for the musical lovers' hard-earned money, it may struggle to recoup its massive London investment.
Reviewer: Philip Fisher