Posh
Laura Wade
Joe Prentice
Theatre Royal Bath
–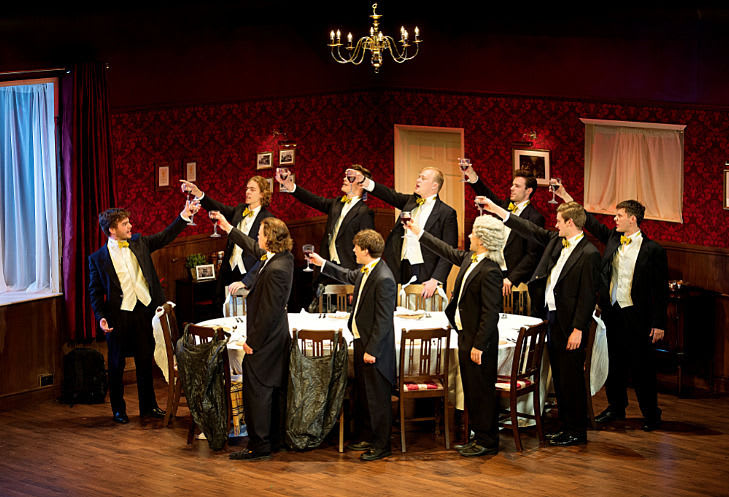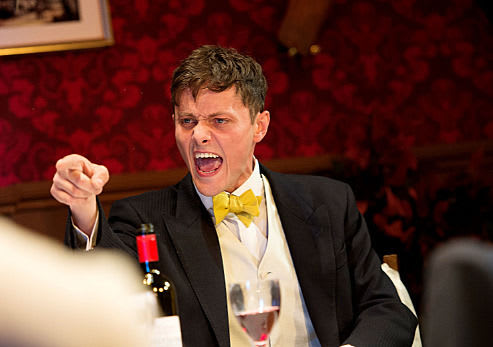 As Laura Wade's adaptation of Jane Austen's unfinished work The Watsons transfers to Menier Chocolate Factory for a much anticipated London première, her 2010 play Posh has been revived for a UK tour.
Based on the antics of Oxford's notorious Bullingdon Club, whose past members include David Cameron, George Osborne and Boris Johnson, Posh is an incisive, funny but ultimately unsettling exploration of elitism and entitlement. With a grammar school Prime Minister swept aside this year in favour of yet another old Etonian, the play feels as relevant today as it did almost a decade earlier.
Ten rich and privileged young men, all undergraduates of Oxford colleges, meet for an evening of reckless abandonment where dinner is only the beginning. This time, The Riot Club has been warned to tone it down; their last termly meeting reached the pages of the Daily Mail and ex-members in the upper echelons of power are displeased with the coverage. So, the club has chosen to dine in an out-of-the-way gastropub under the improbable alias of a group of young entrepreneurs.
Director Lucy Hughes handles the pace well in her professional debut, as the evening unfolds in a series of arcane and ritualistic toasts, bravado-filled high spirits and increasingly bigoted views. Club members reinforce their own sense of superiority over the common man; it isn't easy being posh, after all, what with all those poor people and their huge plasma-screen TVs getting in the way. And the National Trust taking over one's home and inviting everybody in for cream teas and souvenir thimbles.
Among a well-matched young cast that believably builds to a foul-mouthed, alcohol-fuelled crescendo of violence, Tyger Drew-Honey of Outnumbered fame impresses in his first stage performance as the obnoxious but troubled Alistair Ryle. Adam Mirsky as Guy Bellingfield is impressionable but foolish in his ambitions to become the club's next President, while Joseph Tyler Todd bumbles ineffectually as the intellectually challenged but almost likeable George Balfour.
The 'commoners' who facilitate the evening make only fleeting appearances, with the reactions of the ruby-wedding party next door left to the audience's imagination. Though she has little opportunity for character development, Ellie Nunn makes the most of her cameo as the smuggled-in escort Charlie, whose scrupled refusal to do the boys' bidding undermines their arrogant supposition that anybody can be bought with enough cash.
Thoughts of restraint fly out the window as Will Coombs's realistically detailed set design of a private dining room is progressively and almost thoughtlessly trashed in the course of a meal—just another of the high-octane evening's traditional ceremonies that even brushes with the supernatural. But the laughter ends abruptly when the boys' contemptuous goading of the pub's landlord and his waitress daughter crosses a line.
Like the primal tribalism of William Golding's Lord of the Flies, the denouement becomes uncomfortable to observe. Maybe this time, these deeply unpleasant characters cannot simply buy themselves out of the consequences of their actions and must take their share of the blame. Yet, perhaps most disquieting of all—considering our current crop of politicians—is the young men's elastically self-serving relationship to the truth. Normal rules simply don't apply here; this sharply observed, questioning piece of political theatre continues to shine a penetrating light on establishment shortcomings.
Reviewer: Claire Hayes