The Postman Always Rings Twice
James M. Cain, in a new adaptation by Andrew Rattenbury
Playhouse Theatre
(2005)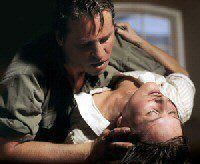 In London, it is beginning to feel like another day, another screen star. Hot on the heels of Ewan McGregor, Jane Krakowski and David Schwimmer comes the muscular Batman and Top Gun, Val Kilmer.
He takes on a challenging role, stepping into shoes occupied on the silver screen by John Garfield (opposite Lana Turner) in the original and Jack Nicholson (Jessica Lange) in the remake of this Film Noir classic for which the only possible adjective is steamy.
Director Lucy Bailey has put together most of the key members of the team that made another American film about passions out of control, Tennessee Williams' Baby Doll, such a success in Birmingham and then at the National Theatre and the Albery in London some six years ago.
Designer Bunny Christie works wonders in creating a Steinbeck-era America that is completely convincing. This centres on a two-level set with a claustrophobic diner beneath the top-level having multiple purposes, never more spectacularly than in a car-crash that is the like of which the stage has probably never previously seen.
The star of that production, Charlotte Emmerson, makes a welcome return to a major London stage and at least matches her better-known partner. She plays the frustrated American-Irish Cora Papadakis.
Cora is a strikingly beautiful young woman who has been rescued by an older husband from the hash house (the dictionary says "an inexpensive restaurant") and, it is implied at least, forays into prostitution.
Her husband, Joe Alessi's Nick, still carries his traditional Greek values despite many years in the United States but is devoted to both his wife and the diner that they run together. His downfall comes when he invites a "no good bum" Frank Chambers into his home.
As the heat rises and storm clouds brew, Frank and the underdressed Cora can hardly keep from diving into each other's arms with Nick still in the room. Once his back is turned, the inevitable happens and it is only a matter of time before the poor sap faces a bloody, Psycho-style botched assassination attempt behind a shower curtain.
Amazingly, after Frank disappears, it is Nick who reintroduces him to the home and seals his own fate. The sex scenes get even hotter with Kilmer and Emmerson striking real erotic sparks, as the play moves towards a second murder attempt with a scene that might have come directly from David Cronenburg's notorious Crash. The curtain then comes down on the fatal car crash to end a storming first half.
After the gripping naturalistic drama that had led up to the interval, the tension dissipates in a dreamily surreal rehash of legal procedures that beggars belief. Dishonest lawyers and insurance agents and the amazing stupidity of the protagonists lead to the unhappy couple's release. This follows one of those Prisoner's Dilemmas where each can save themselves if they make the right, uncharacteristic choice.
The brief interlude of happy freedom can only ever be a postponement of the moralistic ending that this kind of drama, with its connotations of Greek tragedy, must surely lead towards.
Andrew Rattenbury's new version of James M Cain's hard-boiled thriller is half way towards something really special and for that, Lucy Bailey should be proud. It goes awry in a succession of unlikely power struggles in the second half of its 2 hours 40 minutes but, on balance, is still a success.
Reviewer: Philip Fisher