Potted Panto
Daniel Clarkson, Jefferson Turner and Richard Hurst
James Seabright
Garrick Theatre
–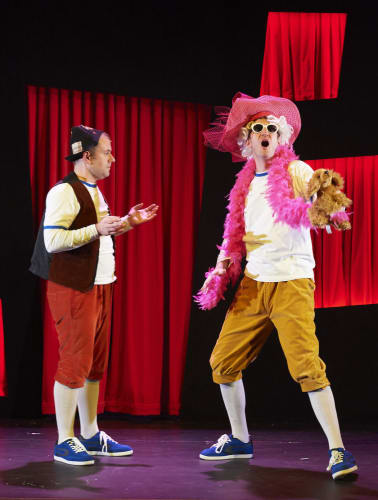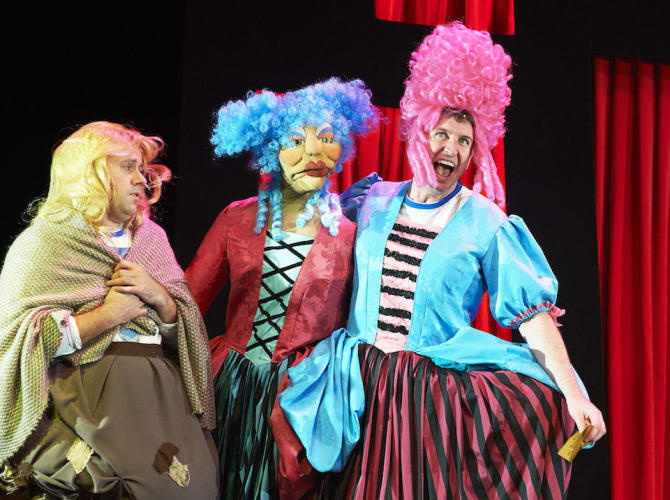 Dan Clarkson and Jeff Turner put on their first "Potted" show in 2005 and launched Potted Panto in 2010. It's back for a Christmas season at the Garrick with the This House set hidden by drapes and Simon Scullion's simple set of lushly red curtained openings in a screen that sometimes part to reveal things as in an advent calendar.
You get six pantos for the price of one, plus one not strictly panto show that Dan is particularly keen on, that gets mixed in with another old favourite that sees partner Jeff playing Abanazer Scrooge.
With Dan in baseball outfit mufti out welcoming the audience before the show starts, then later back in the stalls as Prince Charming looking for a princess (he chose a bearded one at the press performance), it's a show that's big on audience contact. There are traditional showers of sweets and a gentle dowsing while Jeff puts up with something much more demeaning.
Jeff is big on tradition and tries to throw in some panto history, explaining the audience's odd behaviour by "it's British. They can't help themselves!"
Mainly, it's a quick run through that half dozen titles—and halfway through there is a recap with a Potted-Potted Panto version that gets rerun in ever shorter time spans (once too often, it wears out a good joke).
Jeff claims all the leading roles at first. Dan has to play all the other parts. He is an hilarious pink-clad, Barbara Cartland inspired mum to Beanstalk Jack (and eats all the magic beans), he turns up as Mother Goose's Goose in the wrong story and finds he is fighting with himself when playing both Dick Whittington's cat and King Rat and turns into a nasty green witch for Snow White and Sleeping Beauty, which keeps its title even with Jeff as the Princess.
Jeff's Cinderella is well-timed to clean the floor up after they've messed it, bossed by Dan's double as both Ugly Sisters. Claiming his favourite role in Aladdin, he finds himself in the wrong story, yet still discovers his magic lamp though it doesn't produce the Genie he is expecting.
There is a slight nod toward political jokes with references to Brexit and Mayor Sadiq Khan (though they seem to have confused him with the City's Lord Mayor) and Honey G gets a mention but there is more slapstick here than wit.
In fact it is all very silly; that's its whole point really. If that's your taste then you should love it. If it's not you might call it childish but, though it is playing daytime presumably hoping for a juvenile audience, children need warning not to expect songs, spectacle and familiar fairy-tale. I wouldn't recommend it for little ones. Two next to me found crawling under the seats more interesting than watching the show—though it could be they were too short to see over the heads in front of them, even from parental laps.
There is a lot of energy and hard work being expended, but this revival hasn't run in yet and perhaps director Richard Hurst needs to do some tweaking to win all the audience over but it is on the way there. A piece of audience participation to create a 3-D feature is so awful that I don't think there was anyone not on their feet and laughing.
Reviewer: Howard Loxton